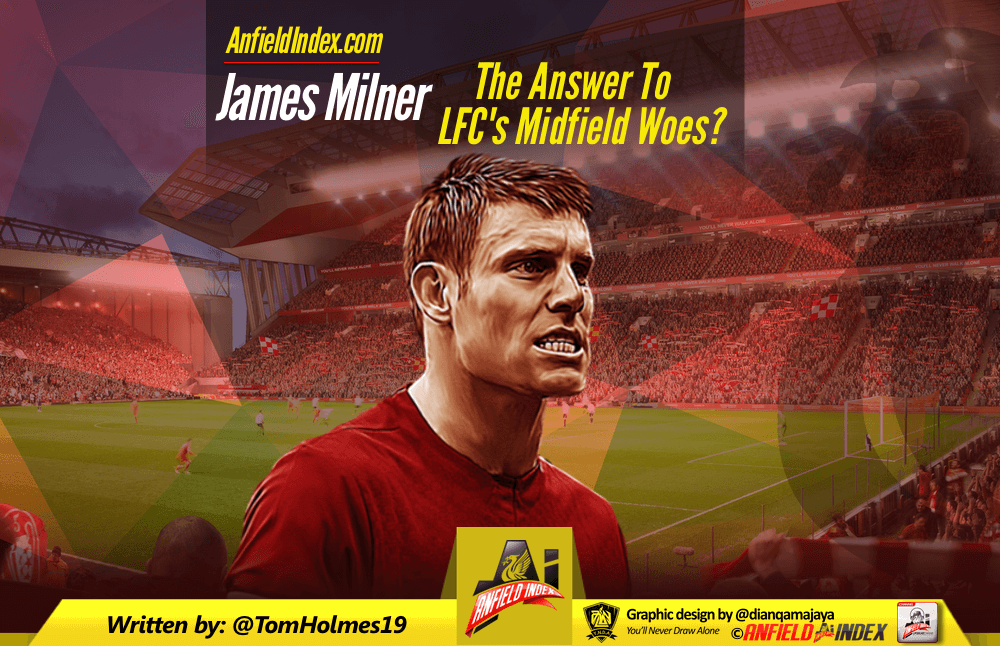 Milner - The Answer To LFC's Midfield Woes?
When James Milner was announced in the starting line-up for Liverpool's game against Maribor, my initial reaction was something along the lines of: "Oh cool, Milner's playing, we've not seen him since the Burnley game." I like Milner, think he's a decent option and the team was pretty solid so no complaints from me.
Predictably though, there was an almost instant backlash from the gathered Liverpool fans, as how dare Klopp start Milner ahead of the far more deserving Alex Oxlade-Chamberlain in central midfield, even though Klopp himself had said for the time being Ox would be used on the wing, and with only a handful of collective starts under their belts this season, it was clear which player would slot more effectively into Liverpool's midfield.
Milner's only previous starts this season, have been against Palace and, as mentioned, the Burnley game, and on both occasions he was excellent. Against Burnley in particular, Milner created six chances for his teammates, kept the ball moving nicely with 69 passes at 86% accuracy and pulled his weight defensively too. It was unfair, at least in my opinion, that it took so long for us to see him again.

A lot has been made of Milner's hard-working nature and professionalism, and both of those are big plusses in his column, but often what can be overlooked is his quality on the ball. Again last night against Maribor, his pressing and distance covered were both huge features of his game, but an equally big part was his creativity, and ability to keep the ball ticking over in a way that neither Emre Can nor Gini Wijnaldum can do.
In his three starts, Milner has averaged 91 passes, 3 key passes and a passing accuracy of over 90%. Whilst this is a much smaller sample size than other midfielders in the team, it's still worth a comparison. Both Wijnaldum and Can have made fewer key passes than Milner, despite starting 6 games more, which just indicates what a difference he makes to the midfield.
In terms of general passing, Gini averages just 35 passes per game in his seven Premier League starts, with a passing accuracy below 85%. So Wijnaldum has less of the ball and isn't incisive when he does have it. Emre's average passes is much higher at 50, but his percentage is also low.
Perhaps a more apt comparison is with the man Milner replaced, Jordan Henderson, who averages almost two key passes per game, twice as many as his two midfield partners despite playing in a deeper role and "passing sideways too often". Henderson averages 76 passes per game, which given the calibre of opposition faced by both players is where you might expect Milner to average out over a longer sample size. Both players have the dual function of being the metronome and the creative hub of the midfield, on top of being expected to defend dutifully too.
So from this albeit flawed comparison, we can see that Milner certainly has something to offer to a midfield that has been stuttering all season. With the trio of Henderson, Can and Wijnaldum missing a certain something, and with Coutinho forced into a more attacking role for the foreseeable future with Mane and Lallana injured, is it time to give Milner a run in central midfield?
Well, I would argue that with Wijnaldum's form this season being nothing but abysmal, and his away form in general over his Premier League career nothing to shout about, Milner has more than earned a start against Spurs at the weekend in the heart of the Reds' midfield. Whether a midfield of Can, Henderson and Milner would balance quite as well as the midfield did in midweek is hard to say, but right now they're Liverpool's top three performing central midfielders.
This article wasn't meant to end up overly stats based. In my head, it's this simple. Milner was our best player in a game where we scored seven goals and he scored none of them. Wijnaldum has been woeful this season. Two plus two equals four. Jurgen, get on it.