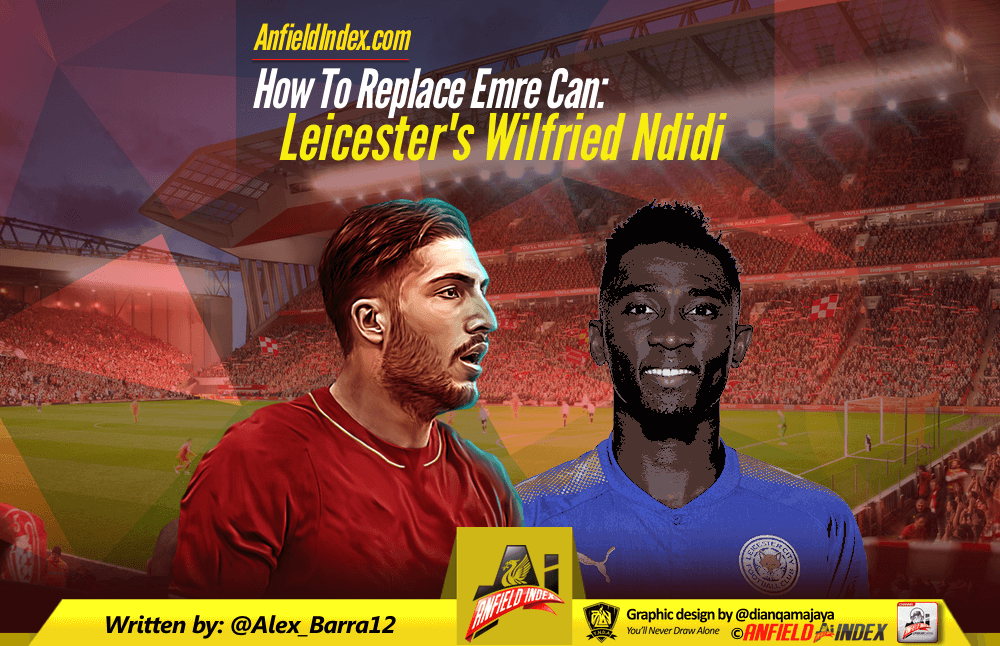 How to Replace Emre Can: Leicester's Wilfried Ndidi
That crushing inevitability is the worst feeling.
Perhaps Liverpool fans are simply making their way through the stages of grief, and are trying to bargain with themselves the potential loss of Emre Can will be less grievous than reality will dictate. But fear not, for here in the land of perpetual posturing and theoretical deals, Anfield Index will be sorting out Liverpool's need for control in midfield – alongside a shiny new Naby Keita, who'll be entering the club right as Can likely departs on a free transfer.
The first player to be looked at is a 20-year-old Nigerian by the name of Wilfried Ndidi.

Style
The comparisons to the man he replaced in Leicester's midfield will be plentiful. And for good reason – when N'Golo Kante departed the Foxes following their title winning season and became the player of the year at Chelsea, Leicester suffered greatly. They were in a relegation scrap come January of the following season, and looked to the man playing in Belgium to help cure their woes. Indeed, Ndidi was a key proponent in Craig Shakespeare turning his side around – addressing the need for an all-action, combative midfielder to break up play and add a level of intensity.
But, like Kante, to classify Ndidi as a simple midfield tackler, full of bite and toughness and tenacity without adding any refinement or nuance to the picture would do the man a disservice.
At Genk – the same club that produced Kevin de Bruyne, Yannick Carrasco, Thibaut Courtois and Liverpool's own Divock Origi – he would often be the first pass in a chain of an attack, and would thus need the same creativity that Kante possesses in Chelsea's midfield. He was scouted by Genk after impressing for a trial at centre back, against players five to ten years older than him, and told Goal of how it wasn't even a bit of defending that caught the scout's eye.
"I was told not to play long balls, so I just made a one-two and another one-two and then I gave a pass, made an assist."
Then, at Leicester, he became more of what Kante was. A tough, energetic midfielder who seemingly runs all day, and is equally adept at making a last ditch tackle on the edge of the box as he is pressing a defensive midfielder and starting a counter attack with just the striker ahead of him.
Strengths
Perhaps this has already been mentioned, but he's quite the tackler.
He's made 46 tackles so far this season, more than any other player. That averages out to 4.2 per ninety minutes. He boasted a similar stat last season; from when he arrived to the end of the season no player made more tackles. Acting as the base of a midfield pair for Leicester under Craig Shakespeare, Ndidi would often be the catalyst for counter-attacks. For a side that was missing its catalyst for so long, Ndidi was a breath of fresh (but familiar) air.
To say he's a proficient tackler would be an incredible understatement, and yet he also possesses guile on the ball, and an intelligence that belies his ability as a #6 – or more poignantly, a "midfield destroyer."
And Liverpool should know, given he made 9 tackles against them in his side's 3-1 win over Jürgen's Reds last season – the equal most of any player during the season. The man he tied with? N'Golo Kante.
What Ndidi possesses that Kante doesn't is height – a frame of 6 ft 2 coupled with a strong leap means he's won 3.5 aerial duels per game this season – that's around 7 times the 0.4 Kante wins, showing just how different the players are in their essence. Kante will stick closer to the ground, seizing on every scrap as he simply refuses to stop running. Ndidi is the wall that exists between an attackers and where he wants to be – the goal. He's a rather strong wall at that, given those 3.5 aerial wins are twice that of Emre Can and Jordan Henderson.
Should Klopp seek to bring in a number six to shield his worrisome defence, Ndidi would offer ideal protection, whilst also being active enough to assist the dynamic runs of the more forward thinking midfielders. Naby Keita would love him.
Weaknesses
He's adapting to the pace of the Premier League, having been dribbled past around 2.5 times per game – more than both Can and Henderson, and a lot more than Kante. And yet the man is still only 20 years of age, with the potential to become a simply incredible defensive midfielder in the Premier League as the future arrives.
But would he fit the system? Would Klopp have to tweak his side to fit in a pure number six, who perhaps doesn't offer the same offensive weaponry that Emre Can offers to his side? That's the key question – one that Jürgen answered previously, when asked about whether he'd buy an outright defensive midfielder.
"Half-spaces when counter-pressing does not work, another defensive midfielder [does not help], it's all about organisation. We did already much better in the last few games and we improved around set-pieces a lot."
Seemingly, Jürgen's favoured midfield includes multi-functional midfielders, able to contribute in multiple phases of the game. Considering how quickly he wants his team to play when given the opportunity, it would mean someone of Emre Can's ilk is more likely to arrive ahead of the more defensive minded Nigerian.
And yet, could he also be more aware now of the need to protect that troublesome defence of his? Ndidi would go some ways to achieving that.