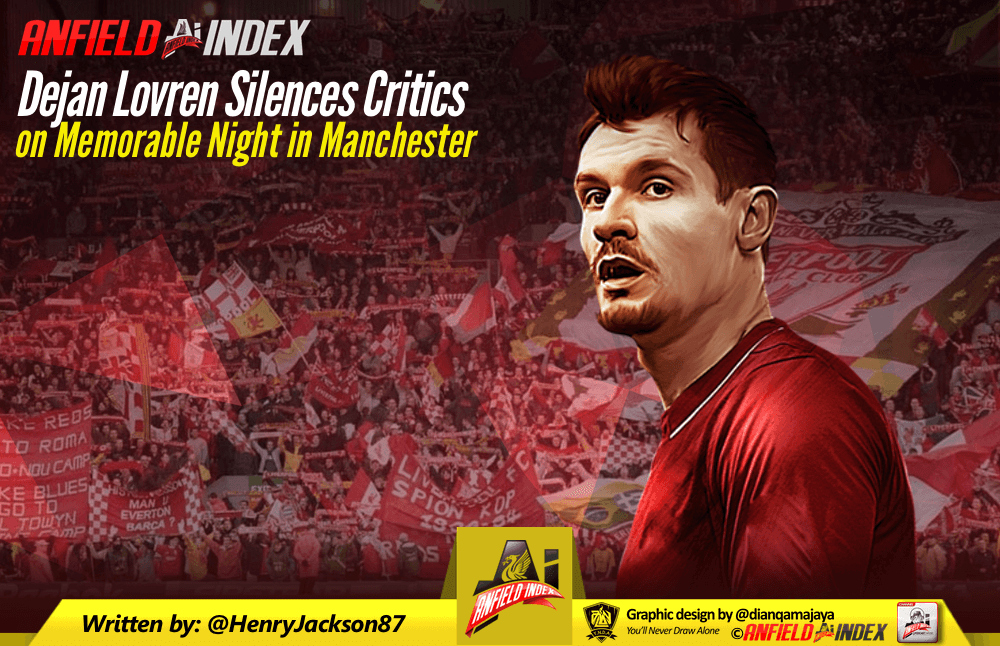 Dejan Lovren Silences Critics on Memorable Night in Manchester
For someone who has worked his way to the top of his profession, Dejan Lovren doesn't half receive endless abuse.
He is an international footballer who plays for Liverpool, which in my eyes, makes you fairly decent at what you do for a living.
I am fully aware that it's all relative, and that he should not be treated like a mere mortal who plays a bit of seven-a-side now and again, but the flack he receives is still ludicrously harsh.

We all know that the 28-year-old is a long way from being perfect, and moving forward, he does not possess the consistency to be a regular starter for the Reds.
That does not make him a "terrible" player, however, as so many are quick to claim as soon as he suffers a bad day at the office.
What Lovren lacks in focus and long-term dependability he more than makes up for in heart, and the character he has shown since his nightmare against Tottenham back in October is truly admirable.
There seemed like no way back for him at that point, especially when Jurgen Klopp publicly lambasted his display – something the manager generally avoids at all costs, with team spirit and togetherness so important to him.
He has found a strong level of performance for several months now, and even if Joel Matip was fit, it would be the Croatian who justifies being Virgil van Dijk's first-choice centre-back partner.
On Tuesday, Lovren delivered arguably his best ever display for Liverpool, as he approaches four years at Anfield.
As Klopp's side picked up a famous 2-1 win at Man City, and a stunning 5-1 aggregate triumph, the former Southampton man was the pick of a very special bunch at the Etihad.
There were 11 heroes in red who eventually battled their way through a nerve-shredding encounter, but Lovren was about the only individual who delivered from minute one right up until the final whistle.
Loris Karius and Van Dijk were both culpable for Gabriel Jesus' early opener, while Trent Alexander-Arnold and Andrew Robertson didn't settle immediately, in what was the biggest match of their respective flourishing careers.
The midfield of Gini Wijnaldum, Alex Oxlade-Chamberlain and James Milner were completely overrun by a Pep Guardiola formation that swamped the trio, prior to them excelling after the interval.
The much-famed attacking of Mo Salah, Sadio Mane and Roberto Firmino also failed to influence things, although that was mainly to do with the midfield's complete lack of service.
That first-half was among the most galling in Liverpool's great history, but amid the chaos and City's dominance, Lovren stood tall and proved to be a rock.
It wasn't Van Dijk marshalling the troops this time, despite playing well after his early mistake, it was Lovren.
Every ball into the box was seemingly met by his powerful forehead, and his concentration levels, so often erratic down the years, could not be faulted.
Although he only actually won two aerial duels, it was more his positional sense that stood out, with so many headed clearances coming from being in exactly the right place.
Barring one silly lunge on Raheem Sterling, Lovren passed every test with flying colours, on comfortably Liverpool's most important night of 2017/18.
As mentioned, it is his character that often shines through more than his ability, and few possess more self-belief and mental fortitude in this Reds squad.
He suffered a very tough upbringing, escaping from war-torn Bosnia, and even when great riches have come his way as a footballer, he has been a much-maligned figure who can do no right in the eyes of many.
He has had to put up with a lot in life, obviously more so early on, and it has made him a tough individual.
Even on Tuesday, some had the audacity to question Lovren in the lead-up to Jesus' goal, when Karius and Van Dijk were the clear culprits. Have a night off, lads.
The way some Liverpool fans talk about him, you would think he is the worst player in the club's history, which is clearly nonsense.
He is a deeply flawed centre-back, mainly due to his ability to capitulate and produce a horrendous performance from time to time, but there is a lot to like about him, and he has produced good displays for the club.
You literally do not play 37 times for as talented a footballing nation as Croatia if you are incapable of playing to a high standard.
At the end of the day, who was questioning the signing of him back in 2014, when he was considered one of the Premier League's best centre-backs? Very few is the correct answer.
There is something likeable about Lovren that makes you want to root for him. He is a fighter who will not be silenced by the circling vultures.
He cares deeply about representing Liverpool, and rather than letting all the negative press get to him, he has knuckled down and responded superbly in the last six months.
There is nothing flash about him, and he will never be someone you idolise or count on to perform every week, but he 'gets' it. He is giving his all and will continue to do so until the day he leaves.
Twice in the space of six days, he came up against a City side being lauded as one of the best in English football history, and both times he was outstanding.
If you're picking a Man of the Tie, he gets my vote, even though Alexander-Arnold, Robertson and Milner are also extremely strong candidates.
Does all this mean Lovren is suddenly good enough to be Van Dijk's long-term partner? Absolutely not.
We have seen too much of the bad Lovren to know that that is not a viable option, and with his 30th birthday not a million miles away, he won't be changing any time soon.
I am delighted for him that he is receiving so much positive press for once, though, and he deserves an almighty pat on the back for helping eliminate City.
After that Spurs defeat, if someone had said Lovren would be the standout player in a Champions League quarter-final tie against City, that person's opinion would have been swiftly ridiculed.
That is exactly what has happened, however, and he merits every ounce of praise that comes his way.
He has taken enough stick – let him enjoy his moment in the sun.