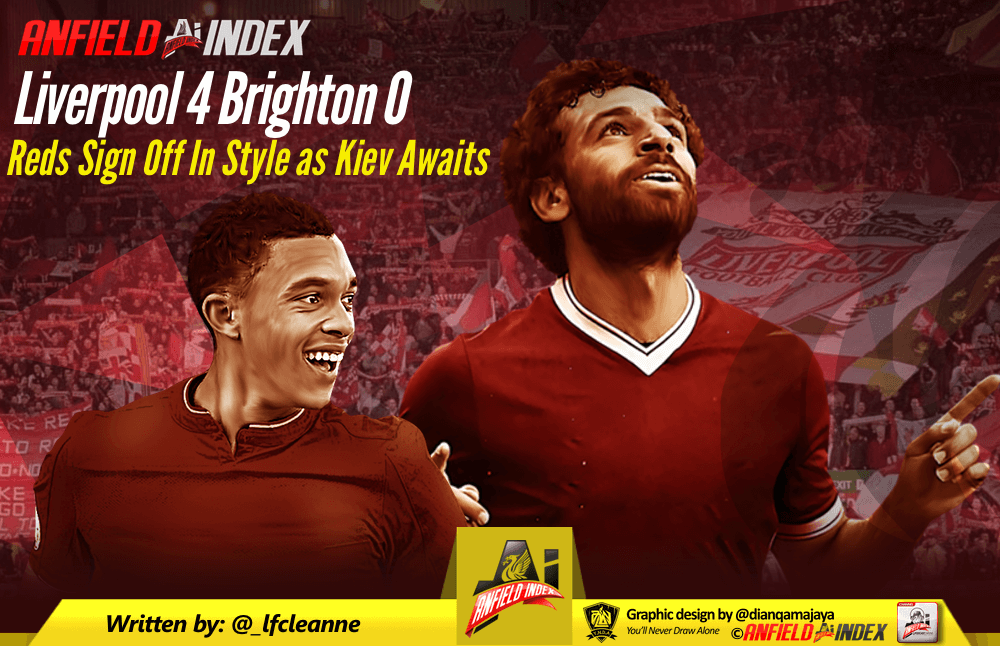 Liverpool 4-0 Brighton: Match Review as Reds Sign Off In Style as Kiev Awaits

Jurgen Klopp was adamant attentions must be solely placed on Brighton this week, waving away the English media who were fixated on a date with destiny in Kiev.
His players duly responded, signing off their Premier League campaign in perfect style as they dominated Brighton from start to finish. There were yet more individual records broken with Liverpool preserving their unbeaten record at home in the league this season; the only team to have managed such a feat in the entirety of the English Football League this year.
What Liverpool have achieved this season deserves some serious recognition. This is not a team blessed with an abundance of attacking options like the two Manchester clubs, nor the midfield depth to deal with domestic and European excursions.
Instead, it's one with Danny Ings and Dominic Solanke operating as understudies to one of the most formidable attacks in the world right now, while injuries to Emre Can and Oxlade- Chamberlain have left James Milner, Jordan Henderson and Gini Wijnaldum to bear the brunt of a gruelling fixture list.
Despite such a thin squad and a very telling drop off in quality between the starting eleven and the rest of the pack, Klopp has guided this team to a top-four finish for the second consecutive season while reaching a Champions League final. Sean Dyche and Pepe Guardiola may be the two standouts for manager of the season for their respective successes this season, but what Klopp has achieved deserves monumental credit.
This is a club with the lowest net spend of the top six clubs since 2014, conquering clubs across the globe to put themselves right up there with the very best in Europe and bag a final against Real Madrid.
You've got Mohamed Salah taking the Premier League by storm, winning virtually every individual accolade including PFA Player of the Year and Football Writers' Player of the Season, making him only the third-ever player in the club's history to snap up both awards alongside Suarez and Gerrard.
The Golden Boot joined an ever-growing list of achievements for the Egyptian, with a record 32nd goal in a 38 game season making him the all-time leading scorer in Premier League history. Surpassing Alan Shearer, Cristiano Ronaldo and Luis Suarez, it's truly remarkable what Salah has done this season.
Then there's Trent Alexander-Arnold, who was a six-year-old when Liverpool won the Champions League back in 2005. Rewind to a year ago and he was an 18-year-old with 10 appearances to his name. This season he's had a pivotal role in Liverpool's successes, delivering on the biggest stage to stifle Leroy Sane and co.
So too has Andy Robertson, whose rise from unemployment in 2012 to stardom represents a remarkable story. A first goal for the club against Brighton was a fitting way to end what has been a brilliant campaign for the Scotsman, shoring up a previously problematic position for The Reds.
Dominic Solanke, largely disparaged by his own fans came into his own on what could well be his last appearance of the season, rounding off a brisk attacking move with an expert finish. It was the type of goal that earned him such rave reviews under Jose Mourinho back in his Chelsea days, with the 20-year-old grabbing his first goal for the club while delivering a statement that maybe, just maybe, there is still a role for him within this Liverpool squad.
It was definitely a day of firsts, with Dejan Lovren scoring his first Premier League goal at Anfield. Yet another assist for Andy Robertson, the Croatian rose well to powerfully head the ball into the back of the net as Liverpool ended their campaign in the best possible fashion.
Rafael Benitez even gained a mentioned from the Anfield faithful, pulling off another remarkable result against Chelsea to confirm a consecutive top-four finish for Klopp.
When Liverpool sold Philippe Coutinho without replacement in January, eyebrows were raised about the possible ramifications it would have on their season. Fast forward to the present and Klopp's side have shown no ill-effects from losing the Brazilian. That's very much to the credit of the front-three who have all had the best seasons of their careers to date.
Sadio Mané has 19 goals and 9 assists in 42 games, bettering all prior tallies:
2016/17: 13 goals and 8 assists in 29 games
2015/16: 15 goals and 9 assists in 43 games
2014/15: 13 goals and 9 assists in 40 games
Firmino has answered all of his critics, surpassing the 25 goal mark while contributing far more via a tremendous work ethic and creative eye. 27 goals and 17 assists in 52 appearances comfortably beats his previous two campaigns in the top-flight along with his best tally for Hoffenheim:
2016/17: 12 goals and 11 assists in 41 games
2015/16: 11 goals and 11 assists in 49 games
2014/15: 10 goals and 12 assists in 36 games
2013/14: 22 goals and 16 assists in 37 games
There are not enough superlatives in the world to describe Mohamed Salah's form this year; 44 goals and 15 assists in 51 games says all you need to know about his contribution to the cause. He's surpassed the goal-scoring records of some of the best strikers in the game; Alan Shearer, Thierry Henry, Ruud van Nistelrooy, Robin van Persie, Fernando Torres, Didier Drogba and Luis Suarez.
Mohamed Salah is the joint-eleventh top scoring Golden Boot winner since 1959/60. pic.twitter.com/ES9vhfF7yO

— Andrew Beasley (@BassTunedToRed) May 13, 2018
An average age of 24.5 makes Klopp's achievements all the more impressive; Liverpool were 26.1 in 2005 and 26 in 2007, while Manchester were 26.7 in 2008 and 27.1 in 2009. Chelsea too, were significantly higher than Liverpool's current squad, with an average age of 27 in 2008.*
No English team have reached the Champions League final and finished inside the top-four in the last seven seasons, emphasising the magnitude of what Klopp has achieved. To do so with a squad whose average age is a year and a half younger than any prior finalist is phenomenal.
There have been so many highs; Oxlade-Chamberlain's belter against Manchester City in the league, Mo Salah's dazzling dancing feet against Watford, a 5-0 aggregate win against Porto, a 5-1 aggregate win over the Premier League Champions while making light of Roma's impressive record of not conceding a single goal at home in Europe this season. This is a team whose scored three or more goals in a game 25 times this season. It's absolutely staggering.
Add to that the ever-improving defence marshalled by the authoritative figure of Virgil van Dijk. In a matter of months, the Dutchman has helped steady a previously rocky defence, with Liverpool finishing the season with their joint-sixth best goal difference of 1.21 per game. The fact that so few people refer to his record price tag these days is telling in itself; Van Dijk has been the spearhead to the club's defensive refinement, taking this team a significant step closer to Premier League title challengers.
What a special season from a special Liverpool team. One more win in Kiev and they'll become legends.
*Stats via Tomkins Times. LINK: https://tomkinstimes.com/2018/05/klopp-performing-miracles-that-some-liverpool-fans-dont-deserve/