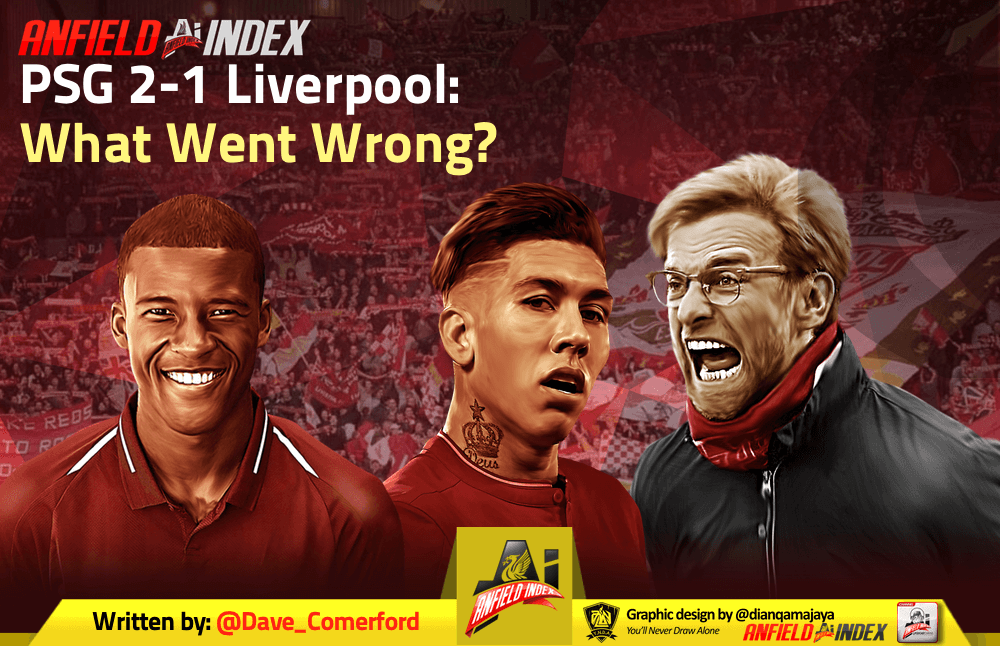 PSG 2-1 Liverpool: What went wrong?
It may be Liverpool's fourth season under Jurgen Klopp, but still the Reds insist upon doing it the hard way.
A gut-wrenching defeat at PSG means their European ambitions hinge on the meeting with Napoli in a fortnight's time.
Fail to deliver in that one, and Klopp's side face the horror of Europa League football.
The German has seemingly traded flair for pragmatism this season, but the first-half display was more jittery than it was level-headed.
James Milner's penalty offered hope of a turnaround, and while the Reds looked closer to their usual selves after the break, they struggled to carve out a clear opportunity and allowed the hosts to make it to the finish line without a real scare.
Below are some of the possible reasons for this damaging defeat.
Star players flop
Long-standing grievances tend to come to the fore in the wake of such a setback, but this time Reds supporters have more cause to criticise their biggest players than the usual suspects.
Virgil van Dijk's performances are typically characterised by immense composure, inspiring a certain confidence which runs throughout the team, but those reassuring attributes were nowhere to be seen this time.
It was a rash display from the Dutchman, who committed too many frustrated fouls and fumbled a clearance moments before PSG's opener.
In attack, Mohamed Salah offered virtually nothing. The application was there from the Egyptian, but it seemed that every time he tried to make something happen, he failed.
Roberto Firmino, meanwhile, couldn't kick on from his return to goalscoring form against Watford, turning in one of his worst performances in recent memory. Too often, it was a case of wrong idea or wrong execution.
Of the big guns, only Alisson and, to a lesser extent, Sadio Mane could hold their heads high.
The midfield goes missing… again
The trio of Milner, Jordan Henderson, Georginio Wijnaldum produced some outrageous performances in the knockout rounds last term, but for whatever reason, that combination has lost its edge.
Just as against Napoli, the midfield failed to fulfill either of its functions – protecting the defence and producing incisive passive for the attackers – and Liverpool suffered.
After a ragged afternoon at Vicarage Road, Henderson further strengthened Fabinho's case for the top spot in the long-term pecking order, Wijnaldum was largely anonymous and Milner, though he took his penalty well, was far from his glorious best.
Naby Keita's introduction brought driving runs from midfield, which the Reds had been sorely missing, but it was too little, too late.
Liverpool are pining for the dynamism and creativity which Alex Oxlade-Chamberlain consistently provided, and in his absence they need to line-up with Keita, Shaqiri or both. Otherwise, things will continue to fall rather flat.
If it aint broke
Trent Alexander-Arnold had an excellent game in the home tie against PSG, both in terms of his battle with Neymar and his attacking contributions. This was bound to be a different kind of match, but still the decision to bench the youngster and instead play Joe Gomez at right-back was a confusing one.
Dejan Lovren wasn't particularly poor alongside van Dijk, but perhaps Klopp was regretting his solution when the rapid PSG attackers left the sluggish Croatian trailing in their wake as they launched a swift counterattack and scored their second. He didn't have a prayer.
Gomez's struggles, meanwhile, served as yet more evidence that the centre-half is clearly his best position. His offensive contributions were scant.
Alexander-Arnold's crossing accuracy has deserted him at times this season, but I for one would have felt considerably more confident seeing him tee up a delivery. Virtually all of Liverpool's balls into the box were cleared by PSG with minimal hassle.
The unavoidable conclusion is that Klopp got it wrong.
The right mentality?
This was Liverpool's seventh truly 'big' game of the season thus far (following Spurs away, PSG home, Chelsea away, Napoli away, City home, Arsenal away), and once again they failed to rise to the occasion.
The win at Wembley and the dramatic victory in the earlier meeting with PSG were impressive, but in all their blockbuster fixtures since the Reds have, in truth, fallen well short of expectations.
It looks like Liverpool's apparent maturation has come at the cost of the venom which made them so frightening last season. In a curious way, their underdog mentality was crucial.
The displays of late have ostensibly lacked the aggression and the desire prevalent in all of the best wins under Klopp; that's not to say Liverpool are any less hungry this season, but it does suggest there is a more fundamental issue inhibiting the realisation of this team's huge potential.
A refereeing disaster
And now we come to the section where we blame the ref – but with good reason. European officials have put their Premier League counterparts to shame at times, but this referee's performance made John Moss look like a master of his trade.
He simply bent to the will of the fired-up home crowd, blowing up every time a PSG player hit the deck and wailed. That only encouraged their nasty tactics.
It was quite miraculous that Marco Verratti escaped what would have been a game-changing red card. His challenge on Gomez was a dangerous, out-of-control potential bone-breaker, and he committed at least two more bookable offences in the second period.
It's also worth noting that, but for a rare contribution from the official stationed behind the goal, he would have given a corner when Mane was oh-so-blatantly sliced down by Angel di Maria.
UEFA ought to be embarassed.
Still, Liverpool mostly have themselves to blame. For the third successive European away trip, they weren't good enough, and now their best chance of attaining truly significant silverware hangs in the balance.