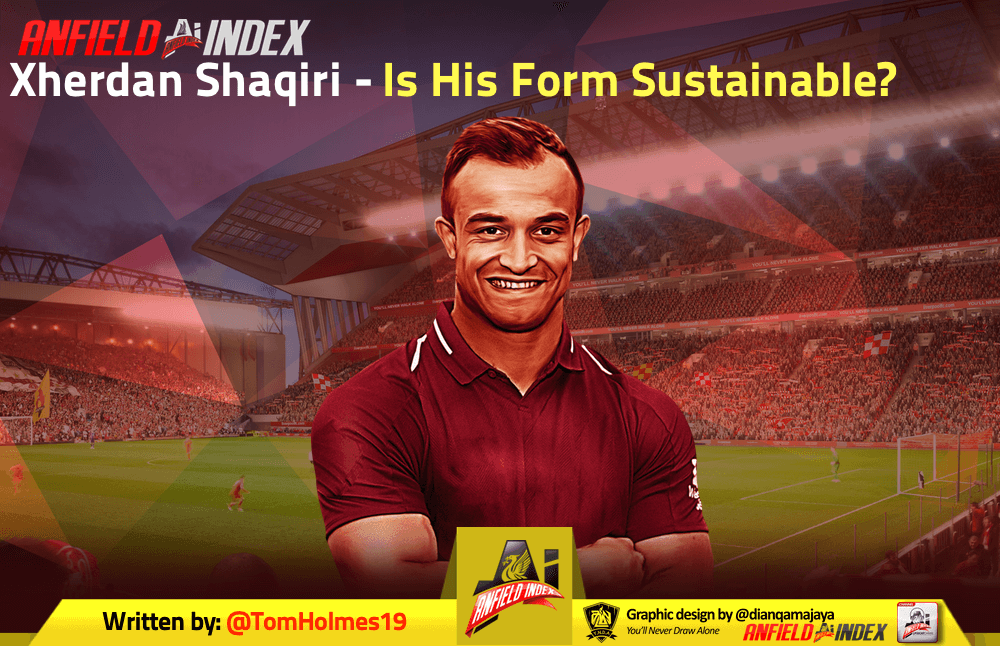 Xherdan Shaqiri - Is His Form Sustainable?
Xherdan Shaqiri has been somewhat of a hit amongst Liverpool fans, and it's easy to see why. His two goals off the bench against Manchester United earned him a spot in LFC folklore and earned a player who has consistently received plaudits, well… even more, plaudits.
Shaqiri has very much been an impact player for Klopp's side this season, but part of the reason that he's been so quickly picked up on by LFC fans is that he's a dynamic, explosive player who adds something different to our midfield, or allows us to play with a front four rather than a front three. In many respects, he's the sort of link-man that the Reds have been crying out for.
But equally, I think a lot of the praise around him has been somewhat hyperbolic and threatens to overshadow and overhype him. There's no doubt that Shaqiri is a decent player, but some of the plaudits he's been receiving, in my opinion, create a narrative hype that he cannot live up to, and in some cases highlight him for praise for things that he hasn't really been doing.
So let's have a look at Xherdan Shaqiri, the good and the not as good as people think.
The best place to start is his returns. I'm writing this before the Wolves game, and at this point, Shaqiri has notched five goals and two assists from 630 minutes in the Premier League – that's a goal or assist every ninety minutes. The best record in the Liverpool team by anyone not named Divock Origi. He's got the same output as Bobby despite having played less than half as many minutes, and only Mané and Salah have contributed more in terms of the PL. I'm going to stick the PL, as Shaqiri has started just one game in the Champions League, collecting one assist from his 86 UCL minutes.
So Shaq's impact is excellent, and that is reinforced when he is used as a sub, as three of his five PL goals and one of his two assists have come from his six sub appearances – in contract to two goals and an assist in his seven starts.
Shaqiri's biggest impact has been his goals, and that's hugely down to his finishing. He's converted three of his five big chances, which at 60% is the best big chance conversion in the PL for Liverpool (excluding Sturridge who is 1 from 1), narrowly ahead of Mané who is 4/7 (57%).
So having Shaqiri come off the bench to make a direct impact on games seems to be a good use of his skills, and that's exactly what happened against tired legs against Man United. Moreover, whilst his level of finishing might be considered unsustainable (5 goals from 2.60 xG) smaller sample sizes tend to make these sorts of over-performances more achievable. In other words, it's hard to say whether Shaqiri will score as many goals going forwards.
Nevertheless, his output seems relatively consistent. He has the third highest shots and creates the third most chances per 90 minutes in the squad. Shaqiri is certainly a player who is making an impact, and beyond the numbers, every time he's been on the pitch he looks like a player capable of making something happen.
And whilst his underlying numbers aren't remarkable, they're absolutely solid. He has the 6th highest xA/90 in the team at 0.16, the 7th highest xGChain at 0.61, and his numbers are well spread, he's very comparable to Sadio Mané in most statistical categories, although Salah is comfortably better than both in almost every way and Bobby Firmino is having a weird season.
One area that Shaqiri needs to improve is taking players out of the game. Whilst he's lauded for his ability on the ball, Shaq's dribbling for a winger is pretty appalling. He's completed just four dribbles this season in the PL, having attempted 13. Per 90 he's LFC's 11th best dribbler, which is not great, and he doesn't tend to win free-kicks earlier, having been fouled just seven times.
Another area that still concerns me with regards to Shaq is creativity. He's a player who is consistently lauded as a creative force and spark but is consistently less creative than James Milner and Andy Robertson. He's yet to create a single big chance, and whilst I mentioned above he's a high-volume creator, he's not necessarily a quality creator. With Milner, Bobby, Mo and Robbo all around 0.15 xG per chance created, Shaq is about half that at 0.08.
This isn't necessarily a problem either to be fair, for two reasons. The first is that high-volume chance creation remains a good thing even if you're not creating quality chances. Teams need players who can create lots of low percentage chances to keep them ticking over, especially if they already have two or three players who create fewer chances but of a higher quality.
The other point is again, sample size. Shaqiri has played half as many minutes as the rest of our front three, which gives him plenty of time to create big chances. Sadio has only created two in 1265 minutes, so there's plenty of scope for Shaqiri to show what he's capable of.
Getting away from the numbers, I think it's clear that there's an element of fortune to the way that Shaq has performed so far this season. At times he has felt, like in many ways this team has, like a player who can do no wrong, where everything he has touched has turned to gold. It started with a three-yard pass for Daniel Sturridge that resulted in his rocketing Chelsea equaliser and ended up with two deflected goals against United to make him the hero of the day.
I am a huge fan of Xherdan Shaqiri. He's added something different to this team, a different dimension and a more direct style of passing and shooting. But equally I think that he's a player riding a bit of a hot streak, and I hope that he's able to continue to contribute consistently when things normalise a little bit.
On the other hand, he's been one of our best-attacking players in a season where our attacking output has at times faltered and a lot of that has been down to things that the numbers don't always reflect. Shaqiri is very much an aesthetic player, and when people watch him, he always gives you the impression he's going to make something happen.
Oh and he's scored two goals against our arch-rivals to condemn them to sacking their manager. What a fucking guy. Xherdanpool all the way. Up the Reds.