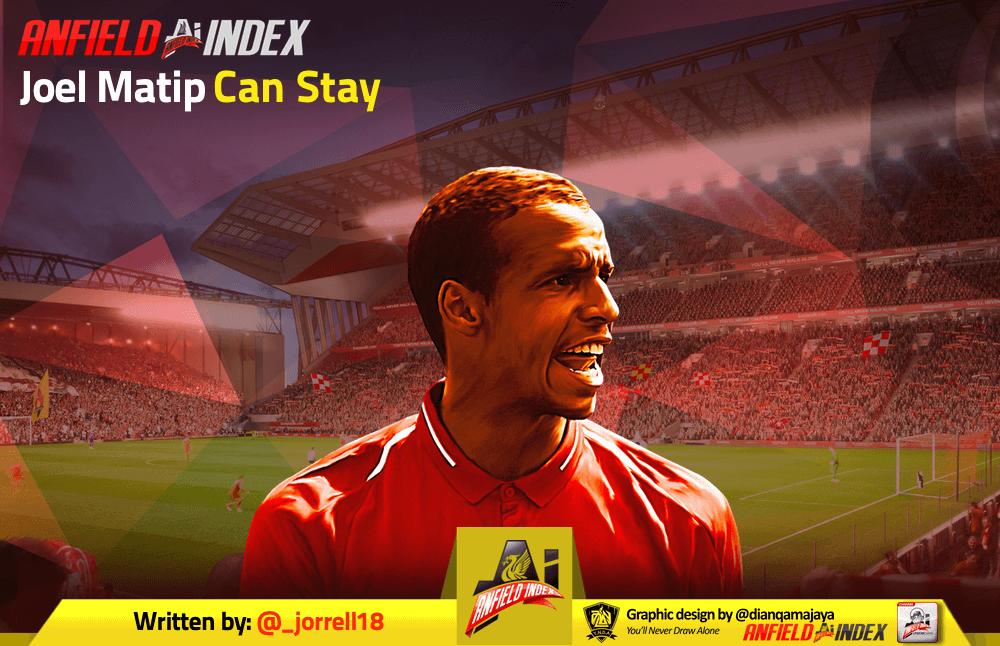 Joel Matip Can Stay | On Consistency and Squad Depth in the Premier League

During Wednesday's 5-0 victory against Watford, there was a moment that could've easily changed the course of the match for Liverpool had Joel Matip not stepped in front of Troy Deeney at the last moment
Simple, yet effective
A Gerard Deulofeu low cross whipped in towards the penalty spot meant Liverpool's goalkeeper Alisson needed a saviour, and the usual suspects for the task couldn't have been available for it. Deulofeu received the ball inside Andy Robertson at left-back, which forced Virgil van Dijk to pull himself out of position and, in this case, ill-equipped to defend the pass.
Instead, in a tidy, effective manner, Matip stepped in front of the cross at the very last moment and sent it behind for a corner. Watford had, in an optimist's view, perhaps another chance or two for the remainder of the match. Despite the importance of that clearance, one of six on the day for the Cameroonian centre-back, not a single highlights video, even the extended versions, includes that moment.
Looking back, Watford's few other chances were better – including a cross of similar fashion from Deulofeu that Deeney did get a touch on, albeit an errant one. Will Hughes stepped up his play in the second half and caused some problems for the Liverpool midfield. And, in all reality, the Reds scored five goals.
There were more enticing things to look back on, to be fair.
How bad is fourth?
Matip is Liverpool's fourth-choice centre back – he's been on the pitch quite a bit due to injuries in recent weeks, but in the grand scheme of first-team selection, he is #4. Van Dijk, Joe Gomez, and Dejan Lovren are all ahead of him in the pecking order. He's made a total of fourteen appearances this season, of which five came from literal last-minute substitutions and one being the disastrous Red Star performance in Belgrade that Reds would prefer forgetting.
Consider that clearance, though. In recent memory, would Ragnar Klavan have been in a position to make that step? Or Martin Skrtel? For supporters who've been enduring the 29-year drought that could end soon for longer than others, let's go back even further. Sotiris Kyrgiakos? Gabriel Paletta? Djimi Traoré?
As the Reds celebrate a statement victory days before the Merseyside derby, squad depth has been heavy on the heart for many. Football has changed more so than ever into a squad game – with the money spent on players, trophies to juggle over the course of each season, and an increasing number of international competitions that limit breaks and holidays, quality of choice that runs deep is vital.
Prior to Watford, three draws from four matches narrowed the gap between Liverpool and Manchester City. With the nerves of many Reds fans on edge, the depth question coming into the final stages of the season has been plastered across social media for weeks. Of the many aspects of Manchester City that set them apart from most football clubs in the world, the wealth of talent/money spent/quality left on the Citizens' bench every week is the envy of the world, including Liverpool.
While there are many interpretations of the Reds' blip prior to Watford, squad depth may prove less a concern than recently believed, especially in defence.
In comparison
Above is a list of every Premier League champion's first four choices at centre-back, in their respective title-winning season. A few trims to the list may prove effective here.
First, who wouldn't want Stones or Laporte as their fourth-choice option? No one looking at this list would quite compare Matip to either of those players, who would arguably walk into most first teams in the Premier League alone.
Also, during Leicester's magical run at the title three years ago, Liam Moore was fourth-choice, but never actually played a match for the Foxes. His first six months were spent at Bristol City on loan, and while he was recalled to Leicester during the January transfer window Moore spent most of his time in the youth ranks. Moore now plays for Reading in the Championship. Let's not spend time debating him.
But, looking with hindsight at the rest of the winners, who's there for the taking from past winners that would really outclass what Liverpool have in Matip? Chris Smalling, age 22 in 2012? Joleon Lescott or Micah Richards for City, depending on the year of their title success? Kurt Zouma… anyone?
What Matip has brought to the table for Liverpool in the past couple seasons is a centre back with some play-style variety that, while he's gotten in trouble for it from time to time, allows him to be matched well in different situations. He can step out of the defensive line and hold it steady with equal proficiency. Though aerially Matip was distant in the match against Watford, he's been a good presence in the air for Liverpool. In terms of aggression, he can be a bit too passive at times, but Matip's patience with the opposition in possession has proven that he reads and reacts to situations well enough.
Put simply, not too shabby
The point is that, yes, squad depth is more important than ever. Liverpool supporters have been reminded fairly recently the perils of lacking depth, especially the season after landing in the Champions League places.
And there's no doubt, in terms of both pure footballing ability and defensive solidarity, Matip can be improved upon. Further, Manchester City, the Spanish powerhouses Barcelona and Real Madrid, Bayern Munich, and more clubs littered with quality throughout their squad have proven that some of the best defenders in the world are willing to rotate if it means playing with a great team.
But with other positions on the pitch that need strengthening – rotation for Roberto Firmino, more than just Xherdan Shaqiri to replace either winger and the endless midfield discussion all apply here – centre-back could be an area that is left as is going into next season and beyond.
Compared with some of the options available to past Premier League winners, there's just not that much wrong with having Matip fill in when needed. Most Liverpool fans wouldn't trade van Dijk or, when healthy, Joe Gomez for another player that would knock Matip farther down the pecking order. Which means fourth-choice gets improved upon by offloading either Lovren or the Cameroonian international. Whether that's a direct necessity or otherwise is a something for you to decide for yourself.
For the moment, however, Matip is here at Liverpool putting in performances despite getting nearly no minutes in the entire first half of the season. If that form continues when he's needed, most will argue that having Matip around is a pretty good thing.