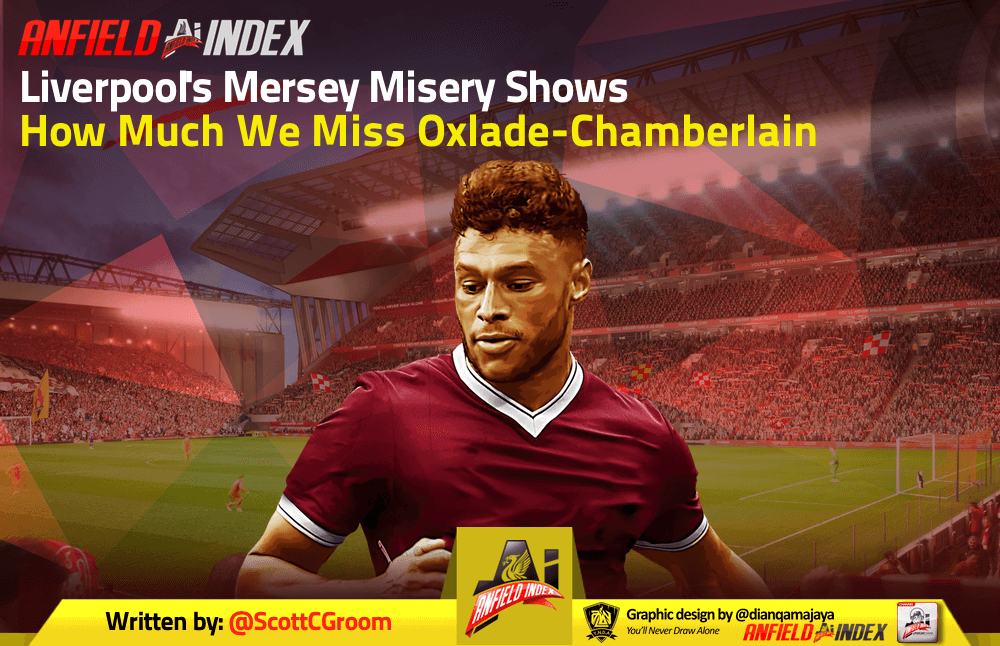 Liverpool's Mersey Misery Shows How Much We Miss Oxlade-Chamberlain
It was a frustrating afternoon at Goodison Park in the second Merseyside derby of the season as Liverpool stuttered to a goalless draw in what could turn out to be a pivotal result in the title race.
The second half, in particular, was a bit of a cause for concern as the Reds struggled to make much of an impact on the game, and Klopp's substitutions certainly raised a few eyebrows.
The introduction of James Milner and Adam Lallana in place of Wijnaldum and Mané with the team chasing a late winner brought into question not only Klopp's mentality towards the result, but the options available to him both from the start – and hammered home the void that Alex Oxlade-Chamberlain's injury has left in his squad.

The former Arsenal man, who arrived for £35m last summer, provided key moments and incisive play from his midfield role while helping to win battles in the middle of the pitch with his combative style of play, strength, agility and work rate.
Combine all of these aspects, and you have a pretty dynamic player on your hands, and one that's capable of providing moments of inspiration when his side need them most.
This is what was missing from Liverpool's second half against Everton. Someone willing to get the ball and pick his head up and drive forward and take the game to Marco Silva's men.
There has been much criticism of Klopp's 'negativity', rightly or wrongly, since the full-time whistle went – prompted by the German's PlayStation comments in his post-match press conference.
But if he had someone like Chamberlain either in the side or to bring on from the sidelines, it automatically adds that attacking threat from the middle that was glaringly absent on Sunday, while giving defensive stability at the same time.
He certainly would've provided more of a threat than Adam Lallana who couldn't even manage a single Cruyff turn in his stint in the derby.
This is all without mentioning Chamberlain's on-field relationship with Mohamed Salah that really started to blossom during the latter stages of last season.
Ox provided Salah with five league assists last season, and stats aside, it was clear to see that the two were clicking and forming a lovely partnership – and that's something that Salah has missed in behind him in games where he's failed to find his best form this season.
The Egyptian King struggled against Everton, but perhaps with someone thriving in behind him, buzzing around and constantly looking for his runs, he might have had more chances to get that all important goal that eluded him all afternoon.
Granted he shouldn't have needed any more chances, but you would've thought that given one or two more that he would have had at least one goal to his name.
The Everton game is a prime example of when the Reds have missed Oxlade-Chamberlain, but in recent games where Liverpool have stalled and dropped points in draws to the likes of Leicester and Manchester United, it was quite clear that Klopp's side were missing that flair from the middle.
Xherdan Shaqiri has been overlooked in recent weeks too, but that is through a lack of form, while Naby Keita has once again struggled with illness and seems to have been dropped down Klopp's pecking order again despite some good performances.
So without adding those two to the mix, adding Ox would add more spice to the mix. Look at his performances against Manchester City in the league and in Europe last season; he drove at their back line and caused them problems and got himself on the scoresheet.
He was similarly effective in the West Ham and West Brom games last season, too, doing exactly the same thing and directly influencing play to push Liverpool forward and onto the front foot where we all know they're at their most dangerous.
Liverpool must be careful to not rush Chambo back into the first team too soon for risk of aggravating an injury, but he will certainly be a welcome addition to the squad in the coming weeks.