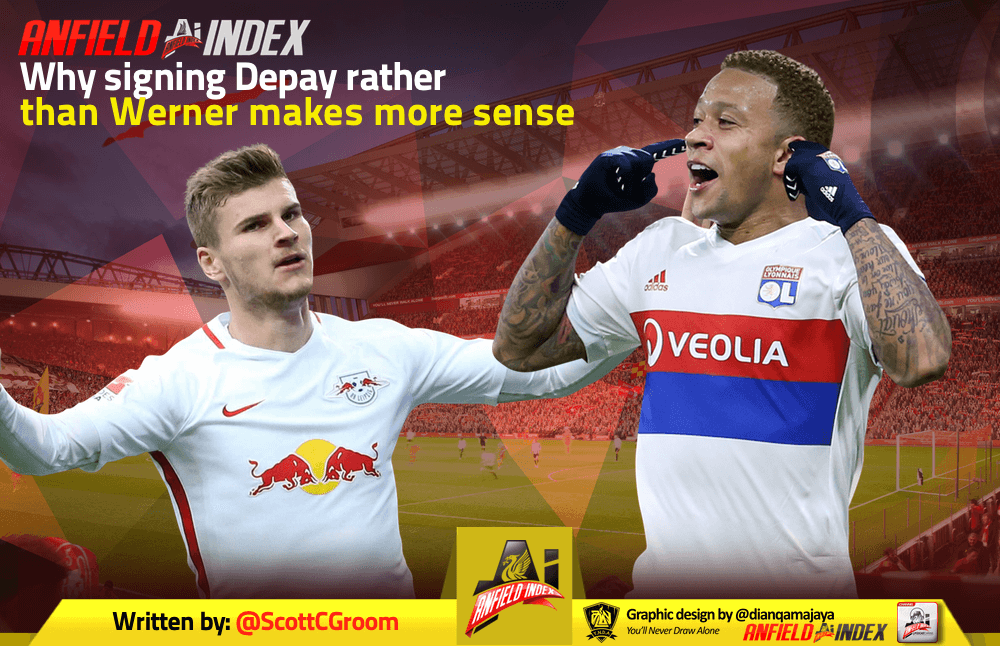 Why Signing Depay Rather Than Werner Makes More Sense
The transfer window has barely opened and rumours are already going into overdrive.
Those rumours surrounding potential incomings at Liverpool seem to surround a number of attacking players, namely Memphis Depay of Lyon and Timo Werner of Red Bull Leipzig.
There's no doubt that both would be solid additions to Liverpool's already deadly striking options, but both would add different dimensions as their styles of play are so different.

And it's for this reason that, I would argue, one is a better fit for this Liverpool side than the other. And that player is Memphis Depay.
Any move for the Dutchman would be a little controversial considering his previous stint in the Premier League came with our arch rivals from across the M62, Manchester United. But I'm prepared to let the past stay in the past; everyone makes mistakes.
Since his departure from Old Trafford, Depay has recaptured the form of his PSV days that saw him earn a move to England in the first place.
He's scored 39 goals and provided 41 assists at Lyon, with 10 of those goals and assists each coming this season – making him the French league's most creative player in terms of direct involvements in goals.
Those numbers really are impressive, so will naturally have caught the eye of many clubs around Europe. He has accumulated these by playing in a multitude of positions across the attacking line, and this is what I think separates him from Werner.
Werner is more of an out-and-out, and for want of a better phrase, 'old fashioned' centre forward. He's athletic, strong and provides a focal point to the attack, which is something he's very good at. He too has had a very good season, scoring 19 and assisting 10 in all competitions this season.
Yet, one can't think about Klopp's previous experimentation with a target man up front who isn't Roberto Firmino.
Divock Origi arguably has done the best, but Christian Benteke was swiftly moved on by Klopp after he joined the club as his style didn't suit the way he wanted to build his Liverpool team.
Now, there is a class difference between Benteke and Werner, but their style of play is similar. And when Liverpool play with that kind of player up top, nothing seems to flow as naturally.
This is where Depay seems a better fit, as he has the versatility to play anywhere across the front three while keeping the style and fluidity of play the same.
He would easily be able to slot in place of any of Salah, Mané or Fimino and would give plenty more pace and directness to an already potent front line.
He is skilful and lively and can produce something out of nothing and that's another thing that's appealing about him.
In this respect, he would make more sense for Liverpool to target him.
Yes, he had a bad spell at United, but Salah was deemed a failure when he was a Chelsea player. Look at him now.
This is not to say that Werner joining Klopp's side would be a bad move, I just think having him on the pitch would mean altering Liverpool's style of play to one that doesn't see them at their best.