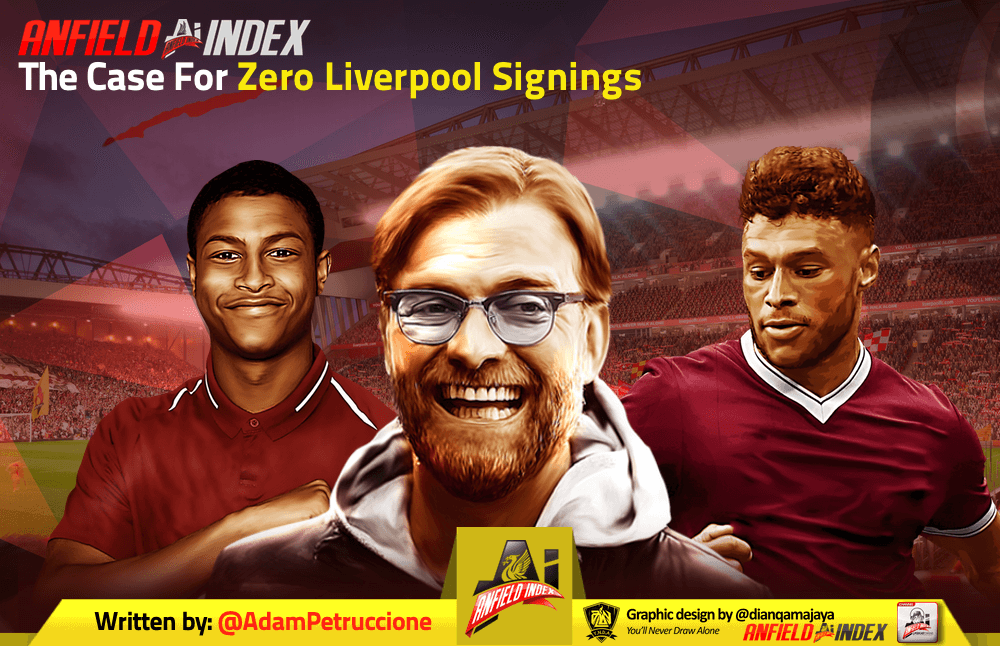 The Case For Zero Liverpool Signings
As the last pieces of content from the Champions League Final dribble out, our attention turns fully to the transfer window. Our domestic and European rivals have begun to make official some of their squad additions with Real Madrid blowing past the €300 million mark already.
Liverpool have been linked to several of Europe's top prospects with De Ligt and Nicolas Pepe drawing the most interest. There is a case to be made that Liverpool should spend loads this summer to try and press their advantage over the clubs that want to take the Champions League title away from The Reds in Istanbul next year.
However, there have been credible journos pointing to effectively zero spend over the course of the summer. Why would the club go in that direction? What would the squad look like without bringing in new blood?
THE DEPTH CHART
Goalkeeper
There is only one 'keeper that matters at Liverpool and he'll be wearing the #1 kit next season for the first time. Alisson Becker has made so much of an impact, the drop-off to any GK would be tragic. Unless a perfect system fit exists out there in a player who is willing to sit behind our Brazilian, you could certainly see the logic in simply promoting one of the club's many prospects in net.
Caoimhin Kelleher was on the expanded, 12 man bench in the final and would be the favourite to take over for Mignolet. The Cork native is currently playing for Ireland's U21's in the Toulon Tournament. At 20 years of age, the highly rated Kelleher is in a good range to do an apprenticeship season. He's young enough where he doesn't need to press for consistent senior starts and aside from early cup rounds Kelleher can also stay sharp by playing in the U23's.
Ultimately Liverpool 'keepers face very few shots, so the backup GK shouldn't take too many financial resources to fill. System fit is more vital, so why not promote from within?
Centre-Back
The only senior player who might be leaving Merseyside from The Reds' centre-back ranks would be Dejan Lovren and that is far from certain with the Croatian clearly enjoying life in Liverpool. The toughest thing about projecting a season for Liverpool's back line is that Lovren and Joel Matip have lengthy injury histories as does super-utility defender Joe Gomez. There are conflicting opinions as to what kind of durability to expect from Joe Gomez if he were used exclusively at centre-back. Additional depth exists in the form of Ki-Jana Hoever, who got his senior debut last season in the middle of our injury crisis.
Five centre-backs is more than most major clubs have to call upon. For two seasons running, the only problem has been that they have all been injured at the same time. Odds are that Liverpool will be fine with what they have. Will Jurgen Klopp trust probability or history?
Fullback
This is the position that would take the blindest faith to go into the 2019/20 season with if we don't add any more bodies in the summer. There are prospects that the club likes in the Academy. There are players in the senior squad who can do a job at fullback. But, with the club so reliant on creating through the fullback positions, can Jurgen Klopp go into another season without signing more depth?
Andy Robertson and Trent Alexander-Arnold are mentioned among the world's best at their respective positions at a minimum. Together they undoubtedly represent the world's best pair of fullbacks. Behind them, Clyne is expected to depart and he would follow Alberto Moreno who has seen his contract expire. Clyne has been an emergency option of late anyway due to Joe Gomez' ability to play right-back. At the time of his injury against Burnley, one could argue that Gomez was even preferred to Alexander-Arnold in the biggest matches. The obvious issue is injuries. If this were a video game, you could slot Gomez in at any of the back four positions. However, all of his injuries in his time at Liverpool have come while playing fullback while he has clearly shown massive promise at centre-back. If the thought is that Gomez can cover either side, Liverpool have to have additional options.
The aforementioned Hoever is also a CB/FB hybrid and has looked good at youth levels at either position. He could be an emergency option at right-back as well as centre-back. Rafa Camacho has been one of the most exciting players in the Academy, but one interview where he claimed to see himself as an attacking player, not a fullback has stuck with him. Word is that the Portuguese flyer wants to return to his home country in search of consistent minutes at his position of choice. If he could be convinced to stay, a Camacho/Gomez reserve pairing could work well as it did with Moreno and Gomez.
The left side is trickier, where either Adam Lewis or Yasser Larouci would have to emerge from the U23's to back up Robertson if Gomez was not in the plans. Want an even more left-field option? How about Anderson Arroyo, the Colombian who can play either side? Arroyo has been stashed, first in Spain and then in Gent's reserves, but has resurfaced with Colombia's U20's, playing every match in the U20 World Cup. He could theoretically qualify to move to Liverpool in January of 2020.
Midfield
Liverpool's midfield is stacked. With Alex Oxlaide-Chamberlain returning from nearly a season-long injury and Marko Grujic racking up awards in Germany, there are probably too many bodies for Klopp to manage in the middle of the park. James Milner remains a key contributor and Adam Lallana claims he's been given assurances as to his role for next season while Curtis Jones is pushing from the Academy level. Fabinho, Keita, Wijnaldum and Henderson are likely to be the most utilized midfielders next season while all of the others mentioned above will have a crack at their share.
Attack
The one major loss here is Daniel Sturridge who, even in a diminished form, still produced at a high level for Liverpool when it counted. The man looking to replace that scoring punch is relative unknown, Rhian Brewster. He has torn up the pitch for The Reds at youth levels and the club had to fight to keep him in the fold. Obviously, Klopp thinks highly of the kid, and he should be able to spell any one of the big three.
That brings us to the hero of the moment for Liverpool, Divock Origi. At one point his presence in the team, or rather his inclusion instead of Sturridge, was thought as key to Klopp's system even functioning. Today Origi is merely a miraculous extra piece. Intriguingly, he provides a contrast to The Reds' shrimpy forwards and the Belgian takes up positions that none of our other attackers do. He's a beast of a player that defenders bounce off of, who has a real future if he enjoys this late sub role.
Shaqiri represents our third attacking option off of the bench. The Power Cube got us past United, but injury and a dip in form limited him in the second half of the season. Like Origi, you can view him either as an odd fit, or a clever change-up option depending on your perspective.
Summer Situation
In the end, the depth is there even if we don't sign anyone. Credit to the careful planners in their air-conditioned offices for preparing the roster such that any signing is effectively a bonus. The only issue will be the start of the season where AFCON and Copa America will cut into Jurgen Klopp's preseason schedule. Without our South Americans and Africans in the team, things will be awkward and as we saw in 2018/19, one poor result can cost a chance at the league title.