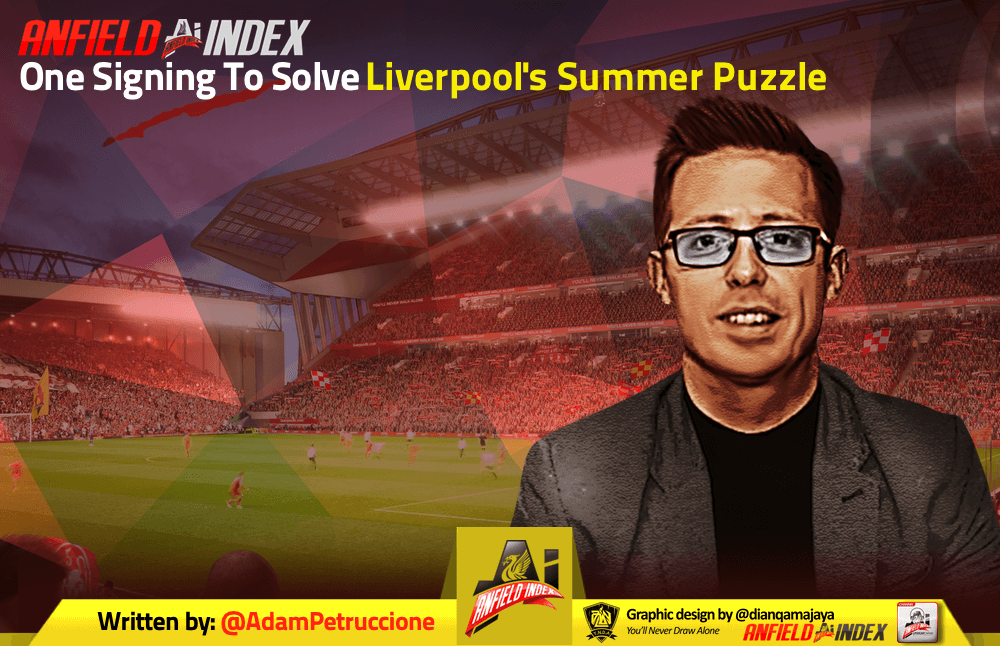 One Signing To Solve Liverpool's Summer Puzzle

We've won it six times… Now that the formalities are out of the way, let's talk about transfers. Various reports state that Liverpool have the ability to spend, but aren't inclined to disrupt a squad that blew away their Premier League points record while bringing the Champions League title back to Anfield. The resulting riddle is, how can Liverpool make a relatively conservative tweak, one move that would have a tangible impact on the 2019/20 season? A Swiss-Army-Knife, do everything, player could do the trick, as would some world-beaters who are good enough to send ripple effects through the squad.
Here is a look at some of the season altering options.
GO GO GADGET FULLBACK
Real Betis' Júnior Firpo is not a household name, but the club are demanding a household price. With a £45m release clause, this would not be one of Michael Edwards' money-ball moves. Firpo would be expected to contribute in a big way. The upside is that he would have several areas where the 20 year-old could have a chance at success.
Having made 27 starts in all competitions for Betis, Firpo played across the left side, but his versatility may be overrated. The Spaniard is a wingback, and through formation changes or strategic shifts at Betis, Firpo played at left-back and left-midfield at times. Translate that to Liverpool and he's just a fullback. Júnior Firpo scored 3 with 4 helpers in La Liga but if Alberto Moreno was never used as a left-wing substitute under Klopp it's hard to see a different outcome here. The talk of him being able to function as a reserve for Van Dijk, Robertson and Mané are wildly optimistic.
With this in mind, Firpo would be a £45m reserve left-back. Can't see that happening.
https://twitter.com/1A8F8C6/status/1138963690353496067
DOUBLE SESS-ION
The curious case of Ryan Sessegnon. The left-back come winger was the next big thing this time last year. A tally of 16 goals and 8 assists in the Championship for Fulham, splitting time between fullback and left-wing, put him on the radar of every top club. The ITK talk in May of 2018 was that Sessegnon was at the top of Liverpool's list, but he opted to stay at Fulham for their return to the Premier League.
Just two goals and six assists while playing mostly as an attacking mid for Fulham has cooled interest even though he put up those numbers in a disastrous relegation season. Versatility wise, Sessegnon is an A+ prospect. The 19 year-old made 11 starts as either an attacking mid or forward from the left, 4 from central midfield on the left side, but interestingly 7 starts on the attacking right, 1 start in each fullback slot and even one as a centre-forward.
The money is on Sessegnon moving across London to Spurs, but they appear to have other priorities this summer. Jurgen Klopp has worked miracles with supreme athletes with positional versatility. Even if the end-product were closer to his numbers last season than his breakout Championship campaign, Sessegnon could at the very least duplicate Mané's speed on the left. Not having the option of the outlet ball to Mané for any stretch significantly changes Liverpool. The Fulham-flyer would provide security there as well as for Robertson, albeit in the form of a different type of threat. A situation where Sessegnon started certain matches at left-back with Gomez opposite would make a lot of sense.
Just in terms of an option to have on the bench and sub in essentially anywhere to save the legs of our stars, Sessegnon would seem to be a brilliant addition and any production that starts to replicate his 2017/18 season would be a bonus.
KOUL RUNNINGS
A versatile player who can fill several roles is seen as the obvious need. However, the right signing to fill one position in a big way could shift current players into squad roles, strengthening Liverpool's depth overall. The ultimate ripple effect signing would be Kalidou Koulibaly. The Napoli centre-back would take a massive outlay of cash, breaking The Reds' transfer record, but rather than high-level prospects like De Ligt, Koulibaly is in his prime and performing at the highest level right now.
The signing of a player of his ilk would shift Joe Gomez' primary role to fullback to the extent where he could provide depth for either side. Big Joe could play the right side as he has so often under Klopp, and the left where he had his original breakthrough under Rodgers. Both Trent Alexander-Arnold and Andy Robertson would be able to roam forward with Gomez hanging back as he has in tandem with Moreno.
A back six of Alisson, Van Dijk, Koulibaly, Robertson, Trent and Fabinho would be the most formidable in all of Europe with Matip, Gomez and Hoever as quality depth.
A £100m centre-back signing is unlikely, but similar effects on Liverpool's overall depth could be had with additions like Alderweireld, Dortmund's Akanji or Marseille's Boubacar Kamara.
Everton scout: Koulibaly pairing up with van Dijk 'would be a disaster' for Liverpool rivalshttps://t.co/v5tmmZidiV

— Liverpool Live (@liverpool90live) June 21, 2019
ORDER ITALIAN
Finally, depth could be added to the squad by injecting some firepower into the attack. Federico Chiesa is the new Brandt, providing options all over the attack. The durable Chiesa started 38 matches for Fiorentina in all comps at just 21 years of age last season. His 6 goals do not jump off the page, but like Sessegnon, if he could allow our proven attackers to remain fully fit more often, any scoring punch he develops would be the frosting on top.
Nice's Allan Saint-Maximin and Real's Marco Asensio could provide similar options. Saint-Maximin has more positional flexibility and quickness where Asensio would give Liverpool potency from outside of the 18 yard-box. Any of these signings would allow Sadio Mané more time playing central, on the right or getting a well deserved rest. Chiesa and Asensio could play in the "advanced-eight," allowing Jordan Henderson and Oxlade-Chamberlain to fill in more often in other areas of midfield.
_ _ _
Jurgen Klopp values a smaller squad where major rotation is forced either by the schedule, injury or both. For Liverpool to maintain a manageable squad size while competing on several domestic and international fronts, any addition this summer will have to provide depth at multiple positions either directly or via knock-on effect. Who would your ideal addition be to put the finishing touches on the squad with just a single major signing?