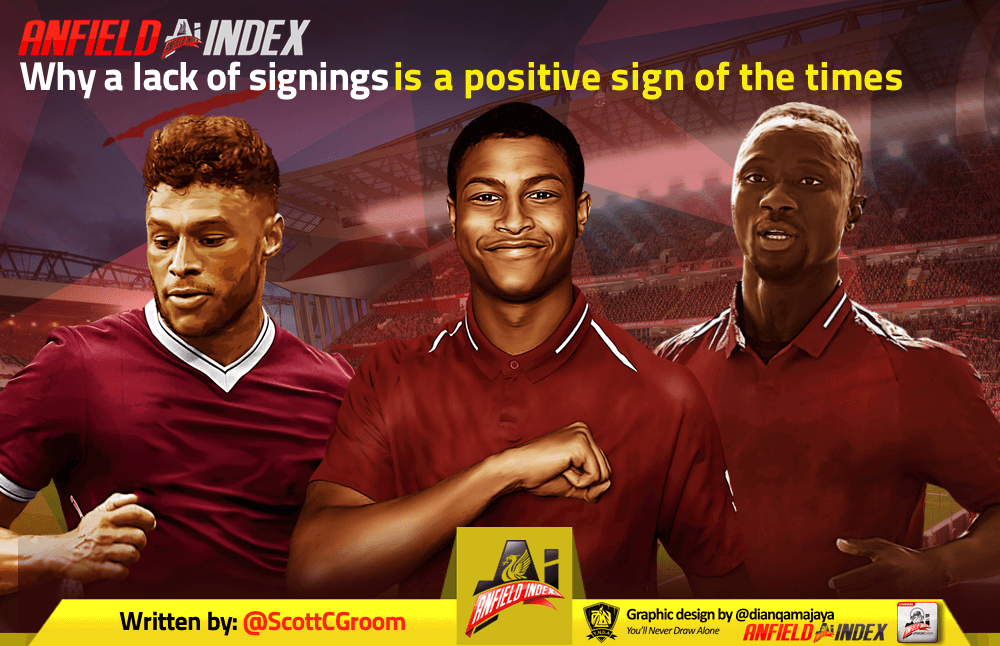 Why a lack of signings is a positive sign of the times
As we turn over another page in our calendars and find ourselves in July, it's hard to believe just quite the position Liverpool are in.
If you'd have told any Red when they were flipping the yearly planners over to July 2018 that, in 12 months time, Liverpool would be the reigning champions of Europe after missing out on the Premier League title by a solitary point, I'm sure the vast majority would have sold their soul to make that a reality.
Yet, here we are, in that position with the club in a healthy position, playing spectacular football with the spine of the side and manager nailed for the foreseeable future; and we're not happy.

Why? Because the transfer window has whipped everyone up into a frenzy.
Liverpool have only made a single signing so far, and that's 17-year-old Sepp van den Burg who will likely not feature in Klopp's first team plans for some time.
So after a stellar season, many will be asking why Liverpool aren't splashing the cash to improve further as they have done in previous seasons.
The answer is simple: this team doesn't have any glaring areas in need of drastic improvement.
While it's undeniable to say that there are still aspects of the squad that require bolstering, left and right back cover being two areas, there is a wealth of strength in Klopp's arsenal.
The midfield will welcome back a fully fit and rehabilitated Alex Oxlade-Chamberlain after a season spent recuperating from a serious knee injury, while Naby Keita and Adam Lallana will look to put frustrating, injury-ridden seasons behind them this term.
A revitalised Divock Origi looks set to be tied down to a fresh deal and the exciting Rhian Brewster looks set to be given his chances to shine after overcoming a significant injury himself.
Then you consider the strength we have in midfield outside of those who've struggled with injury: Henderson, Milner, Fabinho, Wijnaldum and Shaqiri.
While I agree that there does need to be some strengthening, I think you expect an influx of big-name signings like last summer is naive.
Last year, Klopp had the basis for something really special at Anfield which has now come to fruition.
The leaky defence was solved by adding van Dijk in January and Alisson over the summer. Fabinho's arrival added further steel to Liverpool's spine as well as an air of class and skill which has proved pivotal in Liverpool's success this season.
To look at a team that has won the Champions League and lost only once in the league in a 38 game season and expect wholesale changes in a distorted view of reality.
As the old and over-used phrase states; if it ain't broke, don't fix it. That applies here.
There's no need for Klopp to overhaul any areas of his team and squad, he just needs to make shrewd purchases to add that extra depth that can push Liverpool over the line and claim them their long-awaited league title after what will be 20 years at the end of next season.
But the one thing being lost in all of the hysteria is how nice it is to be in what is a different position for Liverpool – there doesn't need to be a huge overhaul for the first time in a while, which shows just how far Klopp and his side have come.
They're now one of Europe's most feared teams and with the correct additions (with quality over quantity being the model), that reputation will only enhance further.
Remember the rebuilding jobs that managers like Houllier, Benitez and Rodgers left behind for their successors?
Klopp has rebuilt, drastically, in every aspect of the club, since he took charge in 2015, and now we're in a position where mass signings just aren't necessary.
So let's just revel in the mystery surrounding the Michael Edwards masterplan for summer 2019 and relish what is to come.