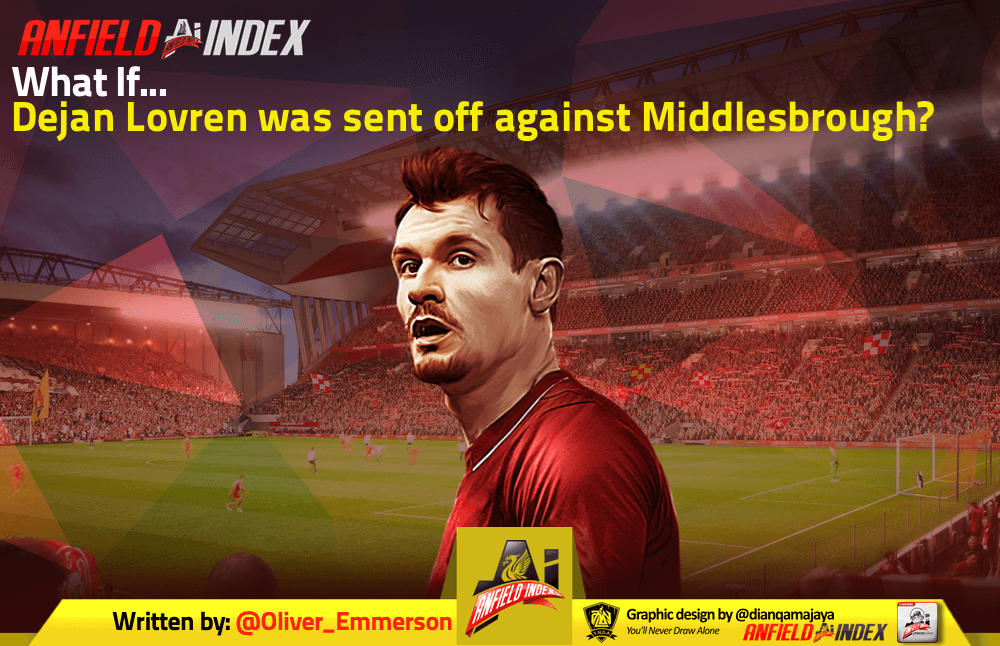 What if... Dejan Lovren was sent off against Middlesbrough?

In the latest of our 'what if?' series, we cast our minds back to 21st May 2017.
Back in the days of watching James Milner play left back every week, Nathaniel Clyne on the other side as Trent Alexander Arnold sat on the bench, Dejan Lovren partnered Joel Matip in defence as part of a Liverpool team that needed to beat Middlesbrough on the final day of the season to assure themselves of a top four spot.
Having managed 73 points from 37 league games, Jurgen Klopp could be fairly satisfied with his first full season in charge of the Reds. However, sitting in fourth with a game to play, work had to be done with Arsenal just a point behind.
The Gunners knew that if they won at home to Everton and Liverpool dropped points to already relegated Boro', it would be Arsene Wenger's men that secured a 21st successive season in the Champions League.
With Arsenal 2-0 up after half an hour, despite being reduced to ten men, and Manchester City romping clear at Watford, Liverpool knew that three points were needed.
A shaky start had given a fired up Boro some hope as they looked to take one final Premier League scalp, culminating in Patrick Bamford evading the LFC defence with a smart one-two just short of the half hour mark. Bearing down on Simon Mignolet's goal, Bamford slowed to shoot before being bundled over by everyone's favourite Croatian.
In the days prior to the double jeopardy rule that prevents players being sent off for such offences where a penalty is given, the Anfield crowd gasped as they focused their attentions on referee Martin Atkinson.
Nothing was given.
Incensed, Bamford explained post-match that he'd confronted the referee at half-time about the incident, having it explained to him that Atkinson believed he was looking to buy a penalty through slowing down, rather than playing naturally. "I'm slowing down to shoot, hardly going to shoot at full speed am I?" retorted the striker.
You know the rest, Gini Wijnaldum banged in an opener just before the interval, Philippe Coutinho and Adam Lallana rounding off the scoring in the second half to secure Liverpool fourth.
But what if Lovren had been sent off? Let's hypothesise…
The incident
Martin Atkinson blows his whistle and points to the spot. Lovren is sent off. Klopp immediately turns to his bench, seeing Ragnar Klavan replace Daniel Sturridge. Liverpool drop out of their diamond shape and into a 4-2-2-1 formation, Firmino offered support by Coutinho and Lallana. With regular penalty taker Alvaro Negredo on the bench, Middlesbrough go 1-0 up as club captain Grant Leadbitter converts his spot kick.
With Sadio Mane injured and no Mohamed Salah yet, Liverpool's slower attack had been blunted by deep blocks at times during the 2016-17 season. Away defeats to Burnley and Hull, as well as a goalless draw at Anfield versus Southampton just two weeks prior, come to mind.
Liverpool go into the break behind but start the second half with some more pace, only for Brad Guzan – making his final Premier League appearance – to save smartly twice from Philippe Coutinho.
An equaliser eventually comes in the form of a Joel Matip header on 81 minutes, setting up a grandstand finish. Divock Origi, Liverpool's only attacker on the bench, is thrown on, but it's all more Basel 2015 than Barcelona 2019 as the Reds stumble to a 1-1 draw, ceding 4th spot to Arsenal.
Summer trouble?
Out of the Champions League still, Liverpool's pursuit for a centre-back takes a stumble as they can't even convince Virgil van Dijk to join, let alone get a bollocking for tapping him up. Unconvinced by Pep Guardiola's defensive credentials, the Dutchman joins Chelsea whilst City snap up number two target, Aymeric Laporte.
Embracing the centre-back merry go round I've concocted, Klopp pursues Antonio Rudiger from AS Roma, getting his man in late July. Unfortunately, he'll be the only arrival from Italy this summer, Mohamed Salah opting to stay in Italy and fire Roma's Champions League campaign. After toasting Philippe Coutinho's Barcelona in the quarter finals, Salah's European adventure is ended at the semi-final stage by Manchester City, who collect the Premier League-Champions League double by defeating Real Madrid in the final. Coutinho convinced Klopp to let him go, pleading that he couldn't have done any more in his pursuit to get Liverpool back to the top four.
With Virgil van Dijk offering enough stability for Conte's Chelsea to maintain a respectable third position after their title win, they sandwich Mourinho's best Manchester United side and Tottenham Hotspur in the top four places.
Liverpool have to settle for fifth, Lucas Moura bagging 14 league goals in a debut season after arriving in the summer, striking up an exciting trio with Firmino and Mane. Unfortunately, the defensive leaks continue, Rudiger's injury troubles seeing a whole lot of Lovren continue to aid Liverpool's demise.
However, they are back in the Champions League. Despite early exits in both domestic cups, during which Klopp received a one-match FA ban for attempting to field a ball-boy at left-midfield away to Wigan, there's Europa League success for the Reds as they exercise their demons of two years prior by defeating Atletico Madrid in the final. Divock Origi, recalled from his Wolfsburg loan in January, scores the winner in a final where Atleti struck the woodwork three times, also seeing a Griezmann strike incorrectly ruled out for offside.
Back in Europe…
Despite being back in the Champions League at last, there's no fairy-tale run to the final in Kiev to persuade targets to join. Fabinho rocks up at Manchester United, Alisson to Real Madrid and Naby Keita to Barcelona, with Liverpool parting with £35 million to secure Jack Butland from Stoke City.
Xherdan Shaqiri is another arrival, but rifts are caused in a pre-season training camp as Shaqiri offers out Jack Butland, after the 'keeper publicly agreed with Charlie Adam's suggestion that Shaqiri's 'laziness' had played a part in the Potters' reputation.
Klopp is furious, but offers mercy on Butland given the £35 million man's new-found relationships with James Milner and Adam Lallana. Shaqiri is offered no such mercy and appears only in the domestic cups.
Opting to keep Henderson as the six following Fabinho's rejection, Klopp – unhappy at Michael Edwards' failure to land his preferred targets – goes against the Sporting Director's suggestion of Napoli's Allan and purchases Julian Weigl from Dortmund for £60 million. Christian Pulisic is a late arrival after Roberto Firmino, now deprived of Brazilian friends, makes a late move to PSG.
With Sadio Mane and Pulisic flanking Lucas Moura, Marko Grujic and Weigl pulling strings in midfield, Liverpool make a strong start to the 2018-19 season. They're 3rd at Christmas, just seven points off City, who ease off after a 10 game winning start given a lack of true competition. The Reds are also into the last 16 of the Champions League, a Moura brace against Ajax on Matchday 6 enough to scrape through Group A behind De Ligt et al.
The beginning of the end, and the end…
Unfortunately for Liverpool, PSG have too much for them in the last 16 of the Champions League. Coutinho, on loan in the French capital, joins Neymar and Roberto Firmino to recreate the front three that won Brazil the 2018 World Cup, leading to a 4-2 victory for Thomas Tuchel's side over two legs.
Beaten by the man that replaced him at Dortmund and with no chance of ending Liverpool's Premier League drought as City go on another 10 game winning run, Klopp is dubbed by the media as World Football's 'best second tier manager', having enjoyed a couple of devastating seasons at Dortmund but just unable to replicate that in England despite some promising signs.
An FA Cup is won as Klopp shifts priorities following the Champions League exit, Mane scoring twice in a final against Chelsea that Virgil van Dijk misses through suspension. Not that it matters, Van Dijk lifting the Champions League just a week later as Chelsea captain.
Liverpool stumble into 4th despite a poor end to the league season, their highest league finish in five years.
Still, it isn't enough as Klopp and FSG part ways mutually in the summer, the German agreeing a deal to take over at Juventus.
Jose?
With Klopp's attacking style of football delivering an FA Cup and Europa League but nothing more, FSG turn their attentions to a more pragmatic style as Jose Mourinho arrives on L4, finally landing his dream job.
Agreeing a swap deal that involves Sadio Mane and Cristiano Ronaldo going separate ways, CR7 rolls back the years to put Liverpool in top spot after six games, scoring eight goals. Never mind that five of them were penalties.
Unfortunately, Mourinho's blasé, self-proclaiming management style doesn't go down well with the Liverpool fans, who had still warmed to Klopp despite a perceived lack of success. Describing himself as "the best manager Liverpool have had since Brendan Rodgers, a disciple of myself", Mourinho suffers from fan revolt as Everton win their first Merseyside derby of the decade, Duncan Ferguson bringing himself off the bench to nod in a 90th minute winner from a corner.
Reds that stayed the full 90 get the feeling that it's about to unravel f0r Jose, again…
Jurgen?
Patching things up with Michael Edwards after the Weigl-Allan affair, Klopp brings his favourite laptop-guru to Turin and they begin a dynasty, picking up four straight Serie A title's, two Champions League's and three Italian Cup's inside four years, before Klopp resigns ahead of taking up a job with the German national team.
Sadio Mane wins the balon d'Or twice, whilst Mohamed Salah, finally getting his move away from Rome, links up in a front two to form one of the most devastating pairs ever seen. The pair score 69 nice goals between them in one season, Salah bragging a brace at Anfield in the Champions League quarter finals, Liverpool at this stage being managed by Steven Gerrard after Mourinho's unceremonious Christmas exit.
Lovren
Dejan Lovren, somehow, is still at Liverpool. However, there was no kick-starting of his Liverpool career, ala post Tottenham 2017/18. He goes to bed every night only after completing a 45 minute workout session, entirely compromised at throwing rocks at a life-sized Patrick Bamford sculpture.