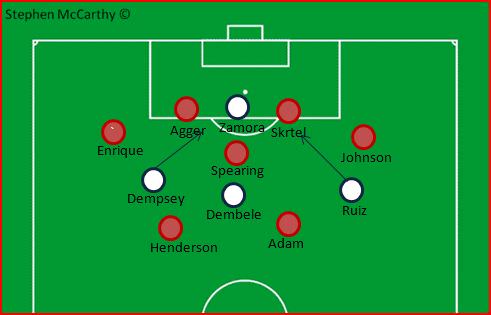 Liverpool V QPR | Tactical Stats & Graphical Preview
Not a great week for Liverpool Football Club. There is nothing more frustrating than an undeserved defeat. Add to that a spurious F.A. charge for failing to control your players, and an investigation into your lead striker for a provocative hand gesture, and you can quite comfortable say it hasn't been the best of weeks. I'm not going to go into the above charges, suffice to say, for both instances, there has been a number of similar incidents of such a nature over the last number of weeks and certain 'other' clubs have not been poked in the eye with an F.A. charge. All we ask for is consistency. If we had consistency then we wouldn't feel there was an injustice been perpetuated upon us by the FA. The quicker we put this week behind us the better, and let's hope we get back to winning ways.
This weeks game is against QPR at home, and after the debacle at Craven Cottage, supporters, management, and players will be hoping to put in a good performance to brush away the cobwebs of defeat. Our long unbeaten record has now been broken, and our form and last 6 now reads LDWDWD. When you throw a defeat in there it starts to look a wee bit inconsistent. It is vital now we start to win our home games and put together a good run going into the hectic Christmas schedule. We are now in seventh position on 23 points, with Newcastle and Arsenal above us with 3 points more on 26. Chelsea sit fourth on 28 points, with Spurs now on a 'triffic run of form in third on 31 points with a game in hand. Suddenly Arsenal have clawed their way back into contention for that Champion's League spot, and instead of Spurs looking vulnerable they are now starting to pull away from us. It's now Chelsea who are starting to wobble and are desperately trying to find some form. No doubt there will be a few more twists and turns before the season ends.
QPR go into the game on the back of a home draw with our old friend at WBA. The game finished 1-1 with Shane Long equalising for the visitors in the 81st minute. I'm sure QPR fans thought they had the game won by that stage and will have been disappointed to concede a late goal and not pick up the 3 points on offer. QPR's form and last 6 reads DLWLLW. That's 3 defeats in 6, with those defeats coming against Stoke, Man City and Spurs. Also worth noting in that form is a great home win against Chelsea, so something for us to think about before they visit Anfield. QPR sit twelfth on 16 points, level on points with Norwich, Everton and Aston Villa – having the worst goal difference of those teams on minus ten. Fulham and West Brom sit one point behind on 15 points. So quite tight down that end of the table.

QPR Scouting Report
Neil Warnock has a big squad to choose from and has chopped and changed a lot this season with both his starting line-up and his formations. Depending on who and what players were available the formation could morph from a 4-2-3-1 to almost a 4-3-3. With the game being away and at Anfield this week I would expect him to use a more conservative formation than normal. I think playing away at one of the so-called big clubs a lot of managers like to flood the midfield and try to deny the opposition time and space on the ball. As we know skillful players will kill you when given time and space to operate so I would expect Warnock will try to close down the likes of Charlie Adam in midfield and stop him trying to dictate the pace and style of the game. Looking back on the average positions of QPR players in their recent games I noticed a lot of their midfielders like Barton and Wright-Philips tend to drift inside and try to link up with their man playing between the lines. Surprising, especially when you consider Shaun Wright-Philips would be considered more of a traditional winger. That's not to say Barton or Wright-Philips will not try to get down the line and cross the ball – just that they have more of tendency to cut inside. Particularly dangerous when you come in on your more favoured foot and try to shoot as Wright-Philips likes to do.
You can see from both Guardian chalkboard heatmaps the tendency of Barton and Wright-Philips to come inside. In fact, every week I seem to be writing about wide midfield players coming inside. You could probably count on one hand the number of traditional wingers plying their trade in the premiership right now. I would expect both Young and Traore to start in the full back positions and try to provide some width to counter the other wide men coming inside. Faurlin and Derry should sit in the central midfield positions and don't be surprised to see either Barton, Bothroyd or Wright-Philips in the engine room alongside them at certain points in the game. Derry will provide the defensive ability and try to break up our attacks in front of the back four while Faurlin will provide a little bit more creativity in that zone. Helguson will provide the focal point up front and will fill the more traditional centre forward role. Taarabt had a great season last year in the championship but has not started the last four games – Bothroyd filling in against QPR in the space between the oppositions midfield and defence, so he is most likely to start at Anfield.
I expect QPR to approach the game with a cautious attitude and not commit too many men forward. Especially in the first 20 minutes. They like to play the ball long – only Norwich and Spurs (74 per game) have passed the ball long more often this season than QPR at 73 long balls per game. (stat from whoscored.com) All though only Stoke, Villa and WBA have won more aerial duels per game than QPR they have quite a poor win percentage when it comes to these aerial duels at only 45%. That's the fourth worst win percentage in the league. See chart below.
So, statistically, who have been the key men for QPR this year. Below is a table of stats from this season of QPR's front and midfield men. Red highlights indicate a top stat in that particular field and yellow highlights the opposite. For example: Faurlin comes out best with 675 accurate open play passes, while Jamie Mackie worst with 81 accurate open play passes. This tool can be quite useful – last week before the game against Fulham I pointed out that the stats indicated Dempsey was a danger at coming inside and shooting on his right foot. That proved to be the case with Dempsey scoring the winning goal and having more shots (9) and more shots on target (3) than anyone else during the game. Also the stats indicated that Danny Murphy would try to control the ball with his passing and as it turned out he attempted more passes (82) and completed more of those passes (63) than anyone else on the pitch. These stats were helped by the unjust sending off, of Jay Spearing no doubt. So the table can give us some important information about our opponents.
First thing to notice is that Helguson (being a striker) comes out tops in the goal scoring stakes. No surprise there. He's scored 6 goals this season, the same amount as Suarez and Carroll combined, has a better goals per game ratio, has had more shots (9) on target than his team-mates, shoots more frequently (every 33 minutes), and has the best chance conversion ratio at 30%. Impressive considering Eden Dzeko's chance conversion rate for Man City is 31% and Rooney's at Untied is only 20%. So definitely one to watch for our defenders.
When it comes to passing it's clear that Faurlin comes out tops on the table. He has attempted 816 passes from QPR's total of 5192. That means he has attempted 15.7% of QPR's total for the season, which in an impressive stat on it's own. Add that to the fact that he has an open play pass completion ratio of 83% then it's obvious that a lot of the midfield play comes through him. As per Danny Murphy last week, it will be vital that our central midfielders close Faurlin down and not give him too much space to operate in. In open play, Faurlin also comes out top in the creativity stakes with a total of 21 chances created – 7 more than Shaun Wright-Philips who is the second most creative from open play.
Lastly, Joey Barton, everyone's favourite bad boy, has some impressive statistics on the table. He has attempted more crosses (71) and been accurate with more of those crosses (20) than anyone else on the table. He has also created a total of 10 chances from his set plays. His set plays and crosses will definitely be one to watch for our defence.
Liverpool Formation and Tactics
Last week Kenny came out with another surprise by using a 4-3-3 away to Fulham. Whether this was a tactical change to combat Fulham or whether it was a change to compensate for the loss of Lucas in midfield we will never know. My take on it, is that it was a change made specifically to compensate for the loss of our little midfield General. In fact, I would go far as to say we over-compensated. All though the loss of Lucas is a huge one, I'm not sure it warrants a complete change of formation. As we have seen at Chelsea, 4-3-3 is a difficult system to play, and it works best when you have quick defenders to watch the space left behind your high line. You also need players who are fast and quick in the midfield, and a front 3 to close down the opposition high up the pitch to regain possession of the ball. Last week we did neither and our midfield three didn't click as a unit. Spearing, the holding player, however, was not the player at fault for this. Both Henderson and Adam seemed to be caught too far up the pitch and allowed too much space in behind for Dempsey, Dembele and Ruiz to operate in. Often Spearing and our defence left to cope with Henderson and Adam caught too far forward and not tracking their runners.
As you can see from the graphic above this was a scenario that was repeated throughout the game. All though we could have won the game before the sending off, I thought we conceded too many chances to Fulham during this period. The shape of team was wrong, as Henderson operated too far in-field leaving the only natural width on the left flank to Enrique. QPR play a similar formation to Fulham, and if we persist with this 4-3-3 I'd be worried at Anfield on Saturday. That is why on Saturday I would stick with a 4-4-2/4-2-3-1 – they are both systems the players know and are comfortable with – if it's a fluid system changing throughout the game with the movement of the players it will be important that if it becomes at 4-2-3-1 at any stage that Jordan Henderson is not caught too far forward and allow Adam to be outnumbered in the zone in front of our back four as Spearing was against Fulham.
A lot has been made lately about the team that Kenny has been picking and some of the players that have been left on the bench. I think all of us will agree that one thing we need right now is goals. Whether it is the fault of the strikers or the creators we really need to start scoring more goals. A paltry 17 goals (3 of them being own goals) this season so far is not good enough and an area we need to improve. That is why I have proposed this team (see graphic) for the visit of QPR.
Again I think the back four picks itself at the moment. They are playing well, except for the two mistakes for the Fulham goal last week. Johnson let his man by too easily and the normally ever reliable Pepe Reina spilled the shot for Dempsey to score. There may be a point to make in replacing Johnson for Kelly, however, with the game being at home, and us needing more creativity I would opt for Johnson. In the midfield we are now without Spearing, Gerrard and Lucas for this game due to injury and suspension. That leaves us with Henderson and the re-called Shelvey vying for the one place. There has been suggestions that Aurelio or Agger could play in that midfield but there is no way Fabio will be thrown in without match practice. As for Agger I think his ball playing skills at the back and his current partnership with Skrtel are too important to break up. For me I think it's about time Henderson was given a chance in his favoured position. It's sink or swim time some might say. But with Adam playing a more defensive role and us more than likely having the majority of the possession I think it is an ideal time for Jordan to come in and show us what he is capable off. He has great technical ability, a good engine, and an eye for a pass, so he has all the attributes to succeed in that role.
In an attacking sense I think there is a huge cry for Maxi to start some more games now. We desperately need a cutting edge and more goals and he should provide that. On the left side I would bring Stewart Downing back into the side, partly because Andy Carroll will benefit from his crosses and partly because with QPR playing deep I think we will need a lot of width to break them down and stop the midfield being too congested. And as you can see from the chances created chart, he is second on the list from chances created for the season. I believe with our lack of goals this season he is a player we can't afford to leave out for this game due to the amount of chances he creates. Last and not least I think we should start Andy Carroll up front. Even though he didn't have his best game against Fulham he is still our second highest scorer this season in the league with 2. It may be only 2 goals but it's 2 more than Dirk Kuyt at the moment. I'm predicting QPR will defend deep so I'm not too confident there will be that much space for Craig Bellamy to take advantage of, hence my preference for Carroll.
So let's take a look at the QPR defence and see if there are any obvious chinks in their armour. Again as above, the red highlights are a positive and the yellow a negative.
From the table above you can notice the amount of yellow highlights in Traore's column. Maybe a result of him being such an attacking full back? He gets involved in the least amount of ground duels at 80, the least amount of tackles at 10, and also the least amount of aerial duels at only 15 for the season. So perhaps Traore is not the type of defender who likes the physical nature of the Premier League. Something maybe Maxi or particularly Kuyt (if he plays) may be able to take advantage off. Also quite noticeable from the table is the amount of red in Luke Young's column – unusual that a full back would come out tops in most of the defending stats. He's been involved in more ground duels (94), and has the highest ground duel win ratio at 59%. He has also put in more tackles than his colleagues with 37 tackles attempted this season. There could be an interesting battle between him and Downing on Saturday.
For me however, the stand out statistic in the table is the very poor aerial 50/50 win percentage of all of the QPR defenders. Particularly the central defenders who more often than not would have a higher percentage than that on display in the table. In fact the highest on the table is Luke Young with 48%. If you take a look at the stats table across of our defenders this season you can see that only Jose Enrique has a comparably low win percentage at 40%. All of our defenders averaging above 60%.
This is in area I believe Liverpool should look to exploit to the maximum. With the presence of Andy Carroll in the team and with Stewart Downing whipping in crosses it will put the QPR defence under enormous pressure. Here's to 3 points and a win on Saturday.