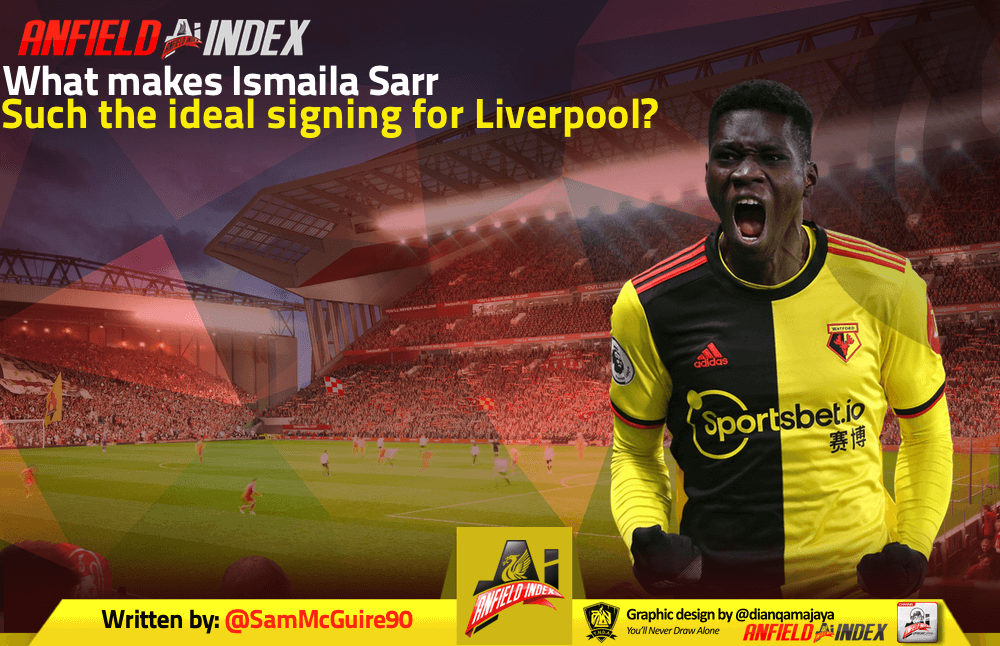 What makes Ismaila Sarr the ideal signing for Liverpool?
After sitting out the 2019 summer window, signing a potentially lucrative deal with Nike and then going on to win the Premier League, many expected Liverpool to flex their financial muscle this summer to bring one of Kylian Mbappe or Jadon Sancho to Anfield. The global pandemic put a stop to that, however, and with money now tight, the champions are once again forced into getting a little creative in the transfer market. 
According to countless reports, Watford's Ismaïla Sarr is on the club's wishlist but the £40million price-tag attached to him is proving to be a bit of a sticking point. On paper, the recently relegated side are pushing their luck trying to get such a fee for the 22-year-old. 
He scored just five times during his debut campaign in England and assisted a further four goals. There are some Liverpool fans who would prefer to give Harry Wilson a chance. The Wales international found the back of the net seven times for Bournemouth last season despite only appearing in just a little over 1,600 minutes. 

But after looking at Twenty3.sport radars, you can understand why the Reds might want to cash in on Wilson to help fund a move for the former Rennes man. 
Right, turns out Sarr is actually good. This template is for wingers. Middle numbers are averages across the top five European leagues for last season. pic.twitter.com/Kwfuk9eLHN

— Sam McGuire (@SamMcGuire90) August 14, 2020
There are presets for the radars per position. The numbers on the outer rim show the 95th percentile for that specific metric. So if an average is higher than that, the player is in the top five percentile. Using the Sarr radar in the tweet, you can see that 0.7 shots is the average number for wingers across the top five leagues on a per 90 basis. Anything above 2.8 shots puts you in the top five percentile. 
Sarr's radar paints a very encouraging picture. In most of the metrics shown, he's pushing the top 95th percentile, and that was while turning out for a relegated side. There's a lot to work with and under Jurgen Klopp, he could be developed into something truly special. 
For comparison, the winger radars for Zaha, Traoré, Wilson and ASM. pic.twitter.com/75X2FfWp6n

— Sam McGuire (@SamMcGuire90) August 14, 2020
When compared to other wingers in the league, you start to realise just how well rounded Sarr is. Some would call Wilson an output merchant, and to an extent he is. Lots of shots and a regular goal threat. He also presses well per the radar but then there's not much else to rave about. Wilfried Zaha does a lot of good things but his finishing is streaky. He's also five years senior to Sarr. 
Allan Saint-Maximin and Adama Traore are similar but both aren't as rounded as Sarr. They're different types of wingers, and in the right system, they'd be better than the Watford man. But Liverpool need their wide players to be able to do a bit of everything. Sarr can and he does. 
People often forget that Rennes signed Sarr to replace Ousmane Dembele. He's still very raw but under the right guidance, there's no reason he couldn't be as destructive as Sadio Mane has been for Liverpool.