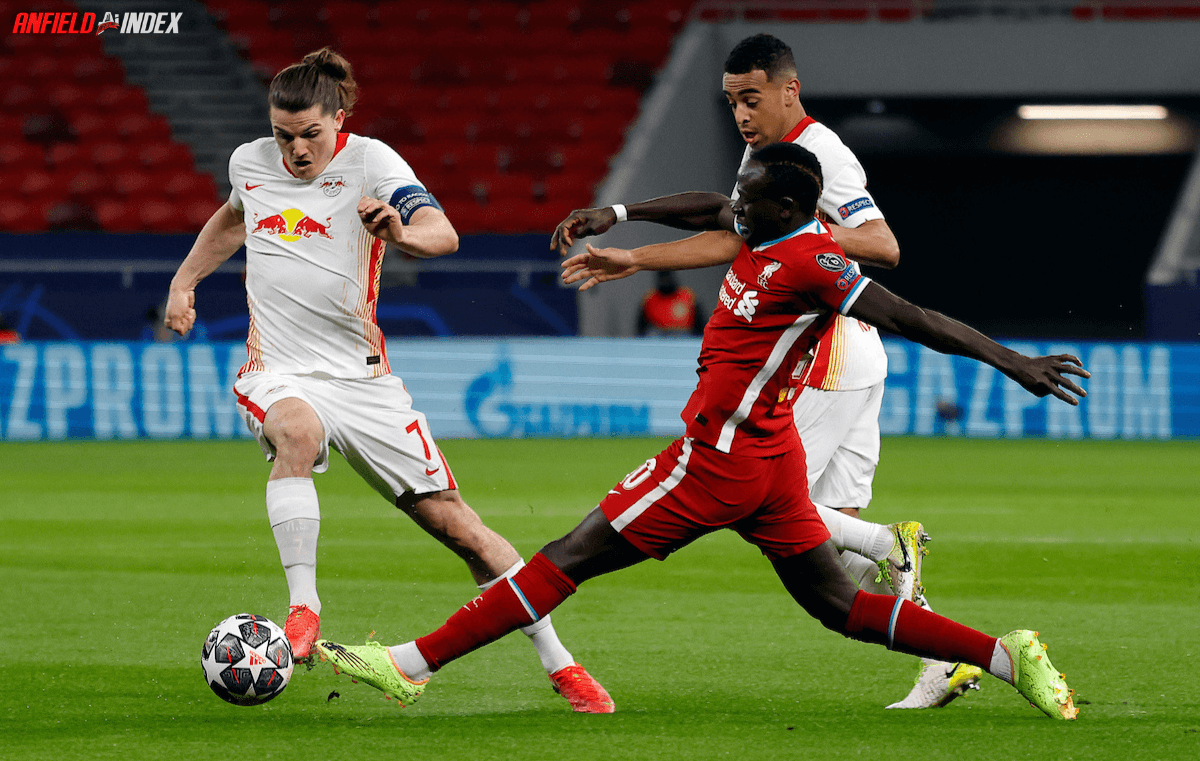 Marcel Sabitzer: A Potentially Shrewd Liverpool Signing
Liverpool have been consistently linked with RB Leipzig's French central defender Ibrahima Konate in recent weeks.
The impressive 21-year-old would certainly help in fixing the defensive crisis that has enveloped the Reds this season. All of the Anfield club's first-choice centre halves — Virgil van Dijk, Joe and Gomez and Joel Matip — have been unavailable since January through injury.
While Nat Phillips, Ozan Kabak and Rhys Williams — midfielder Fabinho, who has moonlighted in the heart of the defence, also deserves a mention — have all done as well as can reasonably be expected, the need to upgrade them is clear and Konate, whose form throughout his stint in the Bundesliga has won him acclaim, certainly fits that bill.

However, the former Sochaux defender isn't the only Leipzig player that should pique the interest of Michael Edwards and Jurgen Klopp ahead of the summer transfer window.
Marcel Sabitzer has been a key figure for the Saxony side since he made his debut in the German second division in the 2015/2016 season. The Austrian has been a catalyst to their initial promotion and subsequent establishment as a formidable European and Bundesliga force.
Sabitzer enters the final year of his contract this summer, however, and with no new deal appearing on the horizon then a move away from Die Rotten Bullen could make sense for all parties.
Linked with Spurs, the Austrian international could be of use to Liverpool, a club whose midfield stock will need to bolstered sooner rather than later.
James Milner is 35, Jordan Henderson and Thiago are 30 and Georginio Wijnaldum — barring a last-minute change of heart — will leave the Reds in the summer, so the need to inject fresh, younger blood into the engine room is apparent.
While he isn't the youngest, 27, Sabitzer would offer Liverpool affordability — a key concern in a football world hugely financially impacted by the global pandemic — versatility and compatibility.
Valued at some £37,000,000 by Transfermarkt, the Anfield club could reasonably expect to broker a cheaper deal, given the fact the midfielder contract is soon to expire, for a player whose contract could easily fit within the Merseysiders' pay structure.
Sabitzer is a player comfortable in playing in several on-pitch roles and has played in attacking midfield, central midfield and on the right-hand side — either as a wing-back or as a conventional winger — f0r the East German team. No matter where he has been stationed, the 27-year-old has exhibited tactical intelligence and positional nous, all underpinned by a huge work rate.
The 48 times capped Austrian international ranks among the best midfielders in Europe when it comes to creativity, as per stats from FBRef. He is in the 92% percentile for assists and 80% percentile for shot-creating actions, which shows he is regularly supplying teammates with quality opportunities.
Sabitzer is no stranger to finishing moves himself and his seven Bundesliga goals this season places him in the 84% percentile for non-penalty goals for midfielders across Europe's top five leagues.
Off the ball, which is a key component to both Liverpool and Leipzig's style of play — both clubs are adherence of intense, pressing football — the Austrian is proactive and makes interceptions at a rate better than 78% of midfielders in the elite European leagues.
Should the midfielder join the Reds, any teething problems when switching clubs should be offset by the fact that both teams play a similar style of football. When assessing players, it must be considered that it isn't always as simple as supplanting a player from one style of tactics to another — for example, going from a defensive team to a possession-based side — and expecting them to hit the ground running. However, in Sabitzer's case, that shouldn't be an issue.
To get the best out of Trent Alexander and Arnold and Mohamed Salah — arguably their two most important players in an offensive sense — Liverpool often instruct their right-sided central midfielder, often Henderson, Alex Oxlade Chamberlain or Milner, to stay wide and offer the width that allows Alexander Arnold and Salah to play infield.
As a player who has played extensively as a winger in the past, operating near the touchline and in the half-spaces wouldn't be an issue for Sabitzer and he could provide the width and hard running that allows the Reds' most potent attacking players the room to operate to the best of their ability.
In a summer where money could well be tight, especially if Liverpool don't qualify for the Champions League, the acquisition of the Austrian midfielder could tick so many boxes.