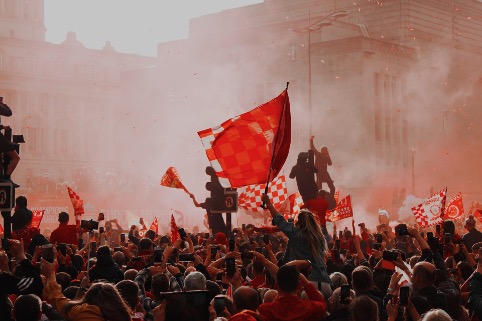 Liverpool set their sights on Barcelona's Iliax Moriba
Anfield could soon be welcoming a talented young midfielder from Barcelona called Iliax Moriba. Current rumors suggest that the 18-year old could be bought by Liverpool this summer. The move would be made in a bid to fill the hole left by Gini Wijnaldum.
It comes at a time where the Anfield faithful will be desperate to see new recruits brought to the side. While Jurgen Klopp's team managed to scrape a Champions League place, 2020/21 was ultimately a disappointing season. Many of the bookmakers featured on wetten.com Canada have Liverpool behind both Manchester clubs in the odds to win the next Premier League title. As a result, many are expecting a new-look Liverpool to emerge when they start their next campaign against Norwich City on 14 August.
Who is Iliax Moriba and why might Barca sell him?
Moriba only made 14 appearances for the Catalan giants last season, but he managed to impress many with his phenomenal talents. With a goal and an assist in his first three appearances, he worked his way into Ronald Koeman's team despite his tender years.
The youngster has shown himself to be a very versatile player. With no shortage of stamina and pace, he should prove himself well-suited to the rigors of Premier League football. Plus he has all of the passing abilities and technical qualities that are renowned features of Barcelona's La Masia academy.
All of which has meant that Barcelona have been looking to keep Moriba in their ranks by putting a £100 million release clause on the youngster's contract. However, Moriba's current contract with Barcelona expires next year, and the Catalan club are currently in the midst of severe financial difficulties. This means that there's every chance that Barcelona could sell Moriba at a cut cost this summer, which is where Liverpool could swoop in.
The bitter irony is that much of this is down to Barcelona handing massive contracts to superstars like Sergio Aguero, Memphis Depay, Eric Garcia and Antoine Griezmann. Much will be settled when it's revealed whether Lionel Messi will sign another contract with Barca. If he does, then Barcelona will certainly need to lighten their wage bills by letting youngsters like Moriba go.
Is Moriba a good replacement for Wijnaldum?
Filling the shoes of Wijnaldum is going to be no easy task, and Moriba would probably be given time to adapt to life in the Premier League first. Thankfully Moriba shows enough flexibility to work both sides of the field or he can also adopt more of a central position. All of which suggests that the youngster could prove to be just as strong and adaptable as Wijnaldum.
The loss of Wijnaldum is one of the more baffling moves made by the Liverpool hierarchy in recent years. For many people, the midfielder's excellent performances for the Dutch team in the Euros are just another example of how he is one of the most overlooked players in world football.
It was initially hoped that Thiago Alcantara would be the solution to a Liverpool midfield in transition. However, the Spanish midfielder didn't quite live up to expectations at Anfield last season. Much of this could be down to the injury difficulties that beset Klopp's team, and Alcantara looked much more lively for Spain in the current Euros tournament.
But one thing's clear and that's that Liverpool will need to invest if they hope to repeat their stunning Premier League triumph of 2019/20. Much will depend on how much Liverpool are willing to spend this summer. The current shopping list at Anfield is already looking fairly ridiculous with the likes of Kylian Mbappe frequently being linked with a move to Anfield.
Where this would leave established Liverpool strikers like Sadio Mane and Mo Salah is anybody's guess. But the Liverpool forward line looked fairly toothless for much of last season, and it means that big things could be happening in Anfield this summer.