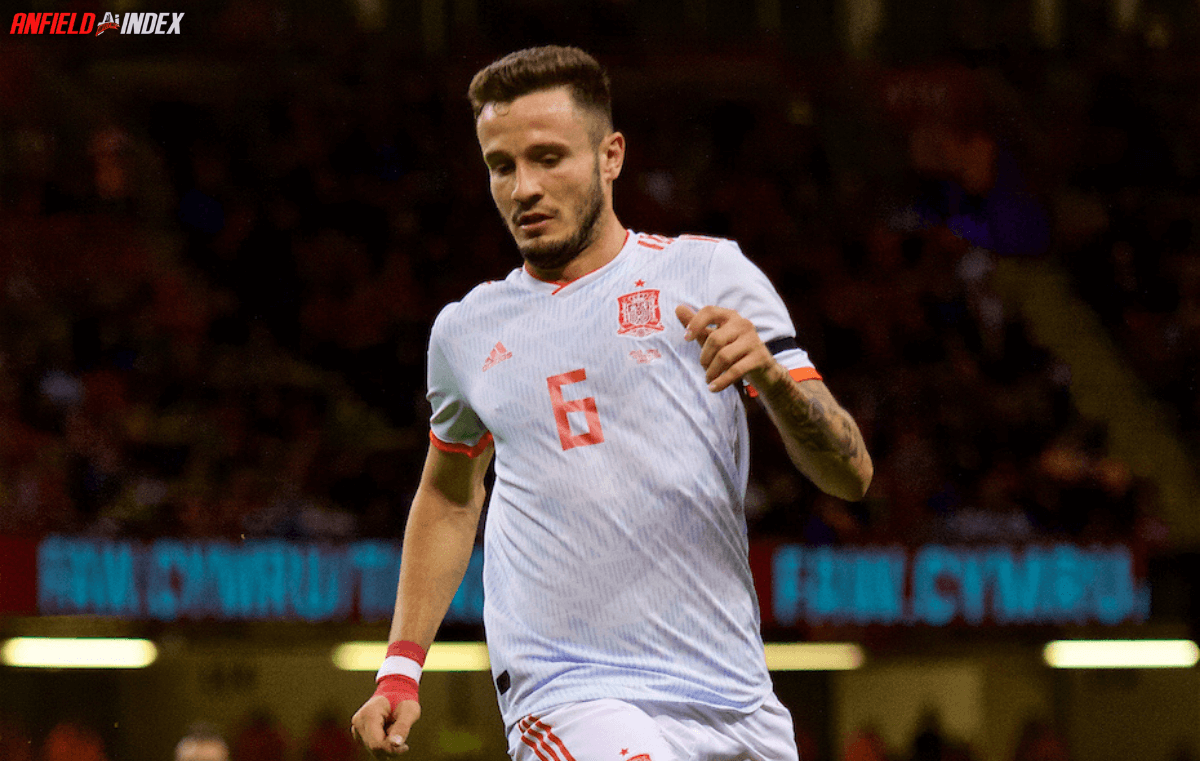 Calling Saul Could Prove A Shrewd Liverpool Move
It's safe to say that Liverpool have kept any of their transfer intentions this summer under locky and key. Not since the links to Florian Neuhaus a couple of weeks ago have the Reds' beat reporters indicated the club having interest in any player.
That hasn't stopped foreign sources mentioning the club's potential transfer plans, however, with a mooted interest in Atletico Madrid midfielder Saul Niguez — however tenuous the French source might be — the latest rumour to be bandied about.
As a rule of thumb, every transfer story should be taken with more than a grain of salt, but, on this occasion, Liverpool's apparent interest in Saul would make an abundance of sense.
After returning from a loan at Rayo Vallecano after the 2013/2014 season, the 26-year-old Spanish international has established himself as a key player for the Los Colchoneros. The former Real Madrid youth player has amassed a considerable medal haul in the Spanish capital, winning — among other trophies — last season's La Liga title and the 2012 and 2018 Europa League.
But now, after years of sterling service, Saul has fallen down Diego Simeone's pecking order with the Argentinian placing more responsibilities on Marcos Llorente, Koke, and Geoffrey Kondogbia in his engine room. Therefore, a move abroad could make sense for the nineteen times capped Spain international.
A move to Liverpool, where there is a sizeable midfield vacancy after Georginio Wijnaldum's departure, could make sense for all parties, especially given that Saul — physically, tactically, technically and in terms of versatility — ticks all the boxes of an ideal Jurgen Klopp midfielder.
The engine room linchpin, according to stats sourced from FBRef, is in the top six percent for aerial duels won among midfielders in Europe's top five leagues for the last year. A pressing team, the Reds regularly face teams who try to play over — in lieu of being able to play through the orchestrated pressure — their press, so a midfielder who is aerially dominant would significantly help their defensive cause.
In terms of tackles won, Saul is better than 79% of his compatriots in this metric — once again, according to FBRef — which is an indicator of his tenacious attitude, a trait which is especially prized in the hurly-burly natured Premier League. Standing 6'0″ and with a strong build, he should be able to hold his own in the physicality stakes.
The football preferred by Simeone at the Wanda Metropolitano — on the surface, at least — isn't exactly similar to the style of play Klopp preaches, but there are parallels in the way both coaches set up their midfield and this, on paper, could make any adaptation to English football easier for the Spaniard.
Invariably, Atletico Madrid have utilized a defensively diligent, disciplined midfielder, whether in a 442 shape or a 352 formation. While playing a more attacking brand of football, the Reds engine room is structured in a similar way with their chief instruction being to provide coverage for Trent Alexander Arnold and Andy Robertson.
Saul is safe on the ball, only ranking in the 48 and 44 percentile in terms of passes attempted and passes completed but this is more a quirk of the system he plays in rather than a sign that he is lacking in passing ability or skill. Regardless, the onus on providing passing ammunition in the Liverpool team rests on — in particular — Alexander Arnold and his compatriot Thiago.
The Atletico number 8 finds himself better than 89% of midfielders in terms of touches in the box and in the 83% percentile for progressive passes received and this shows that — when given the licence to — he can bomb forward into the box and be trusted to supply the finishing touches by his team-mates.
Wijnaldum, on the rare occasions he was allowed to let the handbrake off and join the attack, was devastating when getting forward and Saul — whether he was playing left, right or centrally — shares that skill with the Dutchman.
Klopp loves versatility, it's a trait he really values in his players. He has used James Milner and Roberto Firmino extensively across numerous on-field roles and — should he sign — the Spain representative could bring that same Swiss army knife element to the Liverpool squad.
Listing the position the positions Saul has played in — either from the start or towards the end of games — is exhaustive, but bare with me. He has played central midfield, defensive midfield, centre half, right back, left back, attacking midfield and, on occasion, in the heart of the defence.
The Elche born midfielder turns 27 in November, which may fall out of the 24 and under signing policy that Liverpool usually pursue with their signings, but — as shown with Thiago's arrival last summer — the Reds have shown they are flexible in the market when good deals present themselves.
Reportedly valued at €40,000,000, the Anfield club should again bend their strategy and signing Saul. After all, he fits the clubs tactics perfectly.