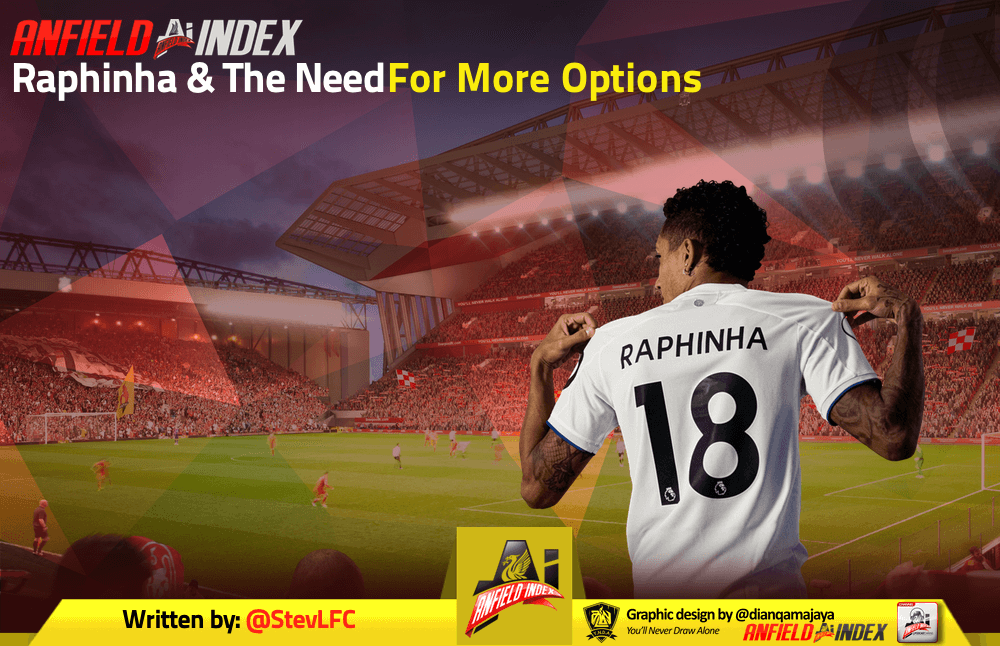 Raphinha & The Need For More Options
None of us really know which way Liverpool's summer transfer plans will sway, with the ITK's and journalists scrambling & guessing away, name after name. Nobody knows the true plans of Jurgen Klopp & Michael Edwards, so to look at potential candidates for probable positions will have to suffice, for now.
With Harvey Elliott possibly joining the ranks of the Liverpool first team this season, it was considered he may slot in as the 5th choice forward / wide forward for Klopp. With Mo Salah, Sadio Mane, Roberto Firmino & Diogo Jota as the established players, there was logic to this idea. The most common rumour is that Liverpool still want another forward, with a shift in formation afoot. Divock Origi and Taki Minamino appear close to moves away, so one more addition makes sense. The added note is that Elliott may well move into a midfield position, becoming a versatile player much like Alex Oxlade Chamberlain. His recent appearance as a false 9 shows that variation is being sought, but a starting quality player should also be brought in regardless.
Last season saw a solidity stripped away from Liverpool, with the defending champions unable to field senior central defenders for much of the season. The added low block approach (that was often incorporated against the reds), made certain games a balance between overcommitting and thereby leaving themselves exposed. With the returning Virgil Van Djik, Joe Gomez & Joel Matip joining new recruit, Ibrahima Konate, there can now be more risks taken. The low blocking sides will inevitably give up 70% of the ball, and with this Liverpool may now look to overload the final third in order to overcome.

Against Arsenal in April of last season, Liverpool had a period in the game where all four 'starting calibre forwards' graced the pitch. Arsenal were looking to sit deep and play out, and would drop into a deeper defensive shape to nullify attacks. The isolation of their forwards made Klopp act and introduce a 4-2-4 shape, that created a period of chaos to win the away game 0-3. This type of cavalier approach, is not something that can be used without an absolute assurance at the back. The rampaging full backs become wingers, and the central defence are left with the holding midfielder to snuff out any counter attacks. With the raft of injuries last term, this became impossible to implement for anything more than brief periods. The brief glimpse surely stayed with Klopp, and may be seen more over the coming season.
Tactical shifts are common within the game, and the ways by which to evolve & overcome, will eventually emerge. With lesser teams now unwilling to go toe to toe with certain elite clubs, the low block & counter attacking would either keep teams in the game, or keep the scoring low. It gives more of a chance, and also protects what could be a vital end of season goal difference. Liverpool succumbed to this tactic more than once, often conceding from a rare but well worked delivery into the box. At this point, 70% possession meant little  when points where being dropped. The ball is now very much in the attacking teams court to overcome this deep lying defence, and Liverpool's supposed recruiting may point to their plan to achieve this.
When Virgil Van Dijk & Joe Gomez stood on the halfway line, ushering their full backs further upfield, it was done with confidence and swagger. With Fabinho cutting out passing lanes or simply stopping on coming attacks, this allowed the forwards and midfield to press and control in smaller spaces. In their last title winning season, this was enough to overcome nearly every match they played. This past season has seen the low block increased in its use, and thus teams have grown harder to score against.
This brings around the idea of options and adequate personnel for Liverpool. For an overloading attack, with a 4-2-3-1 or a 4-2-2-2, the reds would have the potential to have four forwards on the pitch. The idea of pushing the prolific Mo Salah into a central position would then require an elite left sided winger / forward to occupy the right flank. There has been many names banded about, but quite simply, Raphinha would be the perfect summer signing.
After a brilliant first season at Marcelo Bielsa's Leeds, the £17 million signing would now cost in the region of £50 million to take away. His ability to attack at pace and break lines would offer a new dimension, with Mo working inside. With Trent Alexander Arnold offering quality width and delivery on the outside, the reds could inflict a real overwhelming threat. Raphinha being able to create chances for both himself and those around him would make low block teams less able to withstand. Low blocking in an organised manner, is now a real and respected tactic, and Klopp may well look to unleash a more attacking system against such sides. I believe patience could well make way for more attacking numbers, with Jurgen clearly frustrated with what he perceives as negative football.
The transfer window has a little over a month to run, so there is no absolute rush to recruit. What is important is to clear the dead wood and obtain the services of a Raphinha level signing before the window shuts. To sign someone that can allow this type of tactical shift & help break down stubborn sides could prove vital over a long campaign. This season sees the upcoming AFCON taking away certain players for a number of weeks. Raphinha's Brazilian passport would therefore be of huge benefit, when Sadio Mane & Mo Salah head off in January to compete. The added bonus of fellow countrymen, Alison Becker, Roberto Firmino & Fabinho in the squad would certainly aid the potential signing.
Raphinha has the ability and ceiling (at 23 years of age) to become truly world class, and Klopp is the master of elevating players to this level. He should be sought and targeted, in addition to a Gini Wijnaldum replacement, in order to step back into the the title picture. The following weeks will have many fans questioning FSG's intent, but if the signing of Raphinha follows that of maybe Saúl Ñíguez, then the reds really will be playing rock and roll football, this coming season.