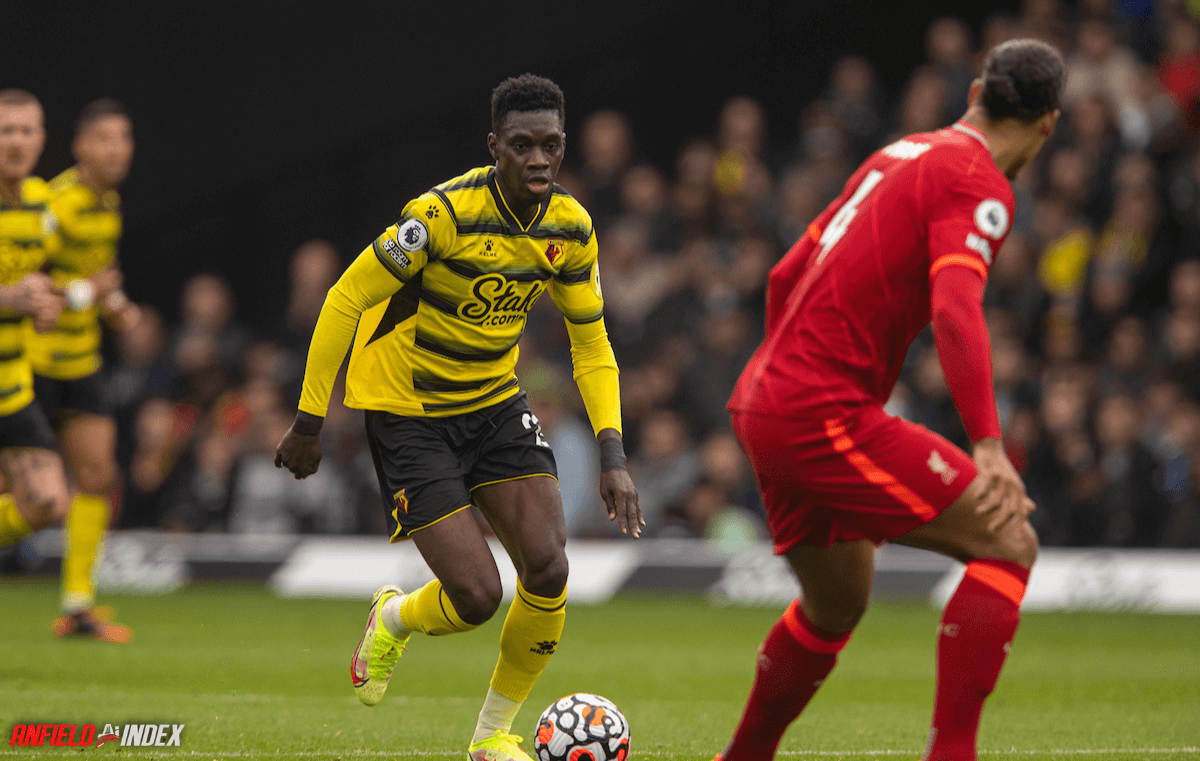 Should Liverpool be interested in Ismaila Sarr?
There's always talk that Liverpool could raid a relegated club for a player. The idea stems from the fact the Reds did just that when they signed Andrew Robertson and Gini Wijnaldum in consecutive summers. Are the club beyond that now? Back then the hopes were of a top four finish, now everything is geared towards a title challenge.
However, if there's a bargain to be had then there may be some interest. With that in mind, a look at a player Liverpool have been linked with, on and off, for the best part of three seasons now. 
Ismaila Sarr. 
Injuries have limited his involvement this season, with the 24-year-old racking up a little over 1,300 minutes in the Premier League. Despite this, he has already matched his haul from the 2019/20 campaign of five goals. He is well on course to surpass the career-high seven goals in a top-flight league, a feat he managed for Rennes in the season prior to his move to Vicarage Road. 
From an individual point of view, 2021/22 has been productive for Sarr, even with the injuries. 
So is it not time for him to move onto bigger and better things? He is probably at that stage of his career where he needs consistency. He needs to be playing regular Premier League football and perhaps even strutting his stuff in Europe. 
Reports have mooted £45million as a potential fee for the Senegal international. That does sound about right given Watford paid £30million for him in 2019. He now has two Premier League campaigns under his belt and he's still only 24. 
And yet if the Hornets are relegated, they may struggle to command such a fee due to his contract situation. Per Transfermarkt, his current deal expires at the end of 2024. The club will have to weigh up whether they are likely to get a better offer after another potential season in the Championship or whether they're best off selling now for a small profit. Granted, it is not an enviable position to be in, profit is profit and Watford aren't set-up to make a loss on a £30million transfer. 
Should Liverpool be interested though? 
On one hand, he is an intriguing option. He is unpredictable with the ball at his feet, he is aggressive in his approach and he is adept with either foot. Sarr is also surprisingly tall for a wide forward – 6ft1 – and this gives him an edge of sorts. 
But you have to wonder whether the jump is too big. Across 3,500 Premier League minutes, Sarr has an expected goals average of 0.23. Obviously, this number would spike in a better, more reliable team. But can he really scale his production by over 100% to fit in with the Liverpool attackers? Possibly. But is it ultimately too much of a gamble when there are better-suited players out there for similar fees? That would likely be the deciding factor. 
Is he the sort of player you bring in to replace Takumi Minamino and Divock Origi, maybe?