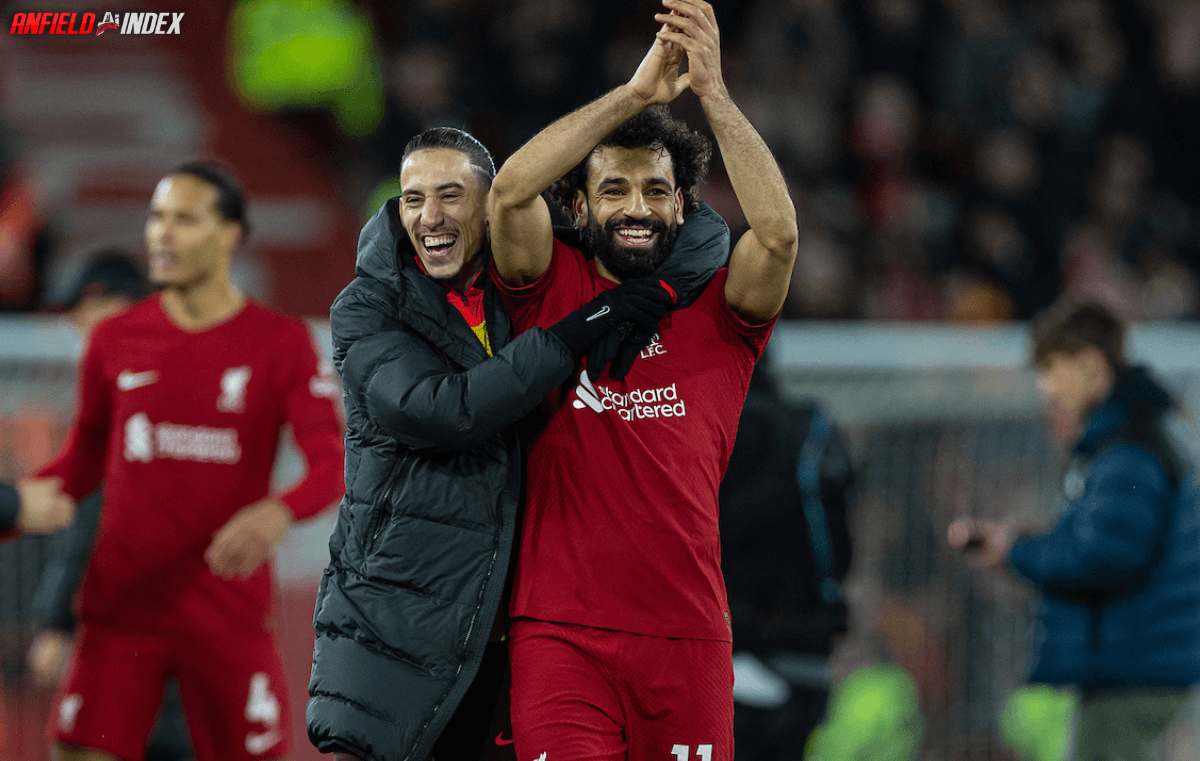 Liverpool 7 - 0 Manchester United - The Post-Mortem 
In the build up to this historic fixture, I stated how it may look if the Reds were to come within seven points of their fiercest rivals. Given that the Old Trafford outfit were enjoying their best season in years (whilst Liverpool are suffering their worst), it does paint a rather amusing picture for the Liverpool fanbase. In Sunday afternoon's Anfield encounter, Erik ten Hag's side were taken apart, with a score line that became quite staggering. The second half demolition left former United players babbling about what they had seen, whereas Jürgen Klopp spent much of the game in a mixed state of shock and joyful awe.
At centre back, we saw the return of Ibrahima Konaté in the week, with a renewed strength now being shown in that defensive line. With Robbo coming back for the unlucky Kostas and Trent maintaining his spot on the right, it allowed for Liverpool's fullbacks to have more assurance beside them.
The midfield saw the skipper, Jordan Henderson, return and produce a very fine performance. This type of rotation is surely benefiting the 32-year-old, as his ability to be an every game starter is perhaps now beyond him. Beside him sat a resurgent Fabinho, who was able to win the ball higher up the field and show a tenacious nature we all feared had slipped away. The most controversial change saw Stefan Bajčetić coming out of the team, as Harvey Elliott took up a place at RCM. The pre-game worries were all in vain, as the home side ran their visitors off the park in a very spirited display.

With Diogo Jota showing a lack of form and sharpness (since his return from injury), it was always expected that Cody Gakpo would take up a central striking role. The false nine position had been lacking so much this year; therefore the Dutchman's intelligence and varied positioning allowed a more solid structure off the ball. Though the hard work and determination was clear throughout the game, it was most certainly the attacking intent that stood out for the ruthless reds.
GK – Alisson Becker
RB – Trent Alexander Arnold
LB – Andy Robertson
RCB – Virgil van Djik
LCB – Ibrahima Konaté
CDM – Fabinho
RCM – Harvey Elliott
LCM – Jordan Henderson
LF – Darwin Núñez
CF – Cody Gakpo
RF – Mohamed Salah
Substitutions;
78' Stefan Bajčetić – Jordan Henderson
78' Diogo Jota – Darwin Núñez
78' James Milner – Fabinho
89' Roberto Firmino – Cody Gakpo
89' Curtis Jones – Harvey Elliott
With the line ups and substitutions as shown above, the match started with the reds looking to set a solid platform. With some mild trepidation in the first half, the reds were able to enjoy good periods of possession and slowly started to dominate the game. The goals flowed, as shown below.
34' Liverpool 1 – 0 Manchester United
Cody Gakpo (Andy Robertson)
47' Liverpool 2 – 0 Manchester United
Darwin Núñez (Harvey Elliott)
50' Liverpool 3 – 0 Manchester United
Cody Gakpo (Mohamed Salah)
66' Liverpool 4 – 0 Manchester United
Mohamed Salah
75' Liverpool 5 – 0 Manchester United
Darwin Núñez (Jordan Henderson)
83' Liverpool 6 – 0 Manchester United
Mohamed Salah (Roberto Firmino)
88' Liverpool 7 – 0 Manchester United
Roberto Firmino (Mohamed Salah)
The performance was enthralling, whilst the result was emphatic. In a season where traditional patterns of play have been missing, this seemed liked a return to how we are destined to play. Too much summer tinkering and unneeded adjustments to our shape, coincided with a drop off in intensity. This is why the Gakpo signing (in January) was prioritised, and we are now witnessing the reasons why he was chosen over a winter midfield addition. The link up plays and balance was apparent, with a delightful blend of power and finesse coursing through the front line. The goals were fluid and often spectacular, with a shell shocked United unsure of how to contain a swarming and relentless red machine. Mohamed Salah seems revitalized as the senior member of the attack, with a world class display to more than match the output of his younger partners.
With an end of season aim to finish top four, it's clear that a restored dynamic within our side is being demanded. To have been so bad for so long, was a painful watch for everyone connected to the club. The 2-5 loss at home to Real Madrid appears to have been the turning point, with a clear ambition to make amends. The reds travel to the South Coast this weekend (to face Bournemouth), where a win could see the reds creep into the top four. This scenario would have been unthinkable only a few weeks ago, therefor the reds must take this unbelievable high, and make sure this irregular result was more than just a welcome surprise.