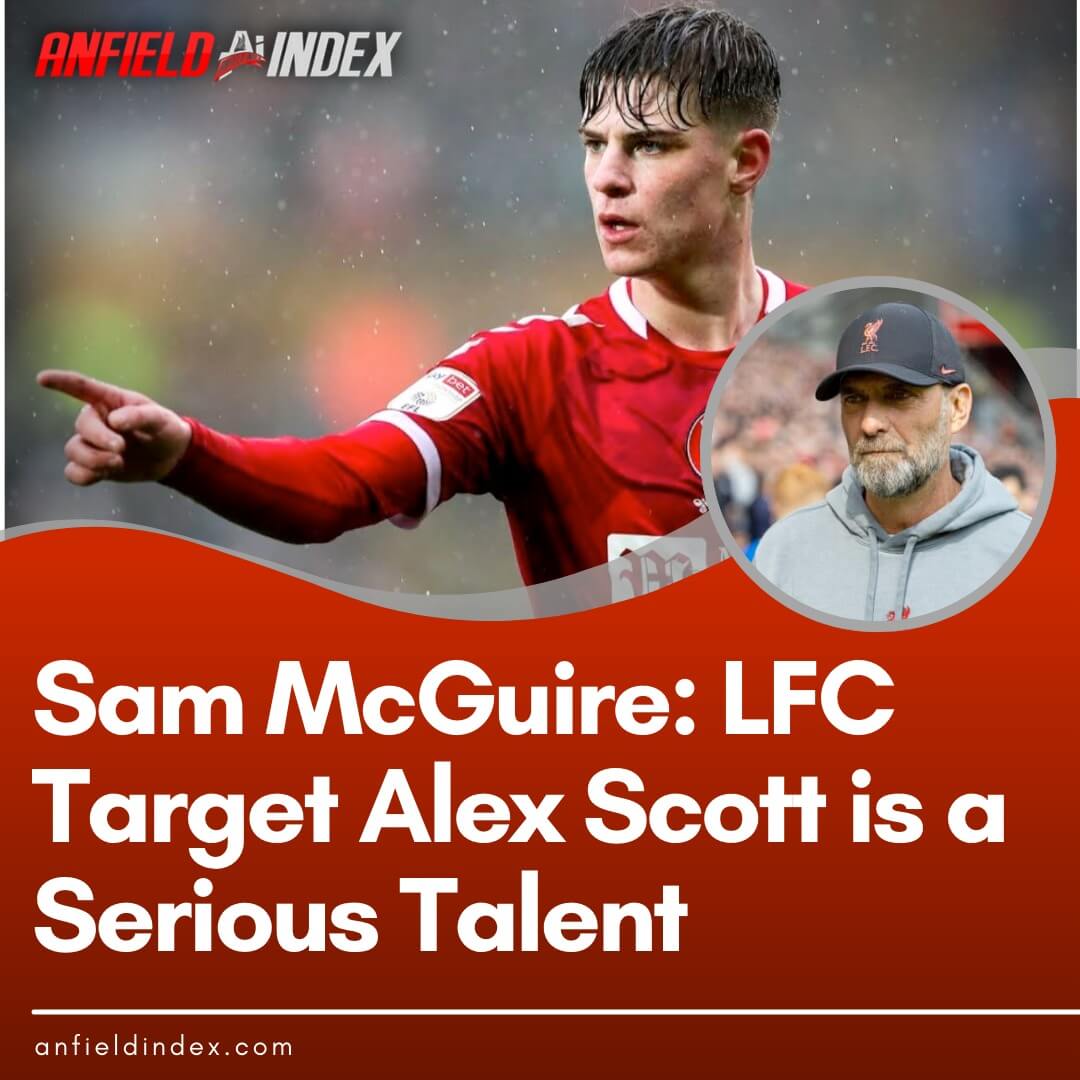 Liverpool target Alex Scott is a Serious Talent

The 19-year-old was named the Championship Young Player of the Year after an eye-catching 2022/23 campaign for Bristol City.
For those who don't keep a close eye on England's second tier, this may have come as a bit of a surprise. Scott has just a single goal to his name this season and he's chipped in with just four assists in a little over 3,200 minutes.
A lot of Manchester United fans felt Amad Diallo should've won the award, citing his 12 goals as a justification for this stance.
But Scott's game is about much more than goals and assists. The Bristol City No7 possesses all of the traits needed as a midfielder in the current era. He's press resistant, progressive in possession, diligent defensively and he's comfortable playing on either foot. He's also extremely versatile and has done a job as a wide midfielder, as an attacking midfielder, and as part of a midfield three.
Pep Guardiola singled him out for praise following Manchester City's FA Cup win over Bristol City earlier in the season, saying Scott is an "unbelievable player".
Manager Nigel Pearson believes the 19-year-old is destined for the Premier League too, saying:
He's just a very unique talent and he's got a very impressive temperament," Pearson told Bristol Live.
"I think he's destined for the very top but football dictates to you what is going to happen because you can't always be in control of your own destiny".
A host of clubs are believed to be keeping tabs on him with Newcastle United, Wolves, West Ham, and Crystal Palace previously named as interested parties.
Liverpool are the latest team to be linked with the midfielder, with multiple reports claiming the Reds are monitoring his progress ahead of a potential £25 million summer move.
It is no secret that Jurgen Klopp is plotting a midfield rebuild this summer. Though most would like multiple £70 million signings, the likelihood is that two big-money players will arrive and if there's to be a third, they'll be sub £30 million. Scott would definitely fit the latter category.
Here's the issue though.
Adding a talented youngster to your ranks is a smart move if you know how to use them. You need to be able to almost guarantee them a certain amount of minutes to ensure they develop as expected. Scott has racked up over 6,500 minutes across the last two campaigns, if he moves to Anfield and is only a cup player, that'll stunt his growth as a player. Of course, he'd improve in training, he'd be alongside better players so that is inevitable.
But Scott will need first-team minutes. Especially if you are paying £25 million to secure his services.
This is comparable to how Curtis Jones and Harvey Elliott have been developed. Liverpool only paid a small fee for Fabio Carvalho and there's talk he may leave this summer in search of regular minutes. He's not exactly wasted a season of his career but if you go from playing regularly to not playing at all, the perception is that their career has stalled.
Carvalho was essentially a free hit given his talent and the fee. Scott wouldn't be. Liverpool would likely be able to recoup a large chunk of their outlay but it would limit them in the short term if one of their £20million plus signings didn't hit the ground running. After all, there's only a finite amount of money for the Merseyside club to play with.
If Scott is a genuine target, and he should be, there needs to be a genuine plan for him.