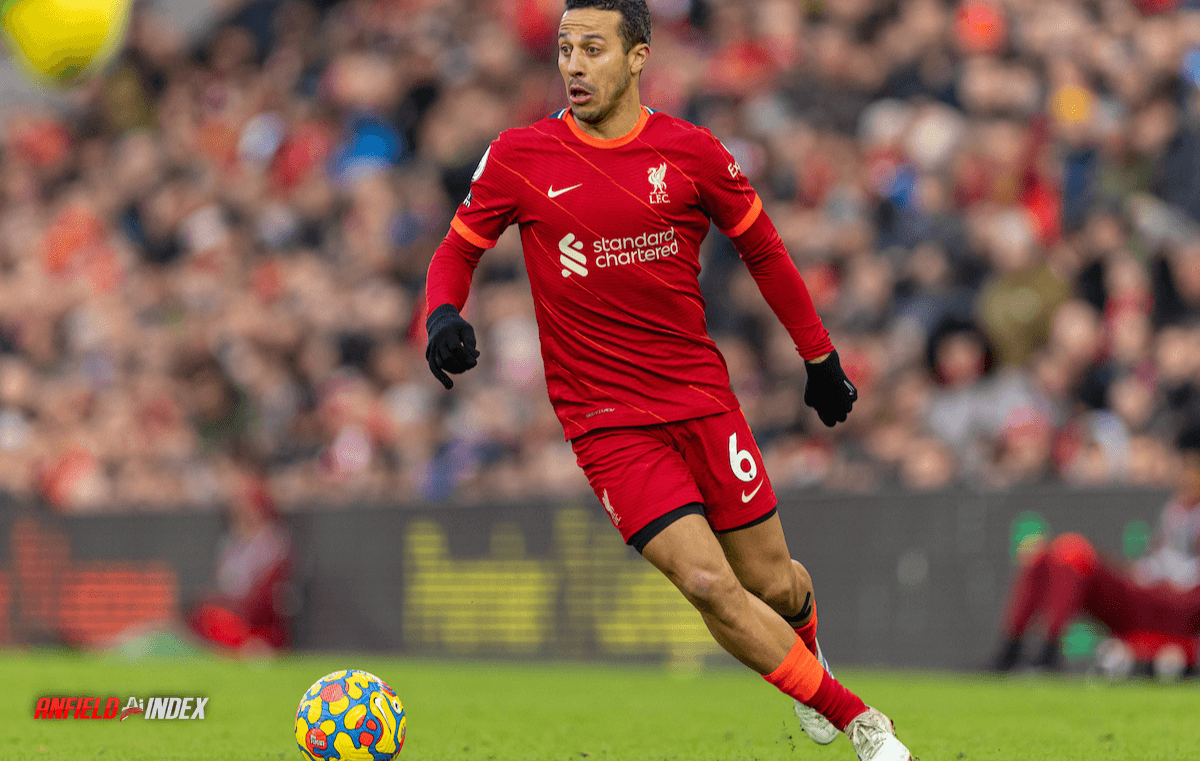 Thiago's Private Chat with Klopp: Staying or Leaving?
Thiago's Anfield Ambitions: A Chat with Klopp
In the heart of Anfield, whispers have been circulating about the future of Liverpool's midfield maestro, Thiago Alcantara. The Spaniard, who has been the subject of transfer rumours, recently had a private conversation with Jurgen Klopp, Liverpool's charismatic manager, to gain clarity on his role for the upcoming season.
Rumours have been rife about Thiago's potential departure, with clubs from Saudi Arabia showing keen interest. However, the 32-year-old seems to have put those speculations to bed. A recent update from journalist Paul Joyce suggests that Klopp has given a nod to Thiago's continued presence at Anfield, praising his No.6 for his commitment and experience.

Jurgen Klopp says Thiago will stay at Liverpool. "He's now training, He came in and asked about his role and we spoke. Super experienced player, he stepped up in that department. He has only been in team training for a week but very vocal, he is going to be very helpful for us."

— paul joyce (@_pauljoyce) August 11, 2023
Klopp was quoted, "He's now in training. He approached me to discuss his role, and our conversation was fruitful. Despite just a week in team training, he's been vocal and proactive. His experience will be invaluable for us."
Midfield Dynamics: Thiago's Influence
With the midfield composition for Liverpool still a topic of debate, Thiago's assurance is a breath of fresh air. Despite being sidelined since February due to injury, his quality remains undeniable. The recent signings of Dominik Szoboszlai and Alexis Mac Allister have bolstered the Reds' midfield, but many argue that Thiago still reigns supreme.
His influence will be particularly beneficial for Mac Allister, given their shared language. Moreover, young Stefan Bajcetic, who made a mark last season, will continue to benefit from Thiago's mentorship.
Looking Ahead: Thiago's Anfield Journey
While the current season might mark the final chapter of Thiago's Anfield story, his journey has been a mix of brilliance and challenges. His time at Liverpool has been marred by injuries, but moments of genius have left an indelible mark.
As the 2023/24 season beckons, both Thiago and the Anfield faithful will be hoping for a year filled with magic and fewer setbacks. The stage is set for the midfield maestro to leave a lasting legacy.