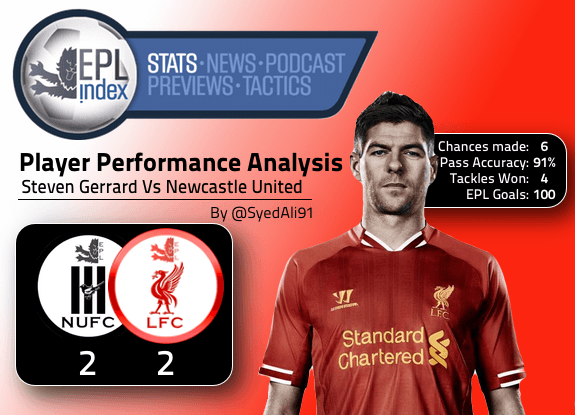 Steven Gerrard | Player Performance Analysis Vs Newcastle
The events of last week will stay with Steven Gerrard for the rest of his life. Going into the last two qualifying matches against Montenegro and Poland, knowing that only two wins out of two would suffice for him and his England colleagues, he produced what can only be described as a captains' innings. Leading from the front he rallied his team mates and though at times it seemed like it may be difficult to breach the defences in both games, sheer determination triumphed in the end. It was only fitting that Gerrard's late goal against Poland would be the one to seal the win and also help them book a seat on the plane for the World Cup in Brazil.
In more domestic matters, Gerrard was back in action for Liverpool on the weekend against Newcastle United in the early kick off, requiring one goal to reach his 100th in the league. And so he stepped up with a penalty against Tim Krul in the 42nd minute to reach the coveted landmark and therefore putting him in an elite group of players to have achieved the feat. His influence in the team was evidently still at its best as will be discussed during this piece.
Gerrard Passing
As he demonstrated again on Saturday, Gerrard makes things happen. His role has changed somewhat in recent times due to his age, so instead of bombing forward as an extra attacker, he now bases himself in front of the defensive line and dictates play. When observing his passing zones stats, you can see how the majority of them are excellent. When needing to go back to the defence and start again, he had a 97% completion rate with only one misplaced pass. However, it's the attacking zone and final third pass completion rates that tell the story. If you've watched Gerrard play over the years then you don't need me to tell you that he's not afraid to produce a long raking pass or two. Taking that into account, completion rates of 86% and 87% respectively show that not only will he try to use his long range passes, but will do so with unerring accuracy.
Looking at his general passing stats, Gerrard has his mind primarily on negotiating the ball forwards to his team mates with only 8% of his 99 passes (joint highest in the leagues on the weekend) going backwards. Again, with a 91% total pass completion rate, as a team mate you know you can make runs anywhere on the pitch and he is likely to find a ball to you.
Gerrard Control and Defence
You will always expect  Gerrard to have a huge amount of touches during a game and it was no different on Saturday. Despite dominating possessing in the middle alongside Jordan Henderson, he was not dispossessed even once, which shows two aspects of his game: one, his great awareness of opposition players when in possession and two, not dwelling on the ball for too long by getting it out of his feet as quick as he can. By winning all 4 out of 4 tackles in midfield and winning possession back for his team on 5 occasions, it is obvious how well-rounded he is as a footballer and that he's also not afraid to get stuck in so to speak when his team are not in possession.
Creativity
Goals may not come as regularly as they have done in this past for the Liverpool captain, but this doesn't mean to say he has lost any of his creative prowess, by any means. As a matter of fact, some may say that his creativity has increased since moving into a deeper central role.
Against Newcastle, he produced a total of 45 passes into the final third, which was the most from any player in the Premier League with team mates Jordan Henderson and Luis Suarez in joint second with 35. With Gerrard's impeccable ability to pick out his team mates, forward passes will increase the likelihood of opportunities and without the crossbar, Tim Krul and some poor finishing, it would've surely been a win for Liverpool. There was a moment in the match where Newcastle had most of their players in and around their own penalty area and with limited options, picked out an absolute beauty of a cross straight to Daniel Sturridge who failed to hit the target but it shows he can still create something out nothing.
In terms of his stats on a whole so far this season, he is top of the list on total chances created, including goal assists with 21 overall, ahead of the likes of Silva, Hazard and the in-form Ozil. Even at the age of 33 he has proved that he can still produce week in and week out to an incredibly high standard.
Most creative midfielder in the Premier League?
You don't need the statistics to tell you that Steven Gerrard is still one of the best in the Premier league but they sure do reiterate this fact. Players come and go at this special football club but he has remained through all the trials and tribulations. When looking at his performance all over the pitch: he's defensively sound, a fantastic ball distributor and set-piece master, and I struggle to see what he can't do, maybe a crack at goalkeeper soon? One thing is for sure, he won't stop at just 100 goals.