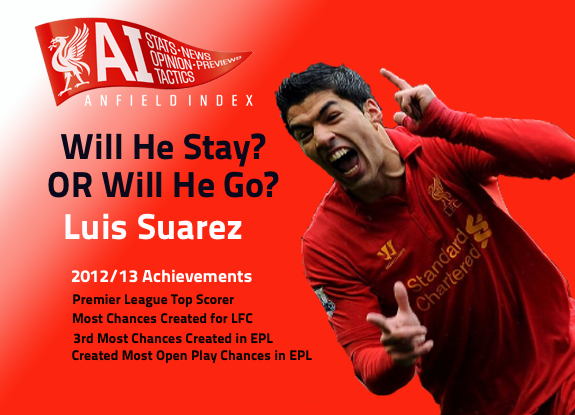 Luis Suarez - Will He Stay or Will He Go?
The big debate for some Liverpool fans is with regards to whether Luis Suarez will stay at Anfield next season? Every couple of weeks there are rumours that Luis Suarez is packing his bags, loading a hired van and shipping off to Germany. Then there are quotes from the player stating that he is happy at the club after having a fantastic year so far in only his second FULL season at Liverpool.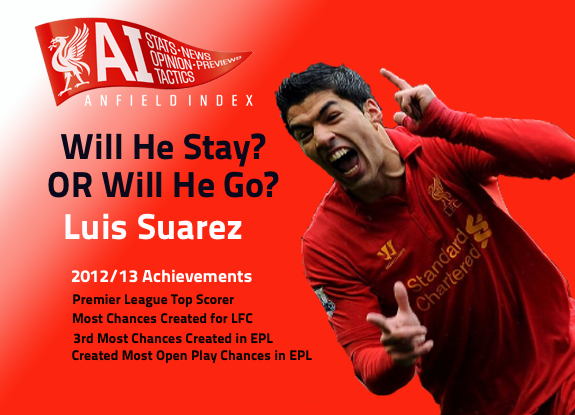 A quick look at the stats show how well the Uruguayan has played for Liverpool this season. He sits at the top of the goal scoring charts and is currently third in the league for chances created – as the images from our Stats Centre show.

So what could be the reasons for Luis to stay or go? Below we will list what we believe could be the reasons to convince Luis either way.
Reasons to Leave Liverpool
Inconsistency in the team leading to no Champions League football for another year.
No Champions League football means less likelihood of securing World Class players to be playing at Liverpool.
The potential to not be involved in any European football next season – not even the Europa.
Pressure from English Media and harsh treatment on any talking point from them which could result on him missing out on the Player of the Year award.
Chances of silverware unlikely in the re-building phase at Liverpool as squad depth is a problem – unable to fight on multiple fronts.
Chance to play for one of the biggest European club sides and work with one of the best managers in the World (Pep Guardiola).
Will command a bumper fee and be able to negotiate a massive salary hike.
Reasons to Stay at Liverpool
Style of football being played at Liverpool now certainly suits him as can be seen by his increased productivity.

Being the "Key Man" to Liverpool's building process. The whole team revolves around Luis.

Idolised by Liverpool supporters.
Settled with family in Liverpool and has a good base of South American friends in Lucas, Coates and now Coutinho – which is very important.
At one of the, if not the, biggest club in England with history and heritage. It would be difficult to find a club like Liverpool – look at Torres – he still regrets leaving and as they say; the grass isn't always greener.
Should be rewarded for his loyalty with a further increase in wages.
Will be boosted by signings like Sturridge & Coutinho and be confident that further acquisitions like these can be made to strengthen the squad for next season's push for the Top 4.
Well those are the reasons we could think of. Are there any we've missed? Leave a comment below and how about you let us know what you think he will do at the end of the season?