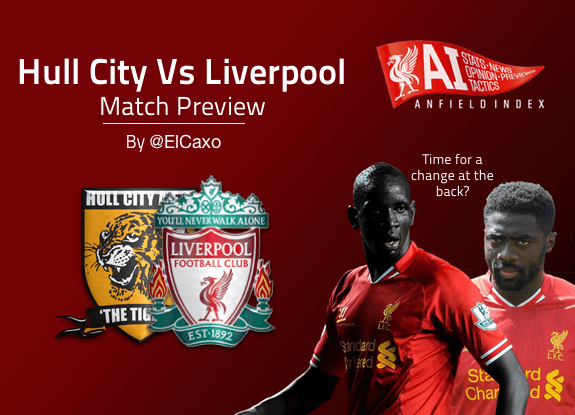 Hull City Vs Liverpool | A Game We Should Be Winning
'A game we've already won on paper'
This is a platitude that will be on the lips of many Liverpool supporters if next weekend's trip to Hull comes up in conversation around the water cooler. Even the most pessimistic of fans would have to respond with 'And why not?' We've lost only two games in the league this season against a couple of the more in-form teams and, promisingly, we haven't managed to drop points in frustrating draws like last season. It's a pretty sure thing, isn't it?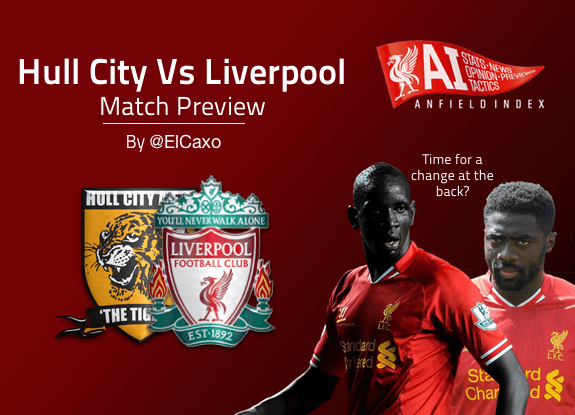 Difficulties encountered in the Everton game won't be as readily exploited and a good performance will earn some easy confidence, as well as hand Rodgers the opportunity to test fringe players like Allen and Flanagan in a more comfortable environment. These could be considered to be more important 'prizes' than the points we would expect to come away with anyway.

It's not unfair to Hull or Steve Bruce to assume that they'll plan pragmatically for this fixture. As a newly promoted team there are easier, more attainable points than a visiting top six (or top four?) team. A draw or win would be a bonus and it's more about the performance. Staying up is clearly the main objective for our next opponents and I'd almost proudly say we're too big a scalp to bother throwing the kitchen sink at.
Derby Talking Points
A lot of people might have walked away from Goodison Park on Saturday disappointed and left ruing the two points that could have been ours however it was still a fantastically entertaining game, especially for the neutrals! The fact remains that Everton have evolved into a good side with a good manager; nothing is a given any more.
To begin on a bit of a repetitive and annoying note: our midfield still needs a lot of work. I am a strong advocate for the resting or re-appropriating of Gerrard within the squad for at least a few games, Apart from set piece delivery he was once again a passenger and barely affected proceedings apart from setting Lukaku off at one point and losing Mirallas at the back post for the equaliser. I think Joe Allen had a good game on his return; you can't really include the miss in a review of his performance because it was just a few seconds out of 68 minutes and it was very much a baptism of fire for him this season.
With Coutinho played wide on the left and apparently briefed to hug the touchline with little license to come in field we missed a true enganche to link Suarez to our midfield (I'm sure that'll get a bit of backlash!). This is not our tricky Brazilians best position but if deployed centrally behind both Sturridge and Suarez or either of the two he will wreak havoc on teams. Coutinho needs room to move horizontally with plenty of pitch to pass ahead into as opposed to running into that space and passing laterally. Flanagan once again showed some promise, however is he really in the same category as a player like Luke Shaw?
Liverpool Set Up Vs Hull
This starting eleven includes plenty of changes from the derby but don't take it as any insult to Hull it's just that, as I mentioned above, this is a better climate in which to judge players who aren't necessarily first on the team sheet every week. Moses and Alberto will hopefully provide a nice combination of width, directness and guile to compliment Suarez; Coutinho will have plenty of license to roam and 'hook' midfield to attack. Another option is to switch Alberto and Coutinho.
I feel like Sakho and Toure are a great mix of youthfulness and experience which should allow them to deal with whatever Hull might throw at us. This leaves more room for Joe Allen to get forward and get involved with Lucas shielding. I've suggested playing Johnson out of position but not out of his depth on the left. As the more attacking of the two fullbacks he can overlap Alberto and stretch the play even more.
Conclusion
A win will see us stay second regardless of any other results. Chelsea play Southampton at home but even with Mourinho's incredible home record anything could happen considering how lackadaisical their defending was against Basel coupled with an overall sense of fatigue and apathy. Manchester City will be undeniable favourites to win at home but I would say we have the easier game against Hull when compared to their fixture at home to Swansea. The very worst case scenario is that we see out the weekend still in the top four but this would only be down to a loss in 'A game we've already won on paper'.