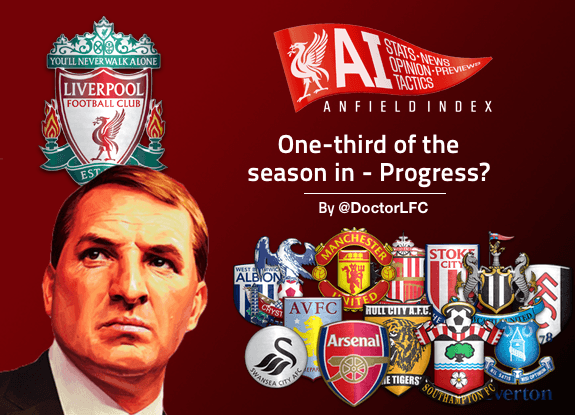 One-Third of Liverpool's season in | Progress?
You should judge a team's credentials after 10-12 league games, they say. Amid the annoying international breaks, spectacular goals, controversial refereeing decisions, Joe Allen's derby miss and the SAS magic, Liverpool's season has stuttered along. There seems to be a lack of continuity, fluidity and momentum. The coming 4 weeks promise to provide exactly what was lacking thus far – 7 league games in the next 30 days. From a league game every 9 days to a league game every 4 days – Don't bother taking the initiative to plan a weekend social gathering anytime soon!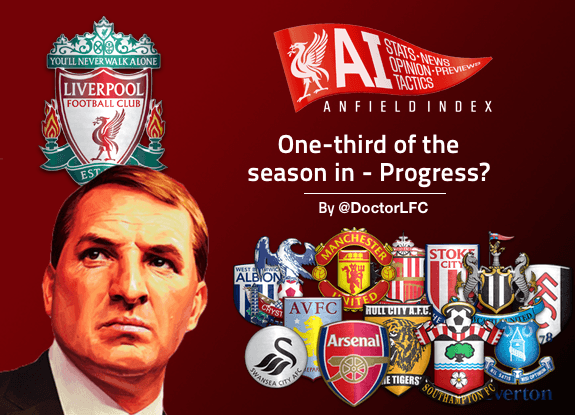 13 games in, a common question that appears on the umpteen debates on social media forums is whether or not there has been progress at Anfield? Whilst most supporters seem to be in unison when they say there has been definite progress since the summer of 2012, the vote is split when it comes to gauging the quantum of progress. The see-saw nature of results hasn't helped unite opinion either. The yardstick of comparison has either been our league position at this stage last season or comparing the already confusing stats.

There are some who believe that as long as you manage to grind out the results, stats don't really matter. Then there are some others who believe otherwise. There needs to be a balance between the two. You can continue to win ugly as long as there is a slow but sure upgrade in the quality of your performances, which will eventually reflect positively in the various statistics.
So, how different have Liverpool, as a team, performed in the league as compared to last season? There can't possibly be a single criteria that one should rely upon to give this debate a specific direction.
We've read quite a bit about level of performances, the lack of authority in midfield, the LB conundrum, the CB equation, the numerous statistics and our level of dependence on the SAS partnership. Let's try and compare
corresponding results last season and see if we can conclude something.
While analyzing the numbers mentioned in the table, we'll divide our observations into positive impact and pitfalls, finally try and put things into perspective.
Positive impact
a) We have amassed 3 points more from the corresponding fixtures this season (24) as compared to the previous season (21). As minimal as the number may sound, it amounts to approximately 14.3% appraisal in points, which isn't huge but is handy none the less.
b) Home wins against West Brom and Manchester United are the stand out results as compared to last season. How can a home win against the Baggies be a positive, you'd imagine? West Brom has been our bogey team in the league over the past 2-3 years – our last league win at Anfield against the Baggies was on 29th August 2010. Three points against United are always precious and for once we weren't left talking about a dubious penalty or a harsh sending off.
c) A common frustration under Rafa Benitez and subsequently Kenny Dalglish had been our inability to win the 'bread and butter' games. We seemed to have overcome that this season until the loss against Hull City. I believe that will be a wake up call rather than a sign of things to come.
d) We have managed to reduce number of draws by 50%. Although we have lost 1 more than we did in the corresponding 13 fixtures last season, converting the remaining two draws into wins means the total points tally shows a +3.
Pitfalls
a) Comparing the corresponding fixtures may not be as reflective as some other statistics because some of these fixtures were played at different stages of last season, some of the teams had a different manager and played with a different set of tactics.
b) Away form is an area of concern. 3 draws and 2 defeats rings alarm bells for the month of December, when we travel to White Hart Lane, The Etihad stadium and Stamford Bridge.
c) Was Sturridge the difference between the two sets of results? He has scored some important goals, and with his clever movement and burst of pace, he seems to always create that extra space for Suarez to run into. He's out for 6-8 weeks now and will the team hold the fort over the next few weeks without the 'SAS'?
(Please note: I've replaced QPR and Reading with Crystal Palace and Hull City for the purpose of comparison.)
30 days from here
As mentioned above, Liverpool play 7 league games over the course of the next 30 days. As for the results in the corresponding 7 fixtures last season – the Reds managed to pick up 12 points out of a possible 21. If Brendan Rodgers and his team manage to better that tally by 2-3 points – without Sturridge and with a seemingly weak midfield that looks out of its depth at present, they will be within touching distance of the top come January 1st. Liverpool need to win the 4 home games (Norwich, West Ham, Cardiff and HULL!) and try and spring a surprise result in at least one if not two of our away games (Spurs, Man City and Chelsea). Easier said than done, but considering their worrying away form, 12/12 points in the home fixtures is imperative.
Perspective
Any talk of there being significant progress has been quashed by us dropping points in almost every away game. The league table is shockingly compressed, with only 6 points separating 2nd from 9th. Whilst a 3-4 match winning streak could give us some breathing space going into the January transfer window, the contrary could send us down to 8th in a flash.
Although our ultimate aim is to finish in the top 4 this season, an intermediate aim of being within touching distance of the Champions league places come January isn't a distant reality.
The last time we were in the top four after 13 league games was in the 2008-09 season. We have walked through several storms since, and the next 7 games will give us a fair idea whether there is a glimpse of the golden sky!