Episode 29: The Transfer Committee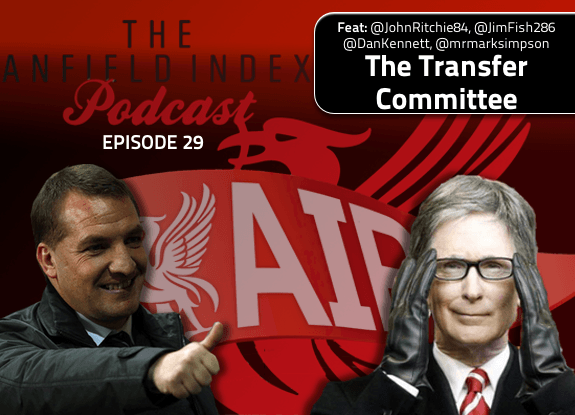 Date: 2nd June, 2014
Hello and welcome to the Anfield Index Podcast.
So tonight we're going to do something different.
Ever since the transfer deadline day saga in Rodgers first window at Liverpool, the club has adopted a transfer committee.
Much of what the committee does is cloaked in secrecy however from what we're lead to believe in the press it consists of four parts.
The Manager Brendon Rodgers
Head of recruitment Barry Hunter
Head of Analysis & Performance Michael Edwards
With John Henry providing sign off.
Of course, there's probably more to it than that, but we thought we'd give it a go ourselves. Even in the brief time preparing for this, you soon realise how much work is involved even more an hour long show. It's not fantasy football, it's football in the real world. Transfers are cloaked in secrecy therefore what we're doing is trying to do what we can with the confines of the information we have.
So joining me to help are Jim Fishlock who's taking on Brendan's role for the evening. His role is to tell us what he needs in order to meet our goals.
Mark Simpson is making his debut and is tonights chief scout. His role is to work with the manager to identify and assess the targets given our desired style of play. But also to listen to the analysts, the person who can be a bridge between the data and what the manager wants.
We thought long and hard about the Head of Analysis role and we couldn't think of anyone better than Dan Kennett. Dan's role is to provide balance to the debate but also to add insight where possible and look at the empirical evidence available. These are major investments. It's big money so we need the data to stack up even if it is a big name player.
My role, well lucky me I'm John Henry for the evening. I need to be convinced of what we want and
We're working within the confines of FFP and our current wage bill so lets just explain a few things first.
The new Premier League spending constraint rules prevents clubs increasing their wage bill by more than £4m a season unless it can fund any increase by an uplift in its commercial income. Although the punishment for breaching the wage-cap rule has not been published, we do know that a transfer embargoes and, probably a points deduction, will be applied to heavy loss-making clubs.
We've set the budget at £60m plus player sales.
The club expects to be challenging for the league title and targeting a champions league quarter final
This will be the third season without a trophy therefore the prestige of a cup run is important.
All this and more it's the Anfield Index Podcast!
Download on iTunes
(Only subscribers will receive new episodes immediately)
Host: John Ritchie

Guests: Dan Kennett, Jim Fishlock & Mark Simpson
You can listen to the podcast by using the embedded player or you can use the links beneath it.
Listen to this podcast episode | Download this podcast episode (right click and save)