Liverpool arrive yet again at major crossroads in their path to challenge for top honours. Cries of 'it's the bigger summer transfer window' in years are heard around Anfield and social media is in a frenzy over how the proceeds from the impending sale of Luis Suarez should be spent.
Luis Suarez – the day was always going to come when he would pack up and head to sunny Spain. Thankfully, due to Liverpool's canny owners and the insert of a buyout clause, he leaves with Liverpool receiving a large fee to reinvest back into the team and countless memories. Always at the centre of controversy but countless breath taking moments. His goal against Everton in the FA Cup semi-final, a league cup win under Kenny and most special of all – an amazing season in 2013/14, where he won every individual award going, helping Liverpool to within a whisker of winning the Premier League title.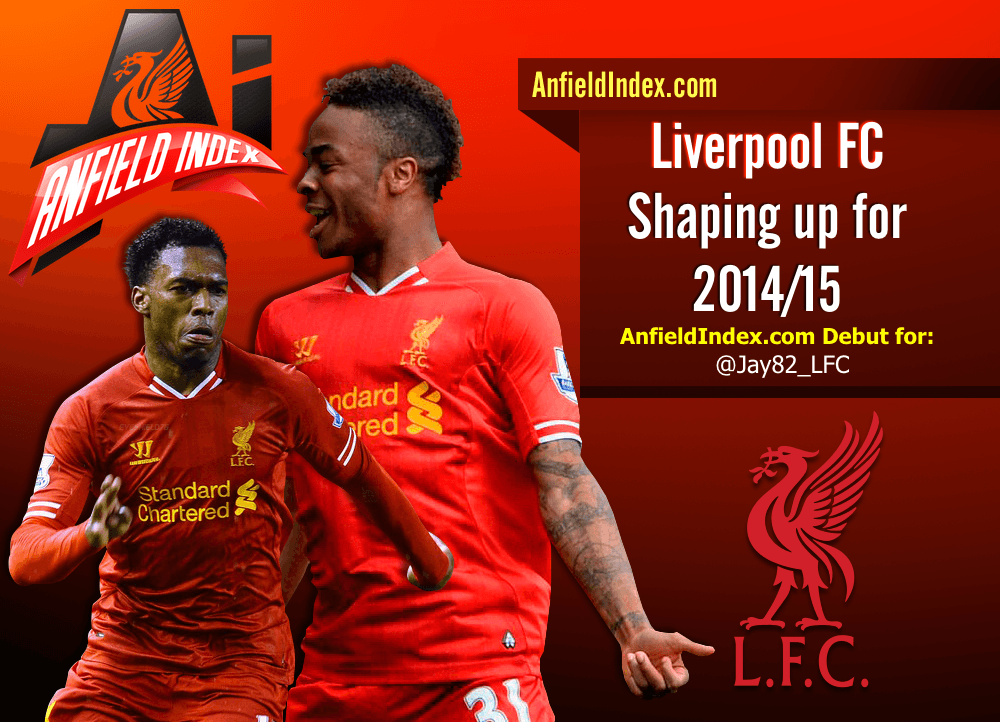 Gone but never forgotten, but as its rightly said – the crest on the front of the shirt will always be more important than the name at the back. We are Liverpool and we will go on like we did when we sold Rush, Fowler, Owen and Torres. Suarez's departure is of course a setback after such an enjoyable and successful season but it is important to remember that he was only a part of our success and not the sole reason of it.
We have the best manager and coach in the Premier League. Rodgers is tactically superior than his rivals, great with youngsters and importantly improves players he works with – just ask look at Jordan Henderson, Daniel Sturridge, Raheem Sterling and Jon Flanagan.
We have an exciting crop of youngsters who have dealt brilliantly well the pressure of a title race and will improve further under Rodgers. We have also made some astute signings already with Rickie Lambert providing good experience, commitment to the shirt and adding cover for Sturridge. Adam Lallana, whilst being overpriced, looks to be a 'Rodgers-type' signing – two footed, calm on the ball and understands how to press. Emre Can is versatile, powerful and can be groomed into a long term successor for Steven Gerrard. Finally, Lazar Markovic is now heading to Anfield with the Serbian speedster offering even more pace to our attack.
There is a lot to remain positive about and Liverpool should be applauded for carrying out so much business already – including Suarez's sale to Barcelona. We now have nearly two months to refine our squad in order to compete next year. Several transfer targets have been mentioned which isn't at all surprising since the transfer committee have a list of players for each position that Rodgers requires strengthening. With Suarez departing, it will be interesting to see what formation Rodgers sets out next season. Suarez and Sturridge's incredible form saw Rodgers move away from his favoured 4-3-3 formation and use the 3-5-2 and 4-4-2 diamond formation. With Suarez now leaving, Rodgers may revert back to his trusted 4-3-3 formation and make Sturridge his main man with two flanking forwards – possibly Sterling and Markovic. It would make the Liverpool front line the quickest in the League and incredibly exciting to watch.
Whilst there remain positives, a huge challenge awaits us. Liverpool are now expected to win and sometimes win well. They are also competing in the Champions League for the first time in 5 years and will need to manage the additional games and fixtures against top seeded teams. It should also be remembered that Liverpool had a relatively easy start last season with Mourinho, Pellegrini, Martinez and Moyes all settling into their respective clubs.
Liverpool have experienced the curse of finishing second in the Premier League as subsequent seasons have involved finishing far lower due to poor transfer buys and higher expectations. It is important that despite Suarez leaving, Liverpool make the right purchases this summer in order to build on such a fantastic season. A top class left back and centre back are imperative for Liverpool to challenge on all fronts and fans will be wondering whether it will be Alvaro Moreno or Ryan Bertrand who will be leaning at Melwood.
Aside from the mental transfer business and twitter ITKs, I for one cannot wait for the season to start to see Sturridge, Coutinho, Sterling and our new boys in action. Let us sit back and enjoy the pre-season fixtures as I firmly believe Liverpool are quietly shaping up nicely ahead of next season.