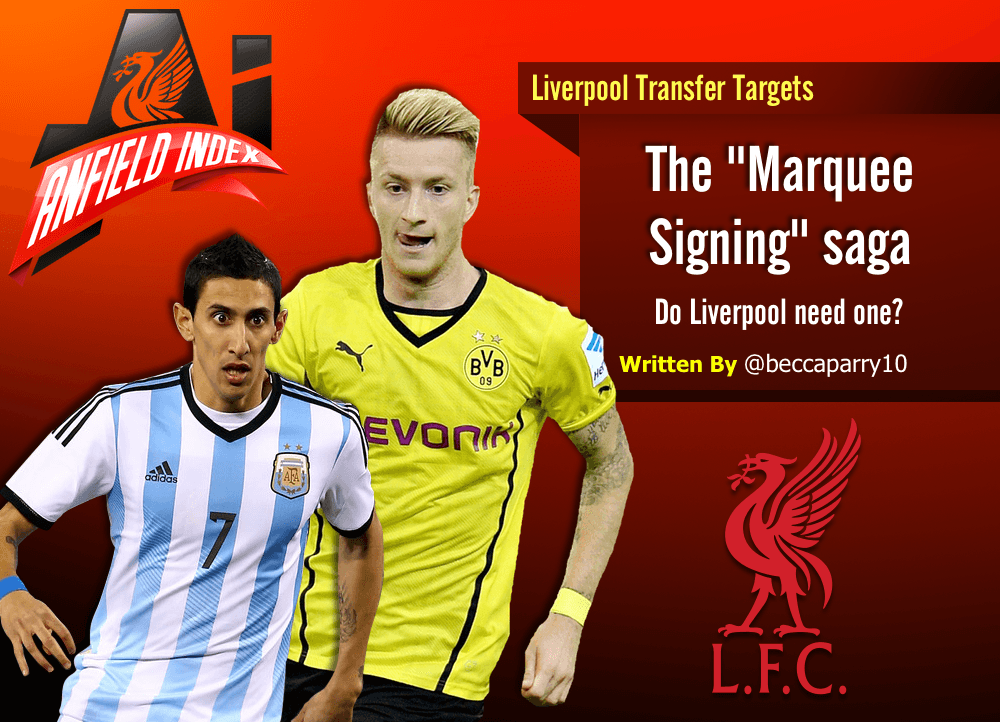 The "Marquee Signing" saga: Do Liverpool need one?
Dreaded yet inevitable, Luis Suarez has finally moved on to La Liga. With the great season last year, it was easy to praise the players for their efforts, and the up and coming campaign is something that everyone is looking forward to. However, now with the star striker departed, do we need to bring in a star name to make the world sit up and listen?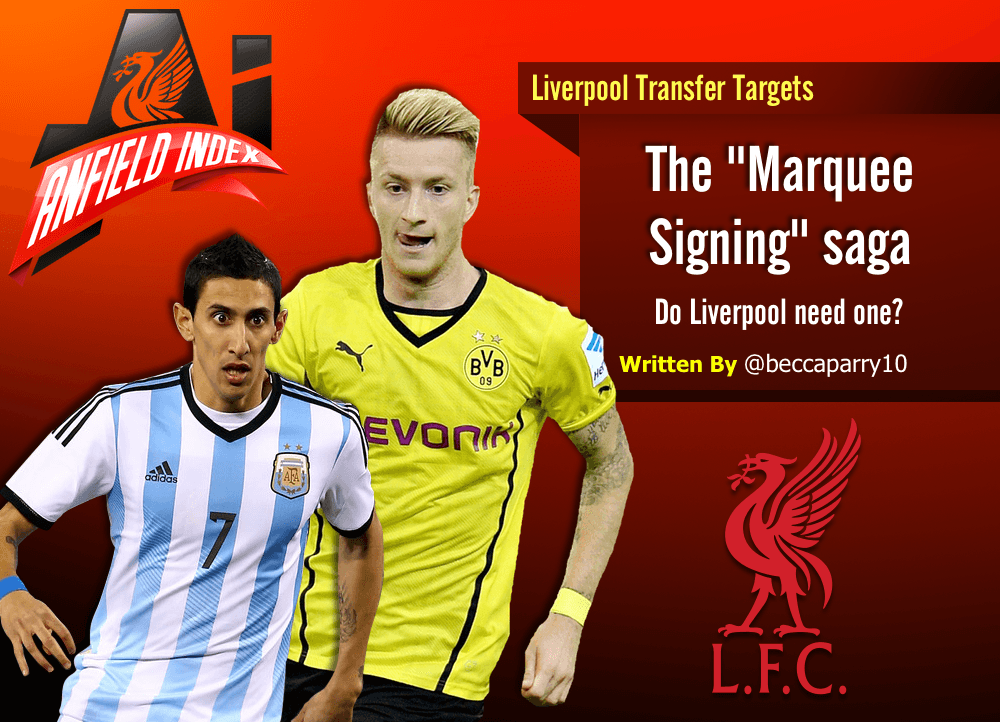 We've brought in some new and mostly young additions, sustaining the idea of the vibrant and energetic type of play is what will ultimately bring success. Lazar Markovic and Emre Can were the latest youngsters to join the Rodgers revolution, who are both backed to bring some class to the Premier League.

The media is obviously the main source of pressure for clubs to bring in a "marquee signing" to place all of the attention on Liverpool – a name who will get the fans excited.
Do the fans feel we need one, though? A name that has proven his class in a different league may not necessarily make it in the English game. It's a risk a lot of clubs take, and the pressure on top of that individual will be intense, as these marquee signings do come at a hefty price. I don't think we need to look that far to see how a 'marquee signing"s career declined dramatically at Stamford Bridge (without naming any names).
Surely with signings such as Coutinho for only £8.5m, we can trust Brendan Rodgers to get seriously talented players in without necessarily breaking the bank. However, now we've got the Suarez money as an addition to what the transfer budget supposedly contained anyway, can we expect to be surprised with a direct replacement for Luis?
The same names get thrown around year after year on social media and in the newspaper gossip, but for most, we know there's nothing in those stories.
For the past few years, we've been used to buying names who may not be so widely known, but have certainly come up with the goods. A lot of that is down to the manager.
It's logical to think that the system that Rodgers has instilled, with so much intensity going forward, can mould his players into the assets he wants. And even though we'd love that to be someone at the height of the game, we'd be having the last laugh if it was someone we got for a low fee – exactly when you think back to the likes of Coutinho.
We don't want to do a Spurs, in spending their whole transfer kitty on players who did not stand up to their reputation. They were a much better all-round side when they had Gareth Bale, whether you like him as a player or not.
I'm confident that we have enough players with the talent who can step up to fill the boots of Luis Suarez, and if we get a so called "marquee signing", then all the better. Unlike Spurs, we have a group of up and coming significant players other than the Uruguayan in Sterling, Henderson, Sturridge – and although Suarez was an integral part of the side, there was so much promise last year, all is certainly not lost.
A marquee signing would of course be welcomed; all fans idolise that one superstar in their side. However, if the new influx of youngsters perform the way the original set did last year under Rodgers, we'll do just fine.