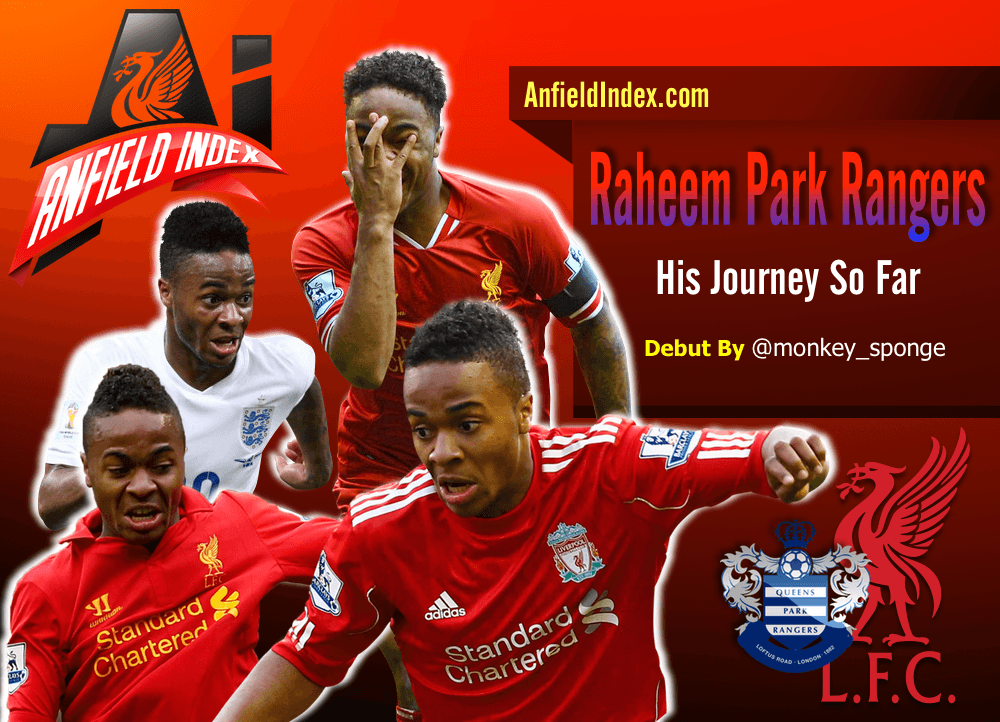 Raheem Park Rangers | Raheem Sterling's Journey So Far

Raheem Sterling has the world at his feet with a heart like a lion, feisty attitude, sublime footwork and breathtaking speed but it could have been all so different with him being no stranger to trouble but he's a good person whose faith seems important to him. He's had his off field problems in recent years but those things are probably best left confined to the tabloids.
Born in Kingston Jamaica at the age of 5 he moved to London with his mother where they settled in the Borough of Brent in the North West of the city not far from Wembley stadium where his mother worked as a nurse. As a child he was no stranger to being in trouble and had problems in school which some have put down to an abundance of energy coupled with his spikey nature. He was moved to Vernon House Special School because of behaviour problems. He made quite an impression there and is still fondly remembered by some of the staff.
Those that have followed me for a while know how much of a fan of his I've been for some time stemming back to his time at my club Queens Park Rangers who he joined at an early age. It was clear from a very early age that Raheem was special. Always blessed with talent and a stand out performer he became known as "Raheem Park Rangers" owing to the fact he often carried any team he played for at the club.
Although always small for his age he never had any trouble in playing in age groups ahead of his own age and still managed to constantly shine. At the age of 13 he came to the attention of many when he took part in Soccer Am's Skill School challenge where he pitted his skills another teenager from the academy.
At the age of 14 he began training with the QPR first team a couple of days a week as part of his development which again was no problem to him. Not long after this Fulham made an approach to Sterling from QPR which the club fought hard to repel but when Liverpool came calling the lure of the Merseyside giants was too hard to resist for Sterling and his advisors even though his mother was reportedly unhappy with him moving north of Watford.
He moved to Liverpool from QPR at the age of 15 for a fee initially thought to be approximately £500,000 but with add ons it could rise to over £3 million. Obviously QPR would have loved to have kept him and they thought he'd have been better off staying in W12 but it hasn't worked out too badly for him at Liverpool so far.
It didn't take Sterling long to impress at Liverpool either where he became an important player in the Liverpool youth team with the highlight possibly being him scoring five goals in a 9-0 win at Anfield against Southend United in The FA Youth Cup in February 2011.
In March 2012 Sterling made his senior debut for Liverpool aged just 17 years old coming on as a substitute for Dirk Kuyt in a league game against Wigan Athletic at Anfield. Comparisons to John Barnes were initially made by some which I considered unfair as he deserves to be judged on his own merits.
I've always said that toughness comes in many different forms and Sterling is certainly tough. I recall being told not long after he made his debut that he'll be thrown around like a rag doll as he's so slight. And for a time he was indeed. Now you'll see him no matter how often he's thrown around dust himself down and keep fighting. This is a form of toughness I admire. In fact Brendan Rodgers himself has gone on to say about Sterling "He's probably one of the strongest players I've ever seen. Pound for pound, he's as strong as anyone."
Sterling is known to have a good relationship with Brendan Rodgers who seems to be nurturing his talent astutely even taking him out of the firing line for a spell after a little slump in his performances which was totally understandable for someone so young and has since returned to form and that has seen him receive a nomination for PFA Young Player of the year and a place in the England World Cup squad where he was England's man of the match in their opening game against Italy.
Last season saw Sterling develop in to one of the most dangerous attackers in the Barclays Premier League and seemed to have a rapport with Luis Suarez and on a few occasions Suarez seemed to take great pleasure out of helping Sterling. Sterling started 24 league games for Liverpool and scored 9 league goals and weighed in with 5 assists too. A massive contribution for a 19 year old. He showed amazing composure to score against Man City at Anfield after excellent work by Suarez and he showed exceptional strength and power with his strike for his goal at Carrow Road against Norwich City. Strength that many couldn't believe from such a small man.
I've always held the belief that Raheem Sterling can be anything. Who can reach the top of the sport and his performances for England and Liverpool lately have done little to change my opinion on that. Liverpool have one of the brightest young talents in World football and rightfully he's loved by their supporters. His story will go on……