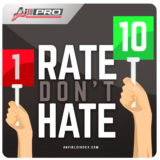 Rate, Don't Hate is a weekly podcast that takes place after every Liverpool FC league game. Guy Drinkel will be joined by a rotating cast this season to discuss and debate each players performance throughout the season.
Let us know what you thought on the players performance by rating them yourself on our player rating page where we can compare listener's ratings to our own.
Here is your chance to take part and submit your ratings for the latest LFC match:
ANFIELDINDEX - PLAYER RATINGS
Please click the submit button, when this dissapears the averages from other submissions will show.
Thanks for taking part.