Player Ratings - Coming Soon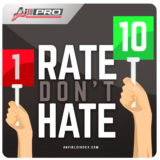 Welcome to Rate, Don't Hate – a weekly podcast that will take place after each Liverpool league game where we rate the players and have a good, sensible, well-mannered chat if we disagree. We'll also be comparing ratings from other major media platforms. The podcast is hosted by Kaylon Karrim, and will generally feature a regular panel of AI Writers, Tom Holmes and Adam Petruccione.
Here is your chance to take part and submit your ratings for the latest LFC match:
RATINGS FOR THE NEXT LFC MATCH WILL OPEN AFTER THE FINAL WHISTLE…..