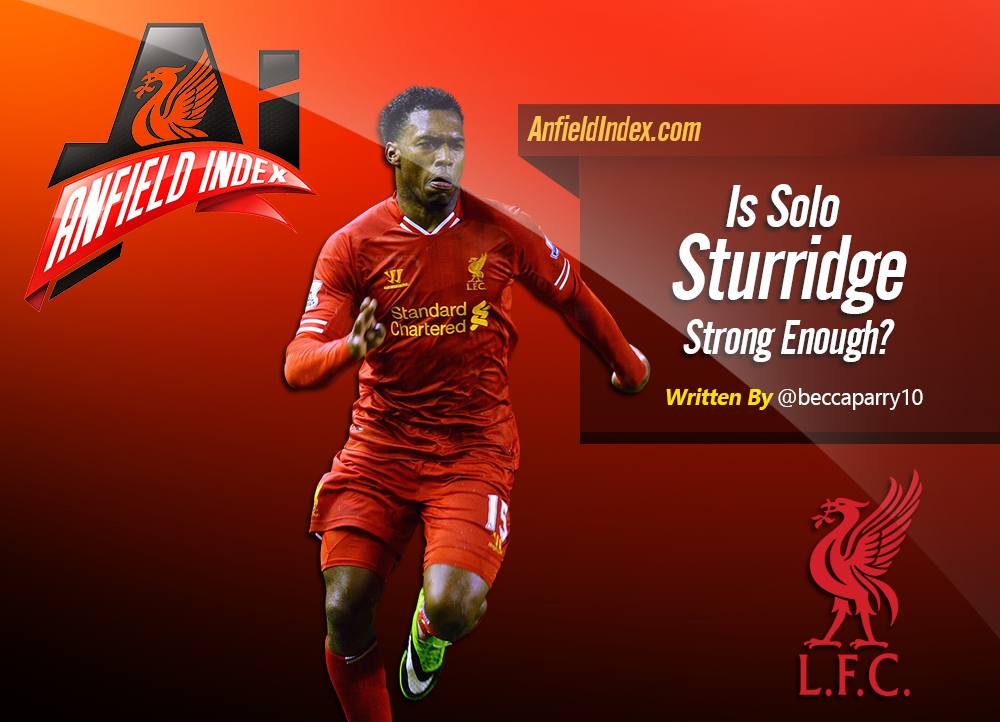 Is Solo Sturridge Strong Enough?

We've all heard the rumours of how we are apparently in for every striker on the planet. Some names seem reasonable, others are somewhat… unrealistic. As much as we all love Daniel Sturridge, I'll take you through some thoughts of how he he might have to cope flying solo.
The SAS only truly clicked in the latter half of last season, giving us an absolute treat of a strike partnership, something that is a rarity in the modern game, amidst all the different systems.
Losing half of that is an obvious negative. Luis Suarez was one of the most talented players I've ever seen playing for Liverpool, especially the way he performed last year. However, it also leaves the door open for Daniel Sturridge to flourish.
Now that he's gone, there is and will continue to be a big gap in this Liverpool side – and as the need for a second goal intensified on Sunday, you thought that would be the time for a bit of Suarez magic.
Luckily, we've also got the second-highest scorer from last season still leading our forward line. And when big players needed to stand up and be counted on Sunday, Sturridge was there.
With the Suarez ban at the beginning of last year, we got a glimpse of what life would be like "post-Suarez", and that is what the condition of the Liverpool team is currently labelled as.
Sturridge took the reigns, and successfully kept us in with the pack before he and his strike partner could jointly start firing us towards the top of the league.
When the full focus was on him for the several games that Suarez was out, we began to see the true qualities of Daniel Sturridge, and how the system could be worked to provide the best possible service for him.
We all know he's a finisher, and with the creativity we have in the side at the moment with all of the new exciting youngsters, he's exactly what we need to finish the job off. This worked so well last year, that Sturridge and Suarez were banging them in left, right and centre, and it seemed easy.
But without Suarez, do we need to go back to the drawing board so we can work out exactly how the team needs to be managed, in order to get the best out of our star man?
You could see on Sunday that now the Suarez void is apparent, creative style players such as Coutinho and Sterling had to work so much harder in order to generate the service that the Uruguayan often provided for Sturridge. And for parts of that game, there was a lack of service. Without Suarez, every single player now has to drive forward to provide what may have been taken for granted last season.
One thing that is always brought up, but nevertheless has to be noted, is Sturridge's injury record. There have been, even in his few years at Liverpool, occasions where a knock or slight strain has kept him out for a couple of games. And with no disrespect to Lambert or Borini, the system would have to be tweaked to accomodate a different striker. A big game without your star striker, is immediately a big blow, before the game has even begun. Like I have mentioned previously, this is where the midfielders have to step up and start getting the goals. The SAS got 50+ goals between them last year, and this can't be done by Sturridge alone – the players around him, like Coutinho, Sterling and Henderson will have to take a share of the burden.
There are the rumours that Sturridge could possibly be welcoming another strike partner, but with no guarantee that we are going to be recruiting one, we can't assume that we are going to be gifted a two-part strike force again. There is no doubt that with the extra games, more help and options will be needed. Another striker would be a luxury, and perhaps a necessary one, but until we hear otherwise, Sturridge remains the solo main man up front.
There's no doubt he's got the talent, and as he continues to grow as a player, I'm confident he can carry us even more than he did with his part in the SAS last year. Who knows, with the "new SAS" in Sterling and Sturridge, his new perfect strike partner might not be as far away as we think.