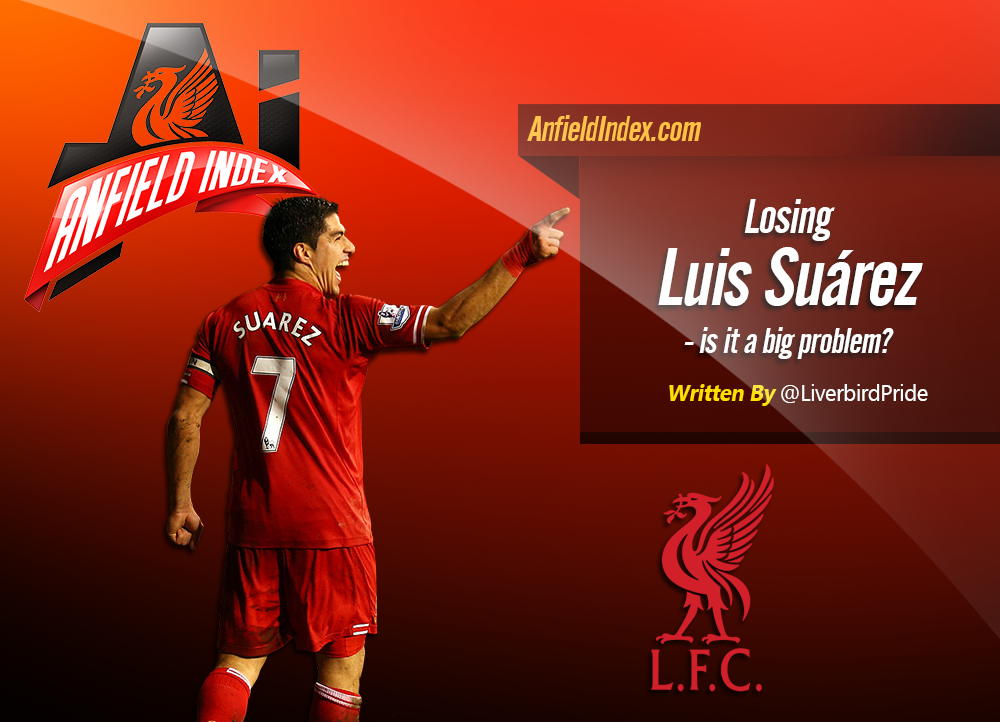 Losing Luis Suarez - is it a Big Problem?
The thought of writing this article was a no brainier. Throughout the last two and half months,  most football pundits have predicted Liverpool will fall down the pecking order this season –  just because they lost their talisman Luis Suarez.
Nevertheless, in the words of fellow AnfieldIndex writer Ryan McTernan, "it would be reckless in the highest regard to dismiss the impact Luis Suarez had in his time at Anfield." This is not what I am doing. Without question Luis Suarez is undoubtedly one of the top three football players in the world, and we of course would be a better team with him in the XI, but hardly anything has been reported in recent times regarding our performances without the man himself.

It's no secret that Suarez has a bit of a nasty streak in him. In total, Liverpool have played 19 games without him whilst he was serving bans for: biting Branislav Ivanovic, racially abusing Patrice Evra and giving the finger to Fulham fans. Other than the 8 matches that he was purposely used as a substitute, Suarez started a total of 125 games for Liverpool, and came off the bench for 3 games.
Luis' Impact on Matches
Despite winning both the PFA and LMA Player of the Season awards, along with a double achievement at Liverpool's own end of season ceremony, the stats (stats aren't always reliable, and are sometimes misleading I understand), say the Reds are more successful without Suarez in the team, compared to with him. Liverpool had a win ratio of 64% when he was not in the team compared to the 50% when he played.
Below is a graph of the percentage of games won with (and without) Luis Suarez in their team since joining Ajax in 2007.
In spite of his win with/without ratio, one area in Suarez's game that cannot be faulted whatsoever is his goal scoring record. Last season he netted a total of 31 goals for the Reds in the league, equalling the record of goals scored in a 38 game season. With Luis Suarez taking part in their games, Ajax scored an average of 2.43 goals per game, while Liverpool notched 1.98 to Uruguay's 2.14. Also last season for Liverpool, Suarez assisted a total of 13 goals directly, the second highest in the league.
Again, below is a graph of the impact Luis Suarez has for his team regarding goals.
Impact on Others
Suarez arrived through the Liverpool doors in the final days of the 2011 January Transfer Window. His dedication on the pitch is second to none and is one of the main reasons we are back fighting in the Champions League, but many people I have been talking to previous to writing this article have been discussing Suarez's impact. And their biggest mention is how he affected the careers of Phil Coutinho, and even more, Raheem Sterling. On and off the pitch, Luis Suarez has taken Sterling under his wing and almost treated him as if he was a younger brother. His impact is most definitely being shown through Sterling's individual performances and – for me personally – in the goals he scored vs City in the 3-2 victory and his composed finish against the Saints on the first day of the season.
The man everybody can see has flourished alongside Suarez is Daniel Sturridge. Daniel netted a total of 36 goals in his first 50 appearances, a feat that has not been matched by any in a red shirt since George Allan, with 41 in 49 appearances the late 19th century. The man is a clear prolific goal scorer and without doubt, had one of the best strike partnerships in the league with Suarez (since Shearer and Sutton). Sturridge has previously played with Manchester City and Chelsea, though not playing a lot, anybody could see his talent. Thankfully for us, those teams didn't, and he was sent to our doorstep with a confidence issue, but clearly a brilliant striker. The partnership formed with Suarez has certainly revived Sturridge's confidence, including playing in his first World Cup and scoring half of England's goals.
Impact from the Transfer Window
Before I plunge into this section, first let me say that the forward situation is a worrying one to say the least considering Sturridge's injury prone ways and considering our fall back option is Rickie Lambert who is really another (good) option off the bench (not to mention Borini considering he may leave). Even Rodgers has mentioned his need to get another forward in this window, and Balotelli looks to be that forward.
Throughout the last 79 days, Liverpool have more than dominated the transfer market in Britain, breaking the £100m barrier, signing  8 players in various positions.
"Our criteria that we look for is players with strong technique and football intelligence. They need to mentally have the attitude and the capacity to learn and they have to be so hungry to fight for every ball on every day in training and in the game."

"You'll get some players who are specialists and who need to play in particular positions, but if we can get players in who are multi-functional, and can play in different roles and are multi-dimensional in their work, it sets us up and gives me more options as a coach." – Rodgers speaking re: the type of player he is after at the start of June 2014.
There is definitely similarities to our players purchased over the summer in this quote. Emre Can, for example, has played in almost all positions on the football field at one stage or another, Alberto Moreno can play LW or LM as well as he can play LB.
What does this have to do with Suarez? Well, for one, Rodgers – along with the rest of us – understands that the squad is as thin as it possibly could be. I mean, last season we relied on Victor Moses in some games. Iago Aspas. Need I say more? So the sale of Suarez, as heartbreaking as it seemed, was required if we were moving forward. Again, of course we would be a top class team with Suarez in it, but the major word in that sentence was team. Who is to say we would be able to replenish our squad as strongly as we did without the Suarez money? Hence why Rodgers was looking for a versatile type of player who doesn't have one set position. Also, now instead of relying on Glen Johnson to have a half decent game, we have Manquillo and Flanagan to fight for the positions; whereas, Moses wouldn't make this squad's bench, let alone b an option to bring on.
Rodgers and 'the committee' have done superbly in this window, supplying the team with what seem to be dependable full-backs and one solid centre-back.  People often mention, "if we build a stronger back-line, and concede 15 fewer goals. That's Suarez's goal impact covered." Well, yes and no. Yes of course because if we conceded 1 or 2 fewer goals in certain matches (6-3 Cardiff, 3-3 Palace, 2-0 Chelsea) the league title would be in our cabinet all shiny and beautiful. And no to an extent because, although stats found on http://www.liverpool-kop.com/show that with Suarez in the team,we score 1.7 goals p/g and without 2.1 p/g, we would have to find a way to score without Suarez in the team consistently.
Formations & Tactics
How did we adapt without Suarez? Looking at the last 4 games of the 2012-2013 season and the first 6 domestic games of the 2013-2014 season, we won 3 out of 4 without Suarez at the start of his ban for Biting Ivanovic and surprisingly thrashed Newcastle 6-0 (including 4 out of 6 at the start of last season). We adapted a 4-2-3-1, using Gerrard and Lucas as a double pivot and Sutrridge as a lone striker. Hopefully this tactic is not adopted too often as – even though it won us the majority of games it needed to – a Gerrard and Lucas pivot does not work in any way.
Hopefully with the addition of striker Mario Balotelli, we adapt to a 4-4-2 diamond, which proved so successful on our final sprint last season. Adapting this tactic would get the best out of the players we have to offer, placing Sterling into the '10' role and Coutinho deeper could see a frightening (almost similar) style of attack from Liverpool this season.
Final Opinion
Again going back to an earlier point, it would be crazy to think Liverpool would be a better side without Suarez but also even crazier to think we would deteriorate and fall away because of the loss of our best player. I feel personally we will manage just fine without Suarez and with the addition of Champions League and Mario Balotelli, it will be an exciting season under the guidance of Brendan Rodgers, FSG and the helping mind of Dr. Steve Peters. Maybe a title push is a step too far this season but with a decent Champions League run, possibly a trophy and a top 4 finish with a nice decent title run, who can call that a deterioration?