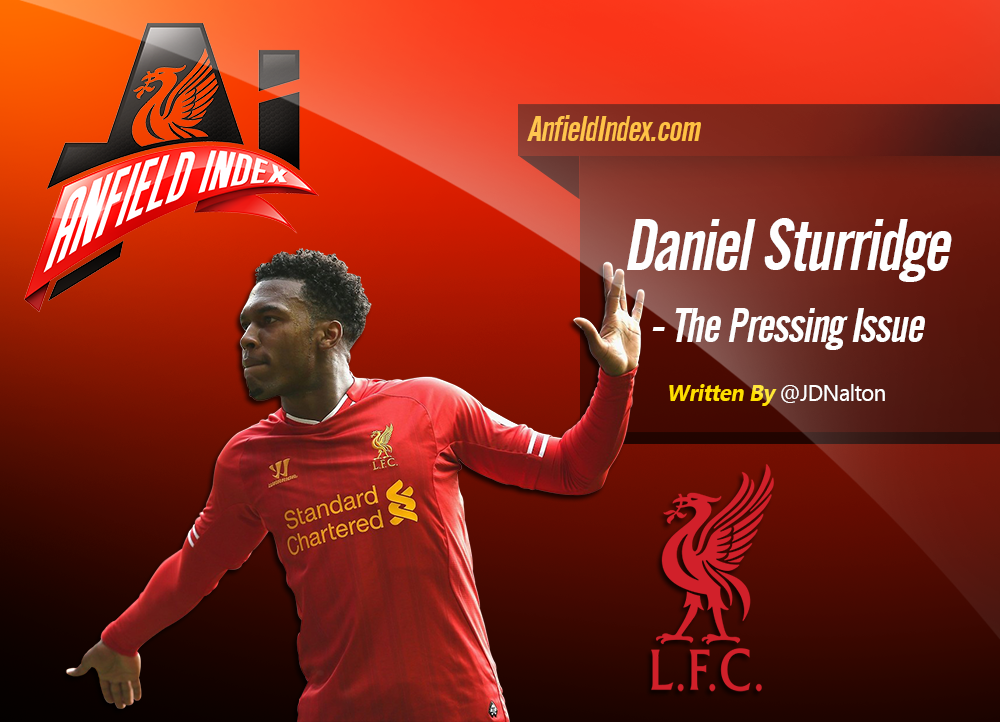 Daniel Sturridge: The Pressing Issue - Exclusive Pressing Action Stats
Anfield Index is paving the way when it comes to recording the amount of pressing undertaken by Liverpool players. The analysis of pressing actions isn't just another meaningless number to add to the myriad of useless statistics available to football fans, this data is integral to Liverpool's system under Brendan Rodgers. The recent Anfield Index podcasts discussed these numbers at length but this article will focus on one player in particular – Daniel Sturridge, and how the striker's lack of intense pressing is intentional.
The Loss of Luis Suarez – Press Release
The departure of Luis Suarez to Barcelona has been widely covered by all forms of football media, and has been approached from numerous different angles. The write-up which might best encapsulate what Liverpool have lost in this transaction, appeared in the latest issue of the We Are Liverpool fanzine, in which Paul Tomkins treats readers to an inventive, analogous portrayal of Suarez's animal instincts.

The traits described in said article showed that Liverpool lost much more than a world class attacking weapon; they also lost a worker, a forward who defends from the front, and a player who is as industrious as he is ingenious. These qualities attracted Barcelona, as they look to return to the high tempo pressing which is as much of a hallmark of theirs as their inventive one touch passing. They wanted Suarez's pressing from the front, and were willing to take the baggage which comes with him to get it.
Step Forward Daniel Sturridge
Barcelona's gain is Liverpool's loss, but what do the Redmen have left when it comes to defending up top?
Daniel Sturridge has never been known for his tireless work rate without the ball. He's a player who'll acknowledge a lost cause, rather than needlessly chase it down to gain an extra few points from the judgemental fans. But there's more to Sturridge's defensive work than meets the eye.
A few commentators have suggested that Sturridge will hold back on pressing to save energy for more important tasks, such as scoring goals. There's also the idea that he's being told to be careful when it comes to strenuous physical work, as he's currently the side's only trusted first team striker.
There might be some truth in this, but there's something else Liverpool's number fifteen does which means he's highly effective in his defensive work – he blocks opposition passing lanes.
Rather than mindlessly charge at a nervous opposition centre-back, Sturridge will bend his run as he approaches the enemy in order to limit their options. He places doubt in a defender's mind as firstly they realise they can't play the easy pass to their centre-back partner, and secondly they fear that a pass back to the 'keeper could easily be intercepted, especially given the acceleration the England striker possesses.
Their only option is to play the ball forward into midfield where the might of Jordan Henderson and the heel-snapping of Philippe Coutinho or Joe Allen lies in wait, ready to pounce on the unfortunate recipient. The other option for the opposition player would be to lump the ball forward, which lowers the chances that they'll keep the ball (depending on who Liverpool have in defence), and Rodgers' men can launch the counter attack from there.
Another part of Sturridge's intelligent work without the ball is his readiness for the counter-attack. If the theory stated above works in practice, and one of Henderson, Coutinho, Allen, Skrtel, Sakho, or Lovren win the ball back, then Sturridge will be ideally placed between the two centre-backs to cause trouble and confusion if the right ball is played. Or, failing that, he'll create space for others to exploit.
Success (just) vs Saints
In the recent game against Southampton, Liverpool struggled at times as the Saints used Schneiderlin and Wanyama, as well as the two centre-backs, to contain Sturridge and Coutinho. Southampton's tactics were impressive, especially when you consider that it was their first game under new manager Ronald Koeman, but this was something which worked for them last season under Pochettino.
Despite this solidity in the middle, Southampton's four centrally stationed defensive players did leave space on the flanks for Raheem Sterling to cut in and become an inside forward, which subsequently left room for Glen Johnson on the overlap. Nathaniel Clyne, one of the best full-backs in the league, handled Johnson well, and didn't do too badly against Sterling, but the young forward managed to penetrate the Southampton line for his goal.
Sterling's goal handily demonstrates Sturridge's movement when the opposition have possession. His curved run made Maya Yoshida think twice on the ball, and prevented the easy pass back to the keeper in the first instance.
Yoshida then passed to Schneiderlin who was already under pressure from Coutinho, and the Frenchman's only option was to return the ball to Fraser Forster in the away team's goal.
Forster then had no option but to clear down-field as Sturridge was now on Yoshida, Coutinho on Schneiderlin, Sterling on José Fonte, and Lucas on Wanyama.
The rest of this move was successful thanks to some good battling from Manquillo and Henderson, with the latter then playing a perfect ball through for Sterling into the space between Fonte and Clyne, created partly due to Sturridge lingering on the right wing near Yoshida.
This is the ideal example as it led to a goal, but Sturridge will press in this manner throughout his time on the pitch. Nothing will replace what Suarez brought to the side in this area of the game but, as with the other gaps left by Suarez at Liverpool, the team will have to try to adapt its systems and tactics to make up for his absence. Daniel Sturridge's movement in defence is just one example of this process in action.
You can listen to the Pressing Stats collect on the podcast below and they start at around 40 minutes if you wish to learn more about what is collected, how and which players excelled on the day from a pressing action point of view. Remember these stats are EXCLUSIVE to AnfieldIndex so if quoting please do link to the site or the twitter account at @AnfieldIndex.
Listen to this podcast episode | Download this podcast episode (right click and save)