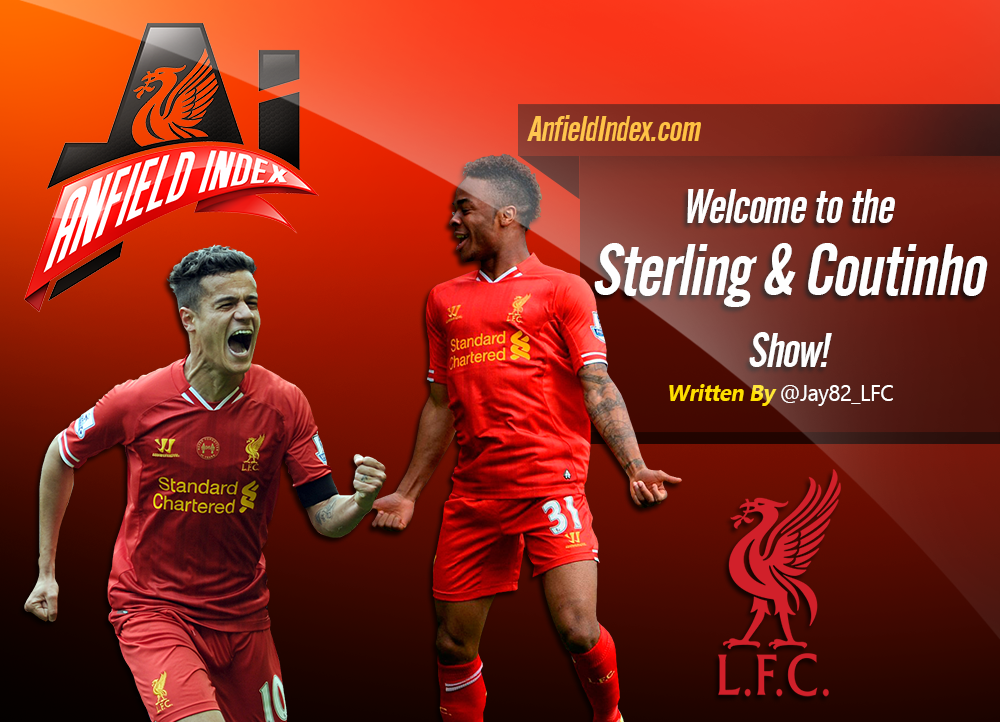 Welcome to The Sterling & Coutinho Show!

It has been said that the club will always be bigger than any one player and new heroes are born. In the past decade we have seen Owen, Torres and Suarez leave the club with fans wondering who will the next superstar to arrive at Anfield. Thankfully, we don't need to look any further than our young dynamic duo of Raheem Sterling and Philippe Coutinho, who in my mind are going to take the Premier League by storm this season and help fill the void of Luis Suarez.
Sterling is only 19 years old while Coutinho only recently turned 22. They have their best years ahead of them and watching them strut their stuff on the pitch at the moment makes me think they are destined for greatness. Both are imaginative footballers, quick-minded and despite their slight frame strong in possession. Most importantly, they are brave on the ball, a trait which Brendan Rodgers has a pre-requisite for his ever improving squad.
Suarez was incredible last year and is definitely a world class operator. He improved players around him at Liverpool and was clinical in finishing off our dazzling moves. The only slight negative was that all the players, including Sterling and Coutinho, would immediately give Suarez the ball to work his magic.
Suarez would often take the ball from deep and aim to take on 3 or 4 defenders and then get a shot away. With Suarez now gone, and our attack full of pace we could see a far quicker moving and cohesive passing attack.
In the summer of 2012, Sterling received a telling off from Rodgers during pre-season. Fast forward two years and Sterling is now regarded as one of the most important players for both Liverpool and England. Sterling has me on the edge of my seat every time he now has the ball. He can go left, right and past you in seconds. He also has the intelligence to play the right pass. Importantly, Sterling is now beginning to score goals and shows real composure in front of goal. I wouldn't be at all surprised if he scores 15 to 20 league goals this season.
Rodgers himself is buzzing over Sterling's form and said recently:
"The great thing with watching him now is that he gets you off your seat. When he gets the ball you think 'Something could happen here…[….] For teams to have that fear of him as a young player shows his development. There is still work for him to do, but he knows that and is a really good boy who is developing really well tactically and technically. What has been beautiful to watch with Raheem has been his maturity and he's turning into a beautiful young man, with all the responsibility"
Whilst Sterling has the pace, Coutinho is now the brains of this Liverpool team and he has been in sublime form during pre-season. Missing out on the World Cup has allowed him an extended break but most importantly, he has hunger and a real point to prove to everyone that he is worthy of wearing the famous yellow shirt of Brazil. Liverpool will certainly benefit from his increased desire.
Coutinho is ghosting past players with his skill, strength and his flicks and tricks will give defenders nightmares this season. He can play as 'an eight' as he did last year in a midfield three or as 'a ten' behind Sturridge. With the number of forwards we now have, Coutinho will be most likely deployed in midfield where he shone last season.
Earlier this month, Rodgers praised Coutinho and said:
"He is so gifted as a player…[…] His ability is magical in tight situations. He doesn't get marked, tempts defenders out and his weight of passes. You saw that with the ball he played around the corner for the first goal. It's about sustainability with him now. He's lit up this country with his quality. We are now going on to a big stage in Champions League and he will have chance to show that there, too.'
Whilst it isn't a case of Luis who? Sterling and Coutinho have shown us a glimpse of the future and to me it looks incredibly promising along with our new signings. Bring on the Sterling and Coutinho show!