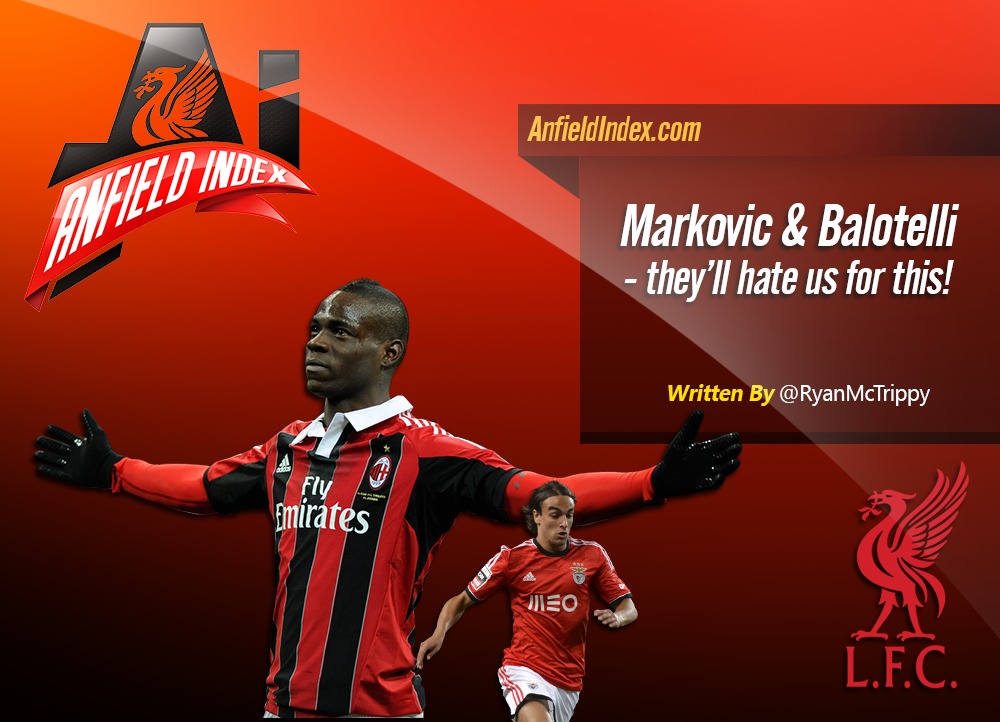 Markovic & Balotelli | They'll Hate Us for This

Initially, this article was to be written with the sole purpose of Lazar Markovic in mind. However, given light to recent events there is simply no way one can discuss the topic of piss boiling without mentioning the highly probable transfer of Mario Balotelli to Liverpool FC. A character of great myth, a man of much adoration, for the first time in quite a while it appears Liverpool are at the heart of something very special indeed.
But first, our relatively unknown talent from Serbia, a twenty year-old attacker signed in the region of £19 million from SL Benfica. While an exclusively known quantity for many of the Football Manager competitors, FIFA 14 gamers, and football hipsters who refuse to wear socks with their brogue and cord trousers combo, Lazar Markovic will have high expectations to match the lush price tag that Liverpool paid to activate his release clause.
But while some supporters may be quick to point out his age, inexperience in the physically demanding Premier League, and his need to settle at a new club with a weight of expectations in the future, Markovic himself doesn't seem to give a sh*t about that:
"I believe Liverpool fans expect a lot from me, and to be honest I expect a lot from myself. The same applies for the people who worked hard to bring me here.

"I do not have any fear or stage fright whatsoever. To tell you the truth, I can't wait to start playing for Liverpool."
Ah, but what about the price tag I hear you say. You're probably correct, surely a young man only a few months out of his teenage years will feel the weight of millions of pounds of investment on the weight of his shoulders? Haha, I bet he does!
"I'm not the most expensive signing of the summer, but even if I were I wouldn't care much about that.

"I've never thought about anything in relation to money. I've never cared about or done anything for money in my personal or my professional life.

"What does it even mean to be more expensive than others? It absolutely doesn't matter. The pitch, not the money, is the measure of everyone's worth in football."
… Well, fair enough then.
But what Kopites can gather is that this potential starlet has confidence. An aplomb of assurance in what he can do with a football, and that money will not reflect what he does on a Saturday afternoon at the KC Stadium, or on a Wednesday night at the Westfalenstadion.
He's calm, cool, and his hair is majestic. Between playing football and looking like Avril Lavigne's ideal fella (circa 2002), Markovic is ready to perform at the highest level; potentially becoming a key element to the Post-Suarez Liverpool team.
From the footage we have seen on YouTube, to the articles read by those who hold an interest in Portuguese football (all 28 of them), this kid is exciting. Their is a buzz around this young player who has, if reports are to be believed, snubbed Chelsea (his boyhood club who have had an agreement for his transfer since his days at FK Partizan) to be a part of the Brendan Rodgers Revolution at Anfield.
There is one thing of note that may be witnessed throughout Markovic's time at Anfield, and that is his reaction (or lack of) when he scores. He appears to be simply n'arsed.
(N'arsed: to be not arsed. Used in a sentence: "Will you take out the bins? I'm n'arsed.")
There are visions before your writer's eyes of the Serbian sensation leaving Leighton Baines on his backside, tearing towads Tim Howard, and lobbing him in  wondrous moment of skill and determination. He turns to the Gwladys Street Stand, looks at 10,546 fewmin' faces… And he's n'arsed. He simply couldn't care less, because that is simply what he does. And it sounds bloody marvellous.
Super Mario 
As if potential piss boiling isn't evident in Lazar Markovic, Liverpool look set to add Italian maestro Mario Balotelli to their young squad, and fans are genuinely buzzing. The talent and ability is self-evident; he possesses it in abundance. But with many stories contrived about giving out money to strangers at petrol stations, bringing a kid back to school to stand up to a bully, and going out for an ironing board but coming home with a quad bike and a trampoline (this did happen), Liverpool look set to be in for an interesting season regardless of what happens on the pitch.
Opposition fans, and those who he plays for, either love Balotelli or hate him. Idolised by disciples of the LADBible, scorned by Rio Ferdinand, the spectrum of emotion is truly hard to grasp. However, with the guidance of man-manager extraordinaire, coupled with the talents of Dr. Steve Peters, the Anfield faithful will hope this will be the former Manchester City's striker true chance to become one of the finest strikers on the planet.
Why always him? Simply put, he is a rare breed of footballer: one who is genuinely interesting. He is also yet to find a true home in football, where he can be nurtured and adorned the way he is meant to be. Having turned 24, he is no longer a young man still learning in life: in fact, beard-wearing midfield master and fellow Italian team-mate Andrea Pirlo is quick to highlight the maturity from Balotelli since returning to Italy.
"Mario has matured since he has been back in Italy. He will be the first to admit when he was younger he made some mistakes – but he is not that player anymore.

"Anybody who still talks about him in that way is living in the past."
Mario's magic, however, stems from his natural tuition, which may well stem from his erratic nature. While Brendan will not want to quash the flair and talent the striker has, it is their job to channel the aggression, desire, and determination which Balotelli has to create a truly special footballer: who can still rile up the opposition fans!
There is an aura of self-belief in this Liverpool team. The capability to do outlandish things, making them seem miniscule; as if inhaling and exhaling required more effort. The arrogance this squad needs is humbled, but evident and necessary following the departure of Luis Suarez. Rodgers knows what he is building, and having laid foundations for two seasons it is beginning to come together.
Natural talent, raw ability, uncontainable excitement: potential Premier League Champions.