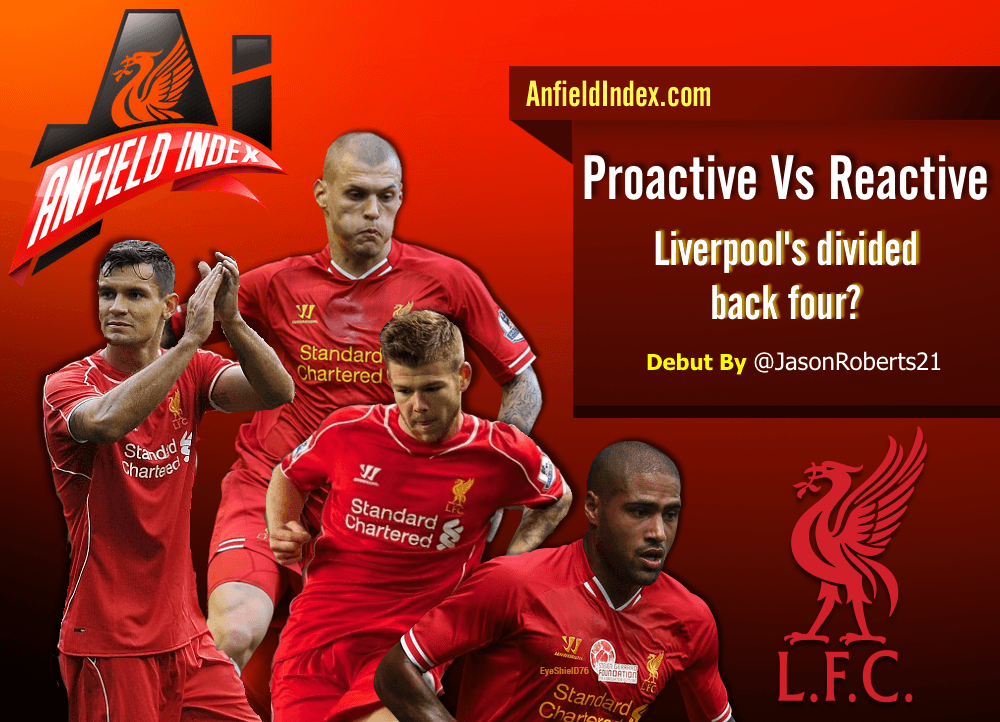 Proactive vs Reactive | Liverpool's divided back four?
Monday was disappointing wasn't it?
After impressing for the majority of the first half, Liverpool went in at half time 1-0 down but with justification to remain positive that we could come back into it in the second 45. However, as we all know, it wasn't to be and after 95 minutes we had been beaten 3-1 by last years champions.
Their strength and quality in depth shone through and we were given a harsh reminder of the level required in this league, a level that we must aspire to.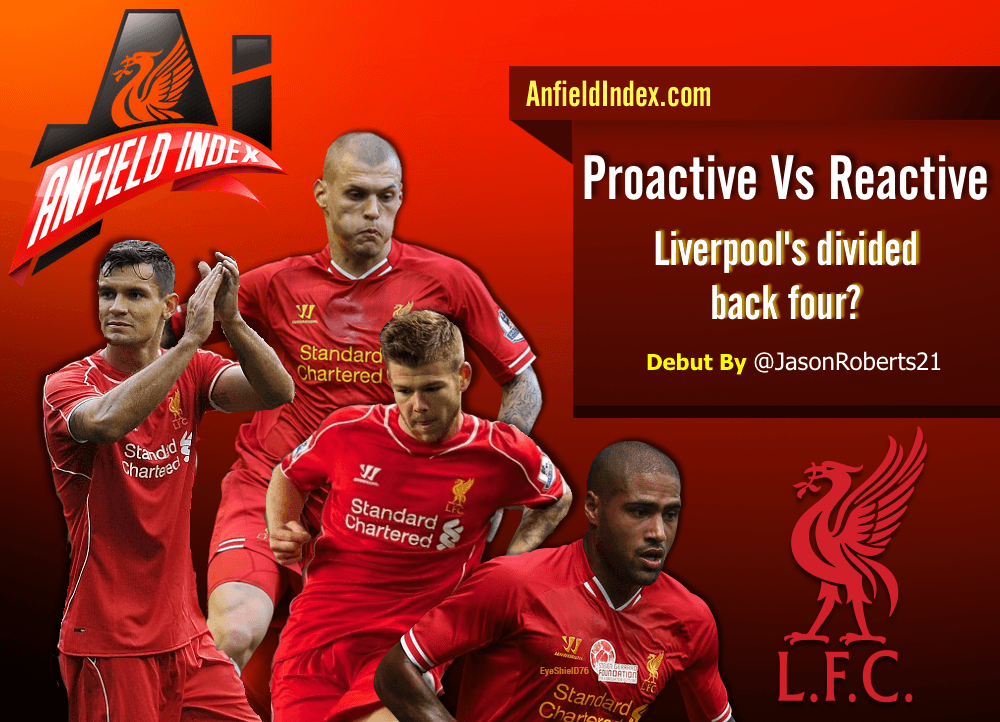 But there was more to it than that. It wasn't just about the billionaires club putting us to the sword, no. Once more, we played a massive part in our own downfall. Now I'm not about to break into a Twitter style over reactive, dramatic damning of individual players. I know how much we all like to blame Glen Johnson for his can't-be-arsed attitude and the seemingly popular argument for pinning everything on Mignolet, even though he's better than many give him credit for. The hero one week, the villain the next.
No, my own personal observation after watching the game again including replays of the goals is that our defenders collectively aren't reading the same book, let alone being on the same page.
The first goal was a comedy of errors, with the guilty parties including Gerrard, Lovren and Moreno. Each of them put the next under pressure leading to an easy shot on goal (which Mignolet would have done well to have saved).
The third goal exposed the danger of playing a high line and any defender would have struggled to match the pace of Aguero having just come on. However it's the second goal that is getting the most attention and this is the one that I also think says a lot about our defence.
The immediate online response was a meltdown in which Lovren took an absolute roasting from the majority of our fans. Apparently this was the proof that he isn't the leader that he's being made out to be and that his penchant for stepping forward will more often than not, will leave us exposed and put unnecessary pressure on his colleagues.
On the face of it, that may be a just criticism of him. After all, he's renowned for doing it. But then again, if so many people know this about him, surely our scouting team and Brendan himself would be aware of it? Furthermore, is it purely coincidence that Moreno was alongside Lovren at the time yet Skrtel and Johnson were alongside one another a good few yards further back?
The point I'm making is maybe, just maybe, it's this proactive style of defending on the front foot that Rodgers likes about Lovren. Could it be that, as the new kids and more importantly as Rodgers' buys, Lovren and Moreno we pushing up as they are being expected to do, yet the "old school" of Skrtel and Johnson still aren't able to adapt and therefore it is their reactive natures that meant they didn't step forward when they should have?
One of the few positives that many compliment Skrtel on is his last ditch tackles – a reactionary measure which is arguably unnecessary and if he instead defended on the front foot, read the game better and anticipated potential threats, would be avoided more often than not.
There's an argument that for all the shouting that Lovren does, it doesn't mean what he's saying is worth hearing and it doesn't look like Skrtel is taking any notice. This is already being repeated as a means of criticising Lovren, however surely there's just as much reason to question Skrtel.
For all we know, Lovren could well be giving the instructions that he is supposed to be, but the lack of adaptability, game intelligence and proactiveness from Skrtel and Johnson means that we've now got conflicting styles within our defence. Great partnerships complement each other, great defensive units work together as one. Time will tell what the defensive line of 14/15 will go down as. You can't help feeling we've all read this story before.