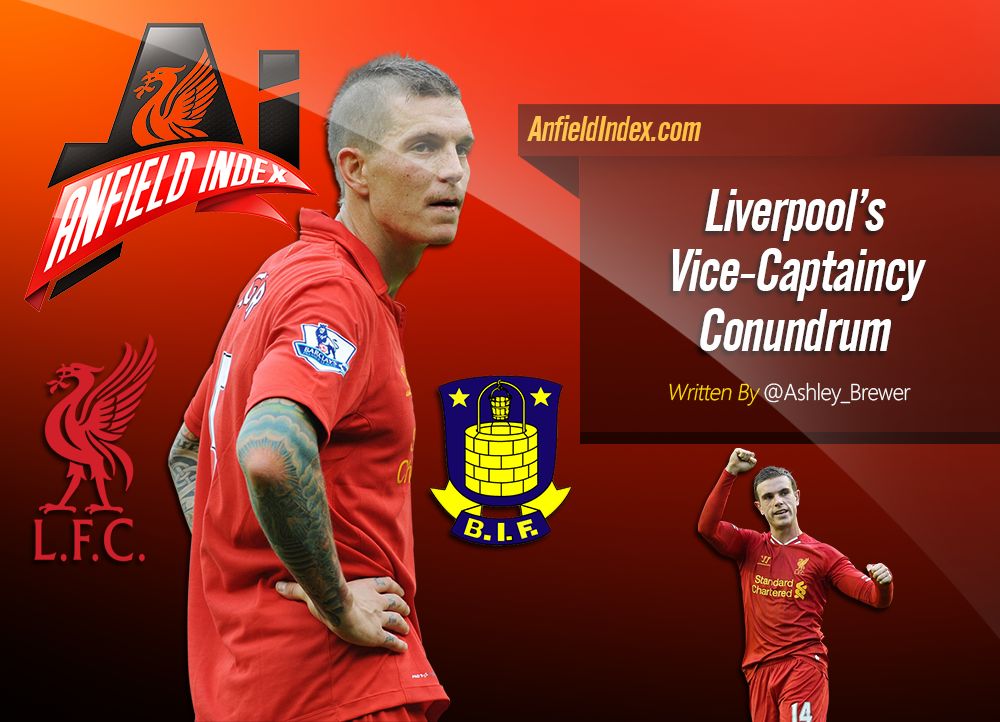 Liverpool's Vice-Captaincy Conundrum

I can't say it enough. Thank you for everything.! http://t.co/btqdOBI4Vb

— Daniel Agger (@DanielAgger) September 1, 2014
As gracefully as he once glided up the pitch with the ball at his feet Daniel Agger has departed Liverpool to return to the club where his career began.
His heavily tattooed body has finally given in to the demands of English football, demands which have seen him plagued by injuries, stopping him reaching the heights he was supposed to reach. A rise as meteoric as one of his long range screamers, you could have envisioned him playing for any one of Europe's elite at the very top of his game. As it happens, he remained at Anfield.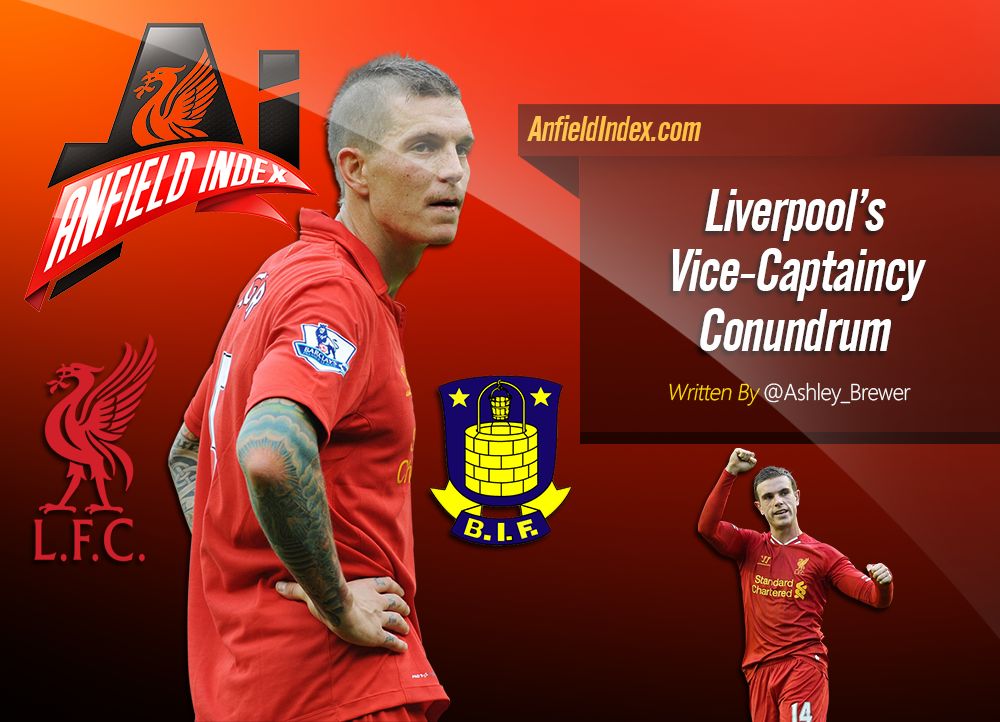 Fans saying that a certain player has bought into not only the philosophy of the club, but also the city where it is situated, is one that is banded about too frequently nowadays, but for the Dane he truly did. Tabloids linking him with a multimillion pound deal with Manchester City was met with him getting the letters "YNWA" permanently etched into his fingers. Although, you could say that getting it done on his right elbow would have been more fitting after he used it to show his discontent with Fernando Torres after the Spaniard's move to Chelsea.
"It is unacceptable to play for one of Liverpool's arch rivals"

"For a Dane, it's about having respect for the club you play at. I am proud to be able to pull on my Liverpool jersey and will never go to another club in England. I would never go to Manchester United or Everton, for example. It's about a form of respect for the club."
His loyalty was unquestionable and, with the retirement of Jamie Carragher, it was rewarded with the vice-captaincy.
The role has been a bit of a poisoned chalice recently though. When you think about Agger and Carragher, you think about players who hardly got off the bench except when it was completely necessary. It should be somebody to lead alongside Steven Gerrard, providing a vocal kick up the arse to accompany the main man's enduring excellent example.
The extra excursions of the Champions League will also mean Brendan Rodgers will be forced by Father Time to rest his skipper, giving the job extra relevance again. My last piece on this site was one of great sentimentality, but it also briefly touched on the player whom one feels is ready to take on greater responsibility within the team. That player is Jordan Henderson.
The former Sunderland man has faced adversity throughout his time at Anfield, the remainder from that ill-fated summer spending spree, but in the last few years is finally getting the credit he deserves. He's a vital cog within the Liverpool machine, the engine powering it on to great things, take him out and everybody else feels the strain. His straight red card against City could be cited as the moment the Premier League title was lost, despite the result of that particular game.
His running and attitude towards pressing the opposition players on the ball make him perfect for the diamond formation currently used, but that isn't all he is good for. He is a leader, one of understatement. He wasn't given the England U21 captaincy for simply turning up to training on time, despite the fact he comes across as the type who is in half an hour early. When Rodgers wants instructions given out on the pitch he now turns to the 24 year old, who in turn bellows them out with great authority.
This could be the season where he is finally unshackled and is given greater freedom to get into the box. He got seven assists last campaign, and already has two in three games, both made out of relatively nothing, and I feel the added burden will make him even better.
It is time to start preparing for the future, the Gerrard-less times, and I can't think of a better person to take charge of the talented youngsters which make up the majority of Liverpool's squad. When Brendan Rodgers picks his new vice-captain, I hope he says "here's to you, Jordan Henderson".