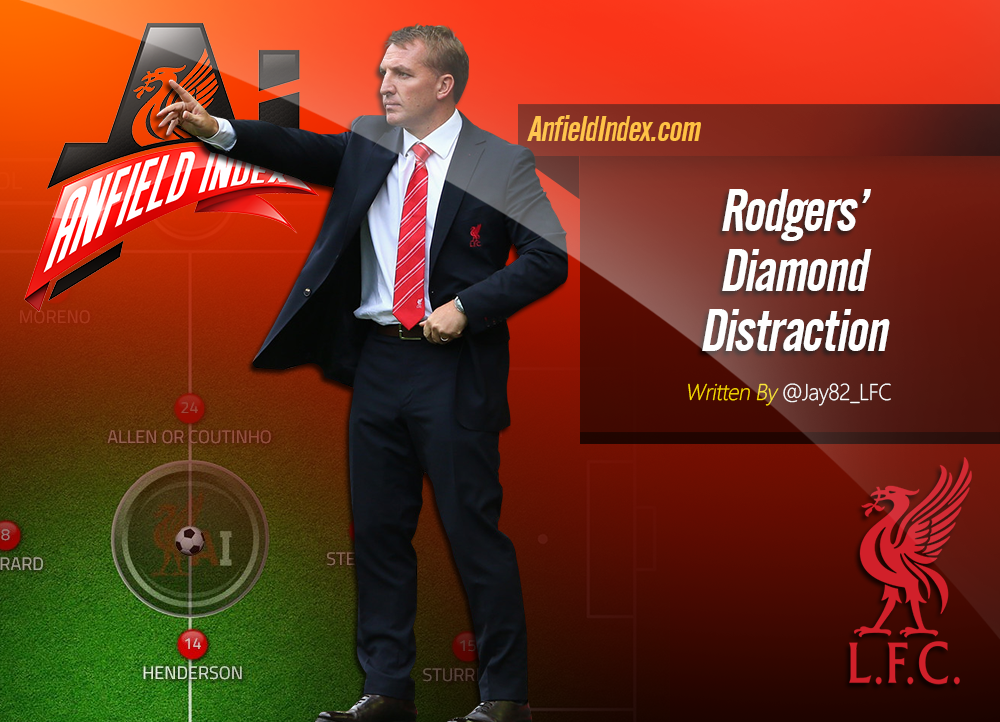 Rodgers' Diamond Distraction
Diamonds may be a girl's best friend but the diamond is also starting to be crucial to Brendan Rodgers and his Liverpool team. The 4-4-2 diamond formation is bringing several benefits to this Liverpool team, most notably numbers centrally and lots of distraction up top.
After the departure of Luis Suarez, the additions of Adam Lallana and Lazar Markovic and the pre-season form of Raheem Sterling and Philippe Coutinho, it was felt by many that Rodgers would move away from the successful diamond he employed towards the end of last season and turn to his seemingly preferred 4-3-3 formation. Rodgers played a 4-2-3-1 formation against Southampton and a 4-3-3 against Manchester City but Liverpool were unconvincing in both games in attack and in defence.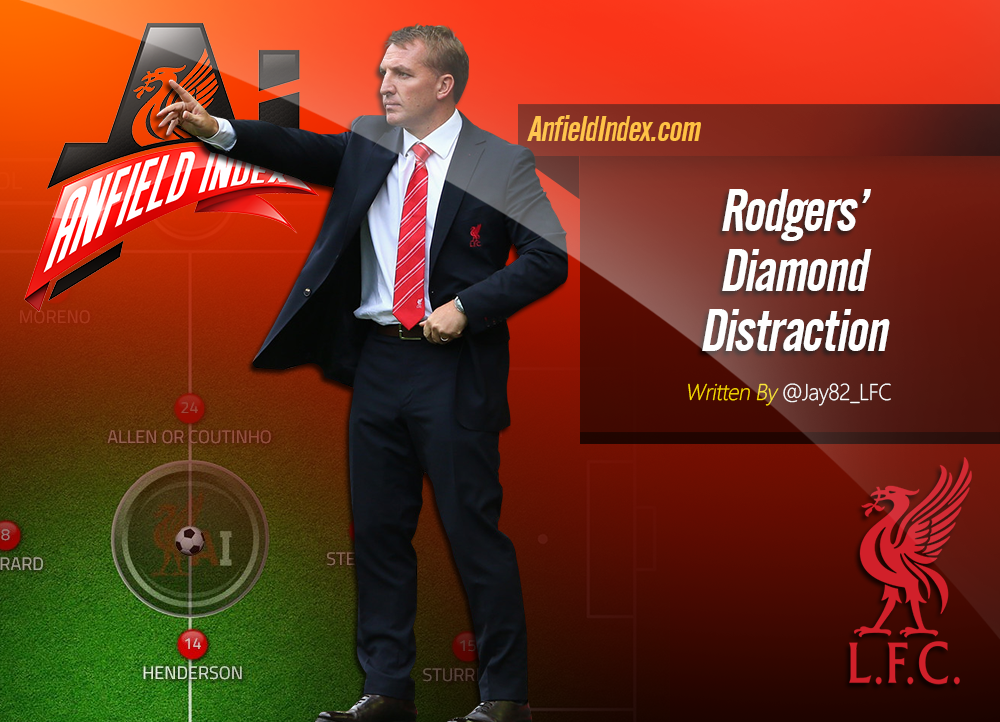 In came Mario Balotelli and it all changed didn't it? The Italian enigma. Does he start? Would Rodgers play two up top and go back to the diamond? Surely he has to play – he's mad and a distraction for the opposition. Well, it is exactly what Rodgers decided to do against Spurs and the benefits were huge. Rodgers was right, this wasn't the Mario Balotelli show, the star of the show was the 4-4-2 diamond formation once again deployed by Rodgers.
Andrew Beasley recently tweeted that Liverpool have won 7 of the 8 games that Rodgers has started with a diamond formation with Liverpool scoring 25 goals.
But how, I hear you ask, has this formation allowed us to win so many games?
CREATING A DISTRACTION
Playing two up top with Sterling at the tip of the diamond is simply creating mayhem for opposition defences. When we play Sturridge alone up top, he is left isolated and as he also comes wide to receive the ball there isn't enough distraction for defences.
Balotelli was by no means at his best against Spurs but he occupied defenders, which provided more space and time for Sturridge and Sterling. Defenders cannot take their eyes off Balotelli and his unpredictability – even I can't take my eyes off him – which is a welcome distraction. This was also the case when Rickie Lambert came off the bench in the opening two games with Liverpool scoring almost immediately after his introduction.
PROTECTION FOR GERRARD
Against Manchester City, Gerrard was isolated playing in a 4-3-3 formation and with ageing legs he was unable to cover the vast amount of space around him. However, on Sunday, Gerrard looked impressive without the ball as Jordan Henderson and Joe Allen created, passed and pressed either side of Gerrard. He was left to cover less space and instead operated deep, spraying the ball around the pitch.
Putting it simply, the diamond midfield protects Gerrard like no other formation and if he is retained in this team as the deepest midfielder, it is important he has two midfielders alongside him to help him cover space around him.
STERLING CENTRAL
Raheem Sterling is fast becoming an integral player to Liverpool Football Club. You simply have to play him in his best position. Whilst Sterling's flexibility allows him to play in a number of roles, it is centrally that he is at his most dangerous. He is lightening quick and strong as an ox, allowing him to pick up the ball centrally and bypass midfielders at his will.
Against Spurs, Sterling was magnificent and capped his great performance with a goal. Sterling playing at the tip of the diamond will cause a lot of problems for defences in the Premier League and allows him to operate almost in a free role behind the front two.
HIGH PRESSING FULL-BACKS
Whilst the midfield becomes narrow in a midfield diamond, width can be created if you have energetic full-backs in your team. I am not of course talking about Jose Enrique and certainly not Glen Johnson, but the summer additions of Alberto Moreno and Javier Manquillo. The Spaniards have impressed so far by pressing high up the pitch in order to win the ball and offering width to the team.
The system is highly dependent on full-backs to can not only attack and press well but of course also defend well. With the midfield narrow, it is vital the full-backs defend and close down well, otherwise a good quality wide man could take advantage against a poor full-back. It is important therefore that Moreno and Manquillo continue their promise to ensure the diamond continues to function well.
CAN THE DIAMOND BE STOPPED? 
Like any system, the diamond does have flaws. So how can other teams break the success of a 4-4-2 diamond?
Aside from Liverpool, Chelsea have also adopted the 4-4-2 diamond with some early success. Carlo Ancelotti deployed a 4-4-2 diamond in Chelsea's double winning 2009/10 season and began the season with a diamond midfield. They won twelve of their first fourteen games scoring 37 goals in the process. However, the system wasn't a complete success for Chelsea and Ancelotti had to continually change systems as Chelsea's diamond formation struggled to regularly offer width due to neither Anelka or Drogba being comfortable drifting wide.
The lack of width is the main flaw of the system and opposition teams could counter by concentrating their efforts on the flanks. Midfielders can play high and wide to stop the advancing Moreno and Manquillo, whilst a solid central three will contest with our central midfielders for possession and aim to stop the efforts of Sterling occupying the tip of the diamond.
This is of course easier said than done and the strength of Liverpool's four midfielders (including the hard working and dynamic Sterling) is hard to stop when in full flow. Fortunately, Rodgers is not afraid to change his system during the game due to the flexibility of his players and the 4-4-2 diamond could revert to a 4-2-3-1 to create width in the team.
Overall, the positives outweigh the negatives and the fluidity and flexibility of this squad of players means the diamond can continue to shine at Anfield.