On-going speculation and several transfer links with other clubs has clouded what might have been a pleasant summer holiday for Fabio Borini.
Whilst most 'fringe' players would enjoy attracting interest from other Premier League clubs offering regular first-team action, Borini was having none of it. After enjoying a successful campaign on loan at Sunderland last season, it seemed logical that the Italian would become a permanent fixture in Gus Poyet's squad.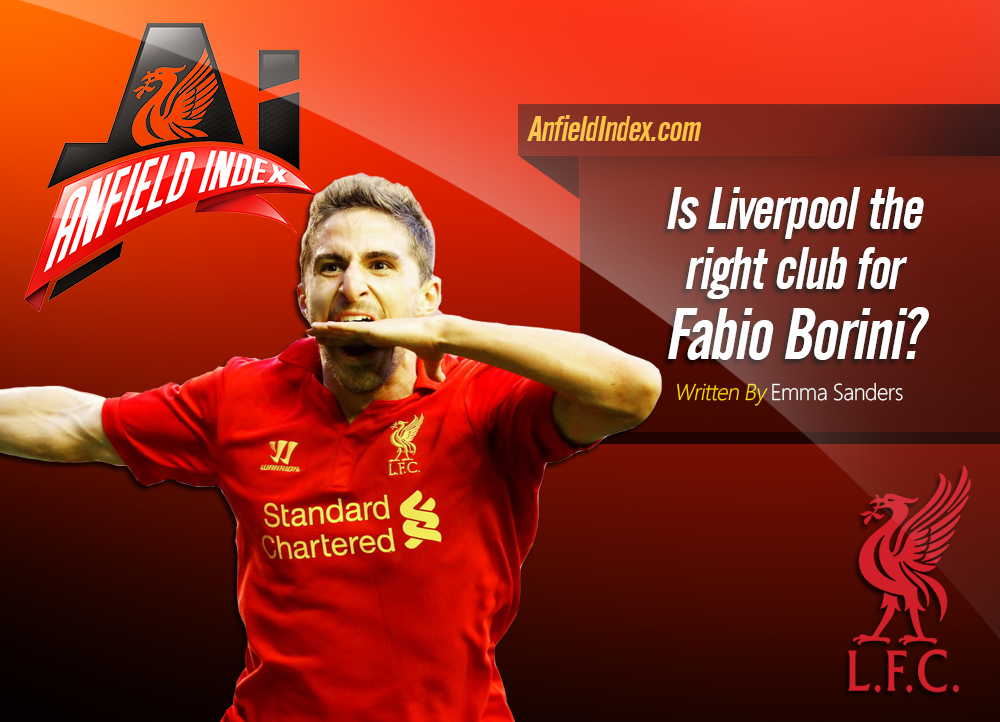 Last season, Borini netted seven goals in 32 Premier League appearances, leading the Sunderland attack alongside Conor Wickham. Adding a further two assists, with some of his goals proving very important against the likes of Newcastle United and Chelsea, the striker was essential to Sunderland's Capital One Cup win.
Poyet was quick to showcase his appreciation of the striker's input and publicly announced he would 'do everything possible to keep Fabio at the club.'
However, after failing to agree personal terms with the northern club, he was given another opportunity on the final day of the transfer window when Harry Redknapp's interest came to light.
QPR's offer of £10m plus add-one was accepted by Liverpool but it seems Borini's wage demands were far too much for the London club.
He took to twitter to voice his delight in staying at Anfield, "I protected the MAN and the player I am today…taking all the responsibility of the situation and for people who didn't want it…and I am VERY happy with myself to have taken such an important decision." His happiness wasn't mirrored by all fans however, claiming his wage demands were too greedy.
Borini was sent out on loan last season presumably as he was deemed an unnecessary squad member. He could be forgiven for believing he had a chance to fight his way into the squad when he returned from his loan spell as third-choice striker. However, it was clear Rodgers didn't consider the Italian in his plans.
He hasn't featured in any of Rodgers' squads so far in the opening weeks of the season and with the addition of Mario Balotteli, he's been pushed even further down the pecking order. Daniel Sturridge remains the key man, with Balotelli and Lambert providing supporting roles but it's difficult to see where Borini will fit into Brendan Rodgers' plans.
Perhaps the collapse of the sale of Fabio Borini was Brendan Rodgers' biggest transfer fail in the summer? Clearly not in his plans, the manager has brought in two new faces but now has four strikers in his squad. With Champions League football awaiting Liverpool this season, four strikers may be a good thing though. Whilst Sturridge and Balotelli provide the probable starting combination, Lambert and Borini would be a strong back-up choice for Rodgers.
However, most Liverpool fans and you'd imagine their manager too, would have been extremely pleased with the sale of their fourth choice striker for around £10m plus add-ons, especially as Balotelli was brought so cheaply.
Whilst there is the suggestion Borini was simply being greedy in his personal demands, there is of course the possibility of him just being ambitious. Did his reference to 'protecting the man he is' imply he wanted to stay and fight for his place in the Liverpool team?
Admirable that would be, it's hard to believe that really was his true intention given his position in the squad pecking order.
His 'personal demands' may differ in January depending on Rodgers' use of the striker in the coming months but I think it's fair to suggest most Liverpool fans won't be expecting to see his name on the team sheet regularly. Perhaps Sunderland or QPR would have been better suited for the striker.