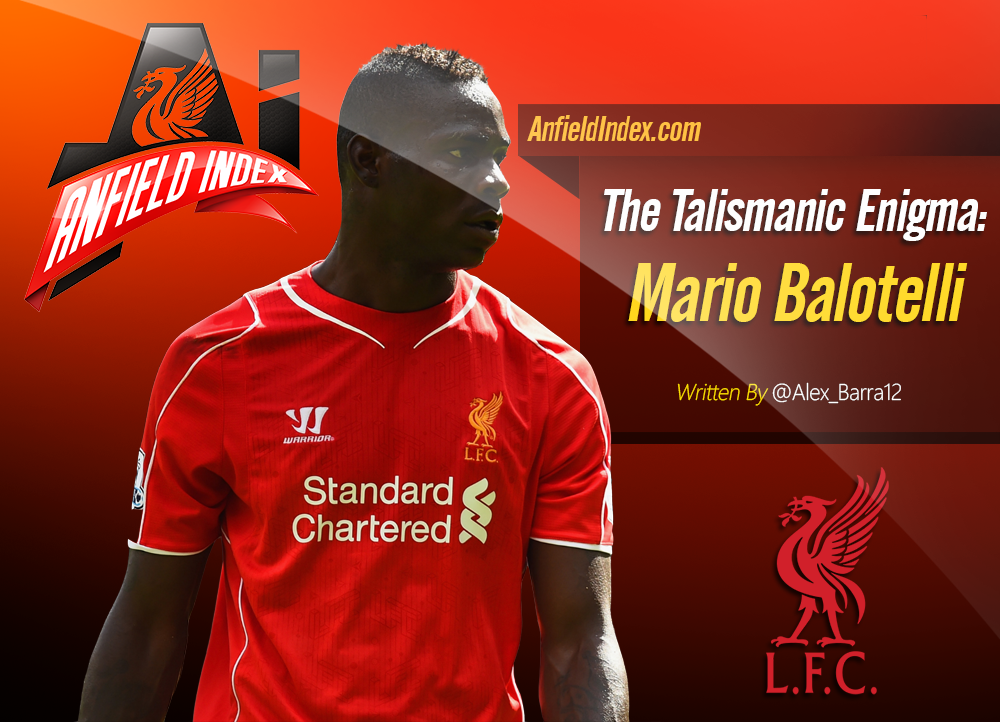 The Talismanic Enigma: Mario Balotelli
"The Mark of a Genius!" They cried, when Luis put another past Norwich.
"Dalglish is unstoppable!" They chanted, when Kenny put another past United.
"Rush is on fire!" They bellowed, when Ian put the third past Everton.
"Torrreeeeeeess!!!!" They screamed, as Fernando slotted home against the Gunners.
Robbie Fowler, John Toshak, Michael Owen, John Aldridge, Peter Beardsley, Kevin Keegan. Those fortunate enough to recall performances of all ten aforementioned players will be able to solidify this statement.
Liverpool is a striker's hunting ground.
Though we've never seen one like this just yet.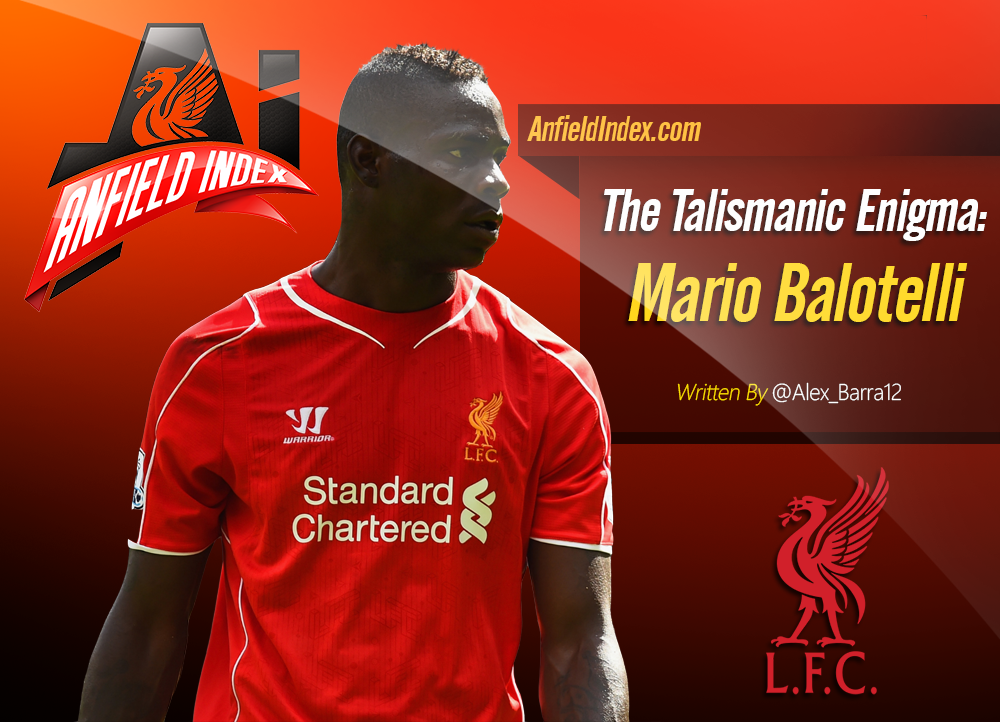 The buzz surrounding Mario Balotelli's Anfield arrival was immense, not since the return of Kenny Dalglish following the abysmal pit of suffering that was Roy Hodgson has there been such a collective upheaval of support and elation towards an arrival into our Shankly Gates. The response to Super Mario's signing is unprecedented, at least in terms of sheer excitement, yet the overriding feeling is one of slight division, or at least it was until the Italian football prodigy tweeted of his own elation towards the move; that in itself was met with an overriding sense of delight. Then, as he stepped out onto White Hart Lane, to the atmosphere-rupturing applause of the travelling Kop, Liverpool fans around the world were afforded the luxury of a nice wide grin.
It's true, you don't have to sit there cradling your phone like a baby any longer; the number 45 will walk onto Anfield clad with a full Mario Balotelli within it, and there can be no doubt that the sense of intrigue will follow him wherever he travels. From White Hart Lane, to the Hawthorns, to Old Trafford, the keen and overriding feeling of the entire transfer, alongside the enthusiasm, is just how much Brendan Rodgers can garner from the seemingly unlimited, yet untapped potential of Mario Balotelli.
Witnessed through the tales of Raheem Sterling and Daniel Sturridge; seen as trouble-makers in recent history before being handled properly by their manager – then only settling into his new position. In drawing out the very best of Daniel Sturridge and Raheem Sterling – the latter still only in the early stages of unlocking his ultimate potential – Rodgers has demonstrated his expertise in man management.
Though the hot-blooded Italian may prove to be his biggest task yet, there is a single phrase that defines this entire transfer.
If anyone can, Brendan can.
I'm not one for putting blind faith in a single manager just because of past accomplishments. I had very little faith in the duties performed by Ian Ayre until this transfer window; I have extremely low faith in the ability of Australian politicians to achieve anything, despite their supposed perception of being somewhat accomplished people, and I was admittedly stringent when faced with the prospect of Brendan Rodgers utilising a hundred million pounds worth of transfer budget to compensate for the lack of Uruguayan on the Liverbird menu. However, with the exception of Australian politicians (a lost cause unfortunately) it seems that delightedly, the aforementioned have proven many of the nay-Sayers wrong and bought an immense complement of nine players to perfectly fit the ethos Brendan and his trusty team are attempting to build on Merseyside.
Sure, they'll have their difficulties, but when push comes to shove, can you really expect Mario Balotelli to enter Melwood, see everything Brendan Rodgers has done and is currently striving to achieve with his team and not be impressed with it in the slightest? His interview on LFC TV, as colourful as most Balotelli interviews usually are, elicited the perfect response from a player who most see as a troublemaker. He is happy to be here, and he wants to win things. That drive, that ambition, that desire, it's all part of Brendan's mentality, of a build-up of companionship and stunning performances alike, all to build to a winning mentality not seen at the club for what seems like a millennia.
And then, of course, there was Brendan's post-match press conference from their successful trip to White Hart Lane. Having missed two near-opportunities – the only slight on an otherwise fantastic performance – Brendan proceeded to tell reporters of Mario's "new" "corner-marking routine". "You're picking up a corner" Brendan said, recalling a normal moment in training, that for any other player would be nothing more than a developmental formality amidst hundreds of others in training.
"I don't mark corners" was the befuddled response. What would Mancini have done? Probably yelled at him with an incessant and unnecessary arousal of his voice, knowing Mancini. Mourinho would've simply ignored him and wandered off to look after his prized pet players; ones who heed his every word. What did Brendan do?
"You do now."
Now, while it is certainly doubtful over whether the occurrance actually happened; it wasn't meant to be taken literally in context, it does perfectly represent Brendan's ethos and mentality; treat him like an adult, and he'll respect you for it.
Which is why, in the grand scope of things, the Talismanic Enigma that is Mario Balotelli could prove to be a masterstroke.
Owen replaced Fowler. Torres replaced Owen. Suarez replaced Torres. Now, Balotelli has what it takes to replace Suarez. However, that it a most fundamentalist view towards it. What we should be seen to be purchasing, is one of the most potent, dangerous and lethal attacks in the league.
Dispelling the myths and stories concocted by the English Media, who has a knack of targeting the Italian during his first Premier League stint with Manchester City, dig deeper beneath the supposed "bad-boy" shroud that surrounds Mario Balotelli and you'll find the ingredients for a superstar. Replacing Luis Suarez may have been impossible at the start of the transfer window, but in purchasing Mario Balotelli for a mere ₤16 million – in what must be regarded as an absolute steal – not only have Liverpool been, for use of a better word, galvanised, by the sudden emergence of someone who, if treated with the respect and passion he deserves, but an attack has truly been completed.
That's the dream, anyway, for all whose flurry of trepidation will be satisfied when the number 45 finally steps out of the player tunnel with a determination on his face and a Liverbird on his chest. For those who are more cynical, all we ask is that you give him a chance, because if that chance pays off, you won't have time to admit you're misgivings.
You'll be too busy celebrating.
Give a man a fish and he'll eat for a day. Give Balotelli the ball and he'll put it in the back of the net. Teach a man to fish, and he'll eat for life. Nurture Super Mario into the player he can be, and you'll see him work magic.
Maybe then, the chants of "The Mark of a Genius" will be echoed once more, only this time; it'll be a different name on the Kop's lips, bursting with intoxicated fervour….
Mario Balotelli.