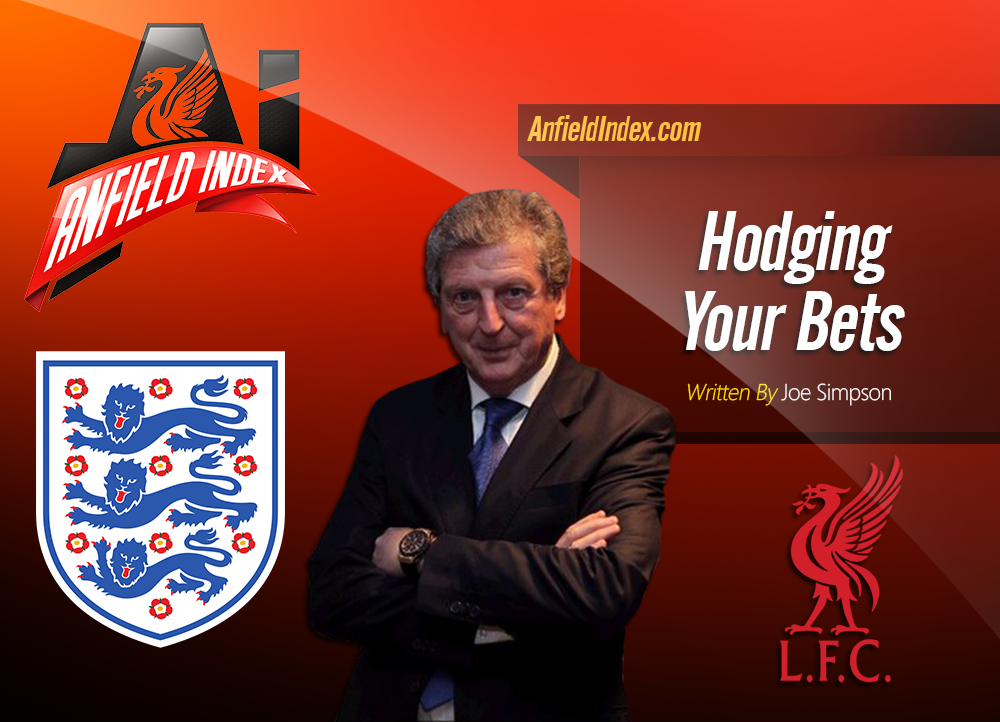 Hodging your Bets | Roy Hodgson and the FA

First things first I am not a fan of the England football team, I have nothing against them or anything, it's just that club football is everything to me. However whilst I'm not a fan of England I am even less of a fan of incompetence. You may think this is where I'm going to go to town on Roy Hodgson, and to an extent you'd be right but not entirely.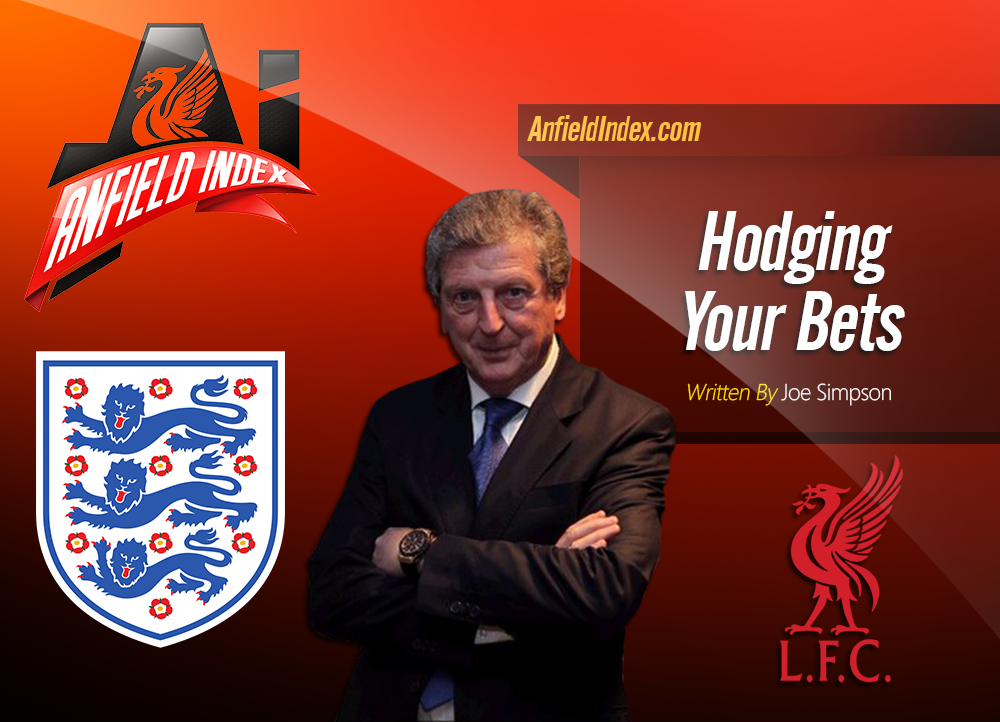 Whatever you think of Roy Hodgson I think we would all agree he is a passionate England supporter who was asked did he want to manage his country in a European Championship and World Cup and be paid handsomely for it (2nd highest in the World Cup). What would you do in his situation? The problem is not Roy Hodgson – well not the real problem anyway – he is just doing what he does. Haters hate, scorpions sting and Hodgson, hodges. He hodged his way to Scandinavian titles, he hodged his way to 2nd place at Inter, he hodged his way to relegation at Blackburn, and he hodged his way to midtable with Fulham, WBA and Liverpool (a mixed bag of hodging in those last three). Joking aside Roy Hodgson is a good manager – at what he does – if you want a manager to win you a Scandinavian title or to secure mid-table in the Premier League (whether he's lifting a poor team higher or a taking a good team lower) he's your man. If you want a manager to make average players well organised and hard to beat he's your man, but at the very highest level if you want someone to coach talented players (the bulk of his England squad play for Liverpool, Arsenal, Everton etc) to exceed the sum of their parts then his outlook and tactics are all wrong.
At a time when progressive coaches led by the likes of Guardiola, Klopp, Rodgers & Martinez are showing the way forward with fluid, fast, dynamic attacking football, England chose to appoint a man who tactically and philosophically is almost the opposite of this. Here for me is the real incompetence – none of this was a well guarded secret – his record is there for all to see, and if you listen to the words he says (rather than the idealized version of urbane quotes some imagine he is saying) he will tell you this loudly and proudly. England appointed him despite knowing this, they kept him on while knowing this and they are continuing to keep him on whilst knowing this. That would be fine – if a little strange – if they shared his values but they don't, or at least they say they don't.
The very essence of leadership is that you have to have a vision. It's got to be a vision you articulate clearly and forcefully on every occasion. You can't blow an uncertain trumpet.— Reverend Theodore Hesburgh
The FA actually had a vision and in many ways it was a really good, progressive strategy to take the national team forward. In 2010, The FA launched The Future Game, The FA Technical Guide for Young Player Development.
The vision according to the FA "is intended for the whole game, with the same underpinning values applicable for coaches from grassroots to elite level." The FA said that the strategy:
intends to "train, develop, qualify and support more innovative coaches, who are excellent teachers of the game"
Sounds like a job for Roy Hodgson.
has innovation as a central theme "underlining the aim for a more progressive and original approach to player and coach development, one which understands and predicts the trends and demands of the ever-changing modern game."
Sounds like a job for Roy Hodgson.
advocates "a playing philosophy based on quality passing, possession and building play through the three-thirds of the pitch."
Sounds like a job for Roy Hodgson.
answered criticisms "that the Football Association coach education pathway champions a direct method of play, based on a long-ball approach."
Sounds like a job for Roy Hodgson.
The FA further elaborated on their strategy giving some of the key principles that they want to underpin their playing philosophy:
it actively encourages the individualistic player. Players with varied and unique dribbling skills and the dexterity to go past defenders, particularly in the final-third, are fundamental to success in the future game.
"He lost the ball an awful lot of times as well and I think if he is going to really be the player that we want him to be he has got to make better decisions about when he turns with the ball, when he keeps the ball." Hodgson encouraging Ross Barkley after his impressive England debut.
it reflects many of the styles and approaches demonstrated by high-performing teams at European and world level.
'My methods have translated from Halmstads to Malmo, to Orebro, to Neuchatel Xamax, to the Swiss national team and many other jobs as well. I am doing the same things.' Hodgson on the influence of cutting edge coaching approaches on his coaching down the years.
players should be encouraged, when possible, to play out from the back and through midfield, progressing play to create chances with clever and creative play.
"Just fucking launch it!" Hodgson to Daniel Agger as he attempted to play the ball out from the back.
possession work should be supported with an emphasis on intelligent movement with players encouraged to interchange position to receive the ball. As the game evolves it appears there will be less reliance on traditional positions and young players should be given the opportunity to play in lots of different areas of the pitch and not be restricted by out-dated tactics and formations.
"It is insulting to suggest that because you move to a new club, your methods suddenly don't work when they've held you in good stead for 35 years and made you one of the most respected coaches in Europe. It's unbelievable." Hodgson championing his own out-dated tactics.
the style of play encourages all players, at different times, to join in with attacking play with an emphasis on variety and creativity. Individual dribbling skills and the ability to go past players using a skill or trick, particularly in the final-third, are to be encouraged. Players demonstrating such individual abilities should be encouraged to develop these unique skills wherever possible.
No Hodgson quote for this one but does this sound like a Roy Hodgson style team to anyone reading this? I guarantee it doesn't to any of the fans of clubs ranging from Halmstads to Liverpool, and it certainly doesn't to the excellent Jonathan Wilson, author of the tactics bible Inverting the Pyramid, who said that Hodgson has always favoured a "pragmatic, functional style".
Clearly from Roy Hodgson's own words and the style of play utilised by his teams he is the antithesis of England's own stated strategy. How much faith can the FA have in their own strategy when they employ and continue to employ a coach who is such a poor fit for their own stated philosophy?
How can a group of presumably intelligent people sit in a meeting – with the previously detailed strategy and philosophy supposedly underpinning their decisions – and decide that out of every potential coach out there that Roy Hodgson was the best candidate for their most important role at the tip of the FA coaching pyramid. That to me represents incompetence more than any decision Roy Hodgson has made (and that's saying something)! This isn't just a one off mistake either as they also allowed a similarly ill-suited Stuart Pearce (a poor man's Hodgson if ever there was one) to continue in the 2nd most important role until 2013 (3 years after their strategy was released).
Compare and contrast their decisions with those of the German FA who after the debacle of Euro 2000 responded with their own positive strategy to take their game forward. They employed Jurgen Klinsmann as national coach and in conjunction with him they advocated a strategy of attacking progressive football. When he left they could have employed any number of proven managers but instead they backed their strategy and philosophy with deeds and gave the job to Klinsmann's assistant, Jogi Low, a coach who lacked a significant managerial CV to speak of but who lived and breathed their strategy and philosophy. The results of this policy were seen at this World Cup. Yes it took time to come to fruition but at every stage of this German team's development they have had a coach who employs a style of coaching and play that mirrors what they have been playing at the lower levels. This meant that at every step they have been moving closer to where they want their national team to go. In contrast the English FA's managerial appointment means that at the most important stage (and 2nd most important stage if you include Pearce's time as Under 21 manager) when their coaching philosophy should be bearing fruit the players suddenly are playing for coaches who don't mirror the styles of the teams at the lower levels and actually have no desire to do so. As a result rather than moving closer to where they want to go a la the German model they are actually moving further away. Intriguingly Klinsmann himself ,speaking in 2010, had highlighted the vital importance of any potential England coaching strategy being followed at every level of the English game saying "whatever approach the England team decides on – whether it is attacking or defensive, patient or high tempo – everybody in the English game needs to sign up to it". Everybody did sign up to it except for the FA decision makers themselves when it came to the crunch.
I could perhaps find the English FA's decisions more understandable – whilst still strongly disagreeing with them – in an ends justifying the means kind of way if Roy Hodgson was having immediate significant success. However this isn't the case as Hodgson's strategy is failing miserably on the pitch whilst also completely undermining the FA's own stated strategy off it. This leads me to the one and perhaps only key area where Roy Hodgson and the FA are actually on the same page – ambition. The statement before the World Cup by the FA's general secretary, Alex Horne, that Roy Hodgson had already achieved his pass mark by "getting through that group" and qualifying for the World Cup Finals could have came straight from Roy Hodgson's mouth.
That paucity of ambition is indicative of the real fundamental problem of English football development, the FA actually have just enough ambition to come up with a good and progressive coaching strategy to take the English game forward, they just lack sufficient ambition and courage to fully employ it.