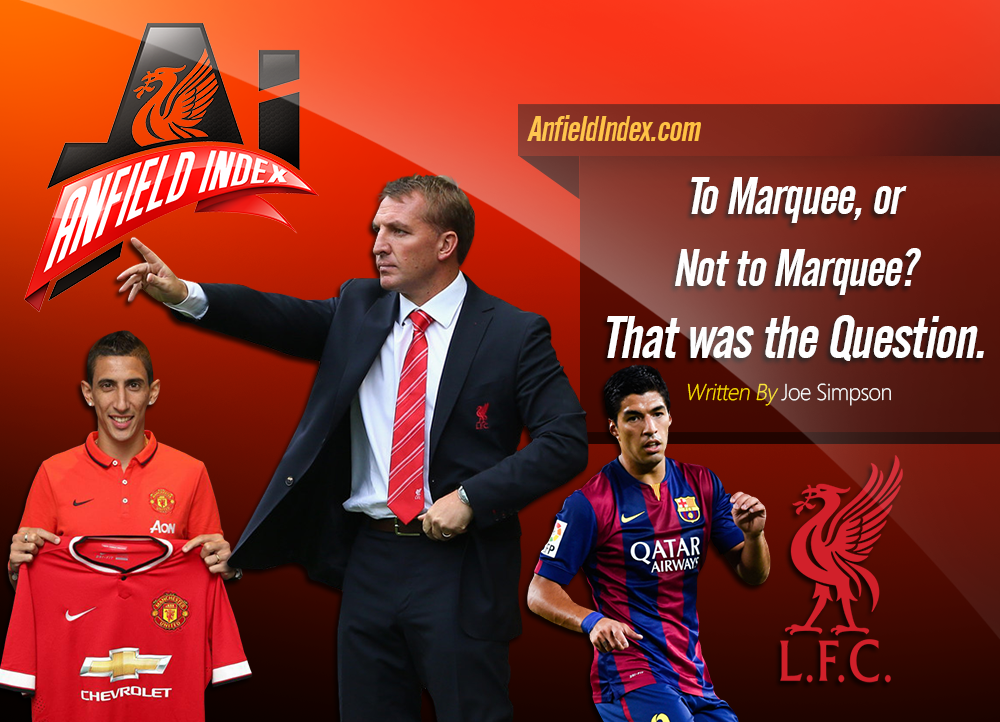 To Marquee, or Not To Marquee? That Was The Question for Liverpool
As the dust settles following the closure of the transfer market there is still a lingering question for many: Why didn't we buy a so called marquee signing? Of course in a way you could argue we did as in terms of talent and worldwide column inches Balotelli certainly ticks the boxes. However when people bemoan the absence of a so called marquee signing what they really mean is a marquee signing who isn't in any way considered to have baggage such as a Reus or a Di Maria. Unfortunately this summer Liverpool have been in the unusual position of being cash rich yet unable to spend it on the kind of marquee level signing that many fans hoped for.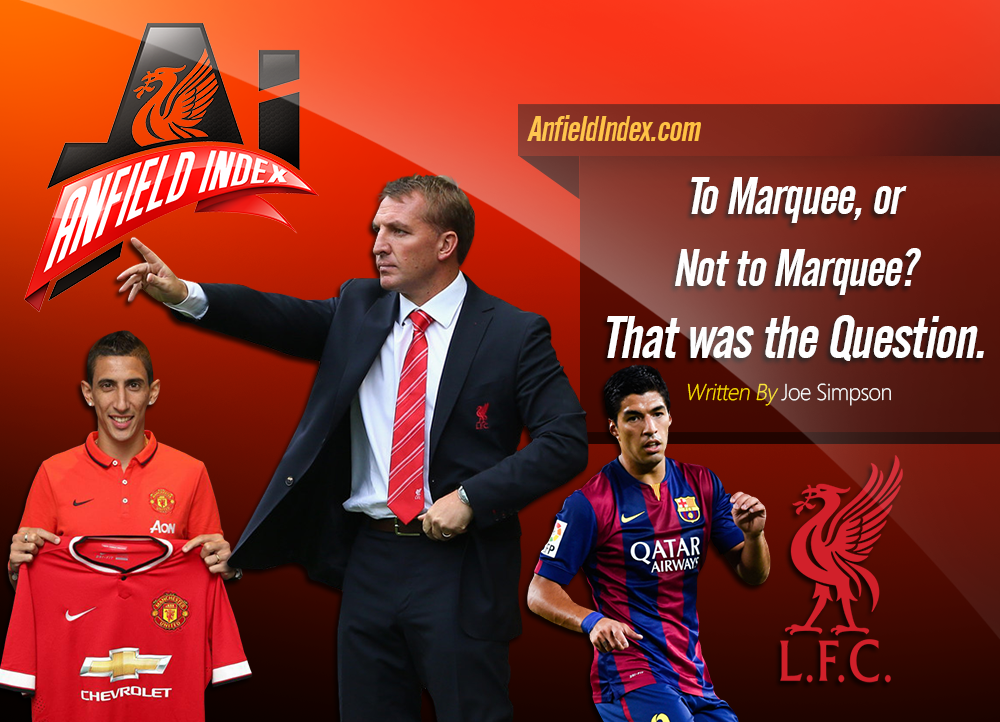 The unpalatable truth is that the football landscape has changed and at the same time we have slipped down the football food chain. It is clear from football history that losing a star player needn't halt a club's progress as many clubs have proven – Liverpool post Keegan, Liverpool post Rush and Juventus post Zidane for example. However those clubs at the time were at the top of the football food chain – certainly domestically – and when they came calling for players they tended to get them. Charlie Nicholas for example is most famous to many older Liverpool fans to this day because he turned down the chance to play for us – it is so memorable because it wLias so rare in those days. Now sadly for a number of reasons this is not such a rare occurrence.

The combination of us not having sustained recent success, our new more prudent wages policy and on occasion our location (not a world city like London, Barcelona or Paris) means that we are now in the challenging position of generally only being able to secure marquee players (with no baggage) if none of the clubs – currently – further up the food chain want them.
In terms of the type of success that would have marquee players around Europe wanting to join us we have lacked this for several years now – no major trophies won in several years now and failing to even qualify for the Champion's League for a number of years.
Wages wise we appear to now only give superstar wages to those like Suarez who have proven in their time at the club that they deserve it. I personally feel that we would relax this policy somewhat if the ideal marquee player – in a position the manager wants and with the right mentality – was available and wanted to join us but sadly for the reasons discussed such a player is currently unlikely to want to join us if there is significant competition for his signature.
I believe this summer presented us with a rare opportunity to sign a marquee player in Sanchez as we had the funds and our only competition came from another club that is currently not at the very top of the football food chain in Arsenal (who is higher up the transfer food chain in this instance is debatable). Unfortunately it appears that the attractions of London swung it for Arsenal on this occasion. I know many seem to scoff at this but I am not sure why. I am from Liverpool and adore it but for a player from abroad is it any great surprise that he would choose for his family to live in what is regarded as one of the world's great capital cities with all of the benefits this brings? The practical benefits alone of living in London (for a Chilean player) such as greater choice of Spanish speaking schools for his kids, greater transport links to Chile via plane, a greater range of South American restaurants and a larger Chilean community would all understandably be significant plus points for him and his family. I know some will say but you can get there in a couple of hours but how realistic is it for somebody to want to do this return journey with their family on a regular basis when they don't have to? Obviously if we are considered a significantly more attractive football option than the London club competing with us then I think this may override many of these bonuses for a professional but if we are considered a similar or less attractive football option then it is understandable that they may opt for the London based club.
Obviously the food chain has always been a factor in football but we have often been nearer the top and the food chain itself had significantly fewer big predators in the past. For example when Juventus sold Zidane how many clubs will have been able to compete – if they wanted to – for the replacements they wanted (Nedved, Buffon, Thuram etc) at the fees they would cost? 2 or 3 at the most at the prices they cost. Nowadays having sold Suarez and having that windfall to spend we are competing against – at the very least – the two giant Spanish clubs who thanks to their TV deals and massive sponsorships are always in a position where they can compete for the very best talent, the multi- billionaires at Manchester City, Chelsea, PSG and Monaco (until very recently), the self-generating financial juggernauts at Bayern, Manchester United and (more recently) Arsenal, the Spanish league Champions and Champion's League finalists who thanks to their success (and the wealth of Chelsea) also have significant funds to spend, and Dortmund who have a similar model to ourselves yet are more established as a Champion's League club. This number of clubs competing for talent means that it is significantly harder than it has ever been to attract marquee signings when they are on the market.
Moreover it also means that the vast majority of potential marquee signings are already part of their squads or on occasion out on loan from these clubs. Even if any of these clubs then want to part with their now unwanted marquee signings the wages they would likely demand would probably be beyond us.
As a result securing the ideal marquee signing is extremely difficult for us at this moment in time.
I know many will point to us almost winning the league playing breath-taking football and securing Champion's League football again as factors that should move us up the food chain – and I am sure it has to a degree – but whilst none of us want to admit it the loss of our best player in Suarez sent out all the wrong signals to potential marquee signings. This is understandably only likely to be seen as a big blow to the club and its chances of immediate progress.
We also lack the presence of a big name manager who can help to attract marquee players to the club largely on the strength of their reputation alone.
Of course we as fans know that beyond these two facts there is a world of encouraging nuance with us having a young, dynamic and progressive manager who is a master at developing players (a future big name manager) and a club that, despite the loss of Suarez, has a number of young extremely talented players who are primed to step up another level under his coaching.
Despite appearances this article isn't meant to be all doom and gloom – honestly – I believe that it is simply reflecting the current status quo in football to help illustrate why we aren't securing these players and why in some instances we may not even be pursuing certain marquee players such as Reus for example. Moreover I believe that if/when we have another season like last year and cement our place in the Champion's League that this will significantly move us up the football food chain as we will have established in the psyche of potential marquee signings that we are here to stay as a force and they will have hopefully by then all seen and appreciated our exciting style of play.
Many will say surely they know about our style of play already and I agree that they should but I have a theory that it often takes a couple of years to change the opinions of some coaches/players/fans (particularly those abroad who are likely to see less of the team's play unless they are in the Champion's League or they seek it out) on what a club's style of play is like. Admittedly this theory is more of a hunch but a couple of quotes by Luis Enrique and Frank De Boer suggest to me that this does sometimes happen. Luis Enrique recently said of Gerard Deulofeu that Everton "Tried to kill his vision & flair" now of course this could just be a way of protecting his player or it could be as I suspect that he didn't watch how Everton's play had changed last year and was judging on how they tended to play in their time under Moyes.
Frank De Boer also made a strange quote in 2012 when he was asked to assess how Eriksen would potentially fit in at Liverpool saying "If they play as they do now, I would not go …the playing style would not suit his own but, ultimately, it is for Chris himself to decide." Bear in mind this was in July 2012 during Rodgers' reign and De Boer was saying that our style of pass and move football wouldn't suit a playmaker who has continually spoken of his love of pass and move football. I can only conclude that De Boer was talking about his idea of how Liverpool were playing rather than how they were actually playing.
It takes time to change perceptions, for example I think at the current time for some marquee players abroad Manchester United would still be a bigger draw than ourselves despite their performance last year and their lack of Champion's League qualification as due to their many years of consistent success last year will probably be regarded by some as just a blip. However if they fail to qualify again this year then their position in the food chain will almost certainly begin to slip considerably. Equally in contrast I believe that if we can continue our progress and secure Champion's League qualification again – or better – then the increased Champion's League funds combined with us now being established as a force that is here to stay will help us to significantly move back up the football food chain and be better able to compete for marquee players.
Until that time it appears that if we want to secure a marquee level signing our only options are those such as Balotelli who come with the type of baggage that scares off those clubs that are currently higher up the football food chain. Of course this isn't ideal and if we could secure this level of talent without the challenges he brings I am sure we would have done it but obviously we cannot. I always remember Harry Redknapp being asked about Di Canio and the baggage he brings and he responded by saying something along the lines of: 'of course he has got baggage if he didn't have baggage he wouldn't be at West Ham as he would already be at Real Madrid or Barcelona with his talent level.' Now of course West Ham are not Liverpool and Redknapp is not Rodgers but his point makes some sense and in the case of Balotelli if he didn't have that baggage he would still be at Manchester City and definitely wouldn't be for sale. His baggage provides us with a window of opportunity to get the marquee level talent we want.
Arguably the best asset currently at the club is Brendan Rodgers with his combination of coaching ability and excellent man-management skills so one could argue it makes total sense for us with our current needs and constraints to leverage this asset as much as possible. We are already doing this with our acquisition of extremely talented young players in the belief that Rodgers can maximize their potential. Using these skills with marquee level talents like Balotelli who come with baggage is an understandable extension of this policy considering the difficulties we face in securing such talents without these challenges, the relatively low fee involved and the similar fees for lesser talents. Make no mistake no coach on earth can completely harness the talent of Balotelli. However in Rodgers we may just have a coach who can harness and develop his talents enough to ensure that not only is his signing regarded as a success but that in time the fee we have agreed comes to be regarded as a massive bargain. If this does happen then I believe we will then be in a much stronger position next year to attract other less challenging marquee players to compliment the likes of Balotelli in the near future.
Until that time we will just have to continue doing what we have been doing so well up to now: securing marquee level talents whilst they are still developing and giving them the coaching that helps them fulfil their vast potential with the natural side effect that they become marquee players in their own right. It hasn't worked out too badly up to now has it?