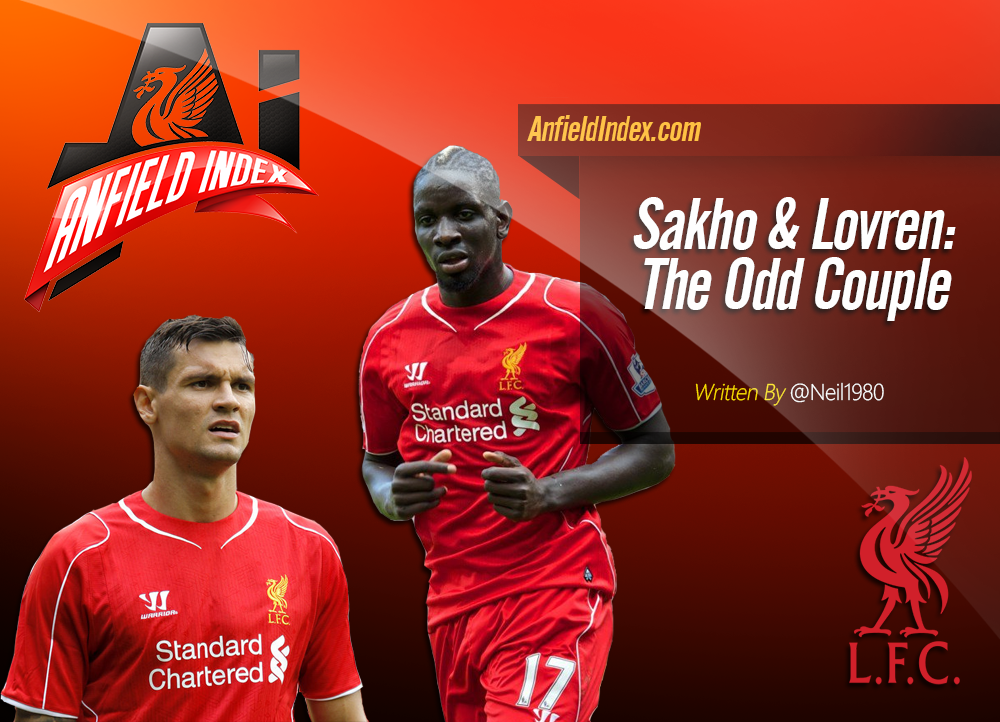 Sakho and Lovren: The Odd Couple
The appetite has been whetted, the summer consigned to the history books, the Premier League has assumed complete control of our consciousness – almost – alas, however; we sit in the midst of one of the most frustrating weekends of the year. Yes, international football has again stolen our weekend thunder, by rearing it's head and boring us half to death, just as we were being swept along, if not happily in all cases then certainly willingly, by the rushing waters of the new club campaign.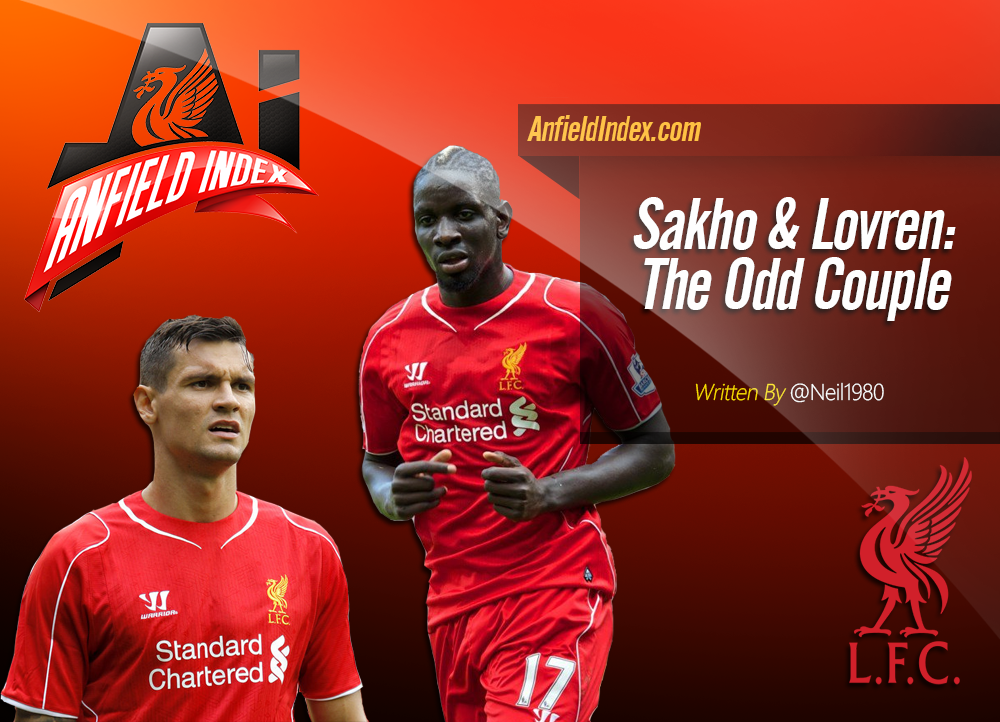 There are things that can make the wait for meaningful football less taxing, if only partially. Heading into the break on the back of a win, for a start. Better if that win was achieved with a degree of comfort, against a team that considers itself to be one of your main rivals (however misguidedly), and better still if that win provided you with something you've been trying to attain seemingly forever, with little success.

Liverpool's clean sheet against Tottenham, at White Hart Lane last weekend, came after eight Premier League games in search of one – in a coincidental twist, the last team not to score against the Reds was also Tottenham, at Anfield, back in March – and this aspect of the performance and result left Brendan Rodgers with the greatest degree of satisfaction.
Significantly, an untested back line secured the triumph of accomplishing a zero against scoreline. Injuries to Martin Skrtel and Glen Johnson saw those two drop out, with replacements, Mamadou Sakho and Javier Manquillo, brought in to cover – much to the relief, and dare I say, delight of many fans. Lovren switched to right centre-back – a position that he can play, although would prefer not to – and Alberto Moreno kept his place at left back, following his debut against City.
As a fan, this back four would've been my selection – as echoed by the lads on LFC Daytrippers and thousands of fans across the world (most likely) – and it didn't disappoint.
LFC has had a particular problem with fullbacks in the modern era. Either the players struggled to make an impression at the club: like Insua or Paletta, or they provided solidity, without attacking threat: Finnan, or the opposite: Glen Johnson (in the days before his attacking ability deserted him completely), and others still, who had the talent but not the body to make it in the game: Fabio Aurelio.
Whatever the problem, Liverpool have found it almost impossible to find and sign one fullback offering both defensive solidity and an attacking threat, with the pace and energy to cover both aspects as a matter of course. Until recently that is, because now we have two. Tough in the tackle, tenacious, energetic, the acquisitions of Manquillo and Moreno make the Reds' back-line in to an entirely different animal – a beast that knows how to defend itself.
The biggest change to the back four (for the Spurs match) concerned the centre of defence. The preferred partnership of Skrtel and Lovren – one which had looked all at sea for large portions of the opening two fixtures – had to be altered, due to the afore-mentioned injury to Skrtel. No bad thing, in my eyes.
The arrival of Lovren at the club, for a hefty sum, has caused a variety of reactions amongst Liverpool fans; from delight to despair (in some quarters) the Croat has split opinions, however; the residual feeling (in my case anyway) was one of confusion. Why? Lovren's essentially a left-sided centre-back, so is Sakho. Sakho can only play left, and he has the most ability in the position out of anybody at the club. So why sign Lovren, and not a right centre-back to replace Skrtel?
A question for which the answer can only be speculated upon at this point. Perhaps Rodgers has Ilori in mind to take over there next year, and sees no need to bring in another player for the role, who knows? The point is that Sakho possesses the best skill set for his position; because of that, and the meritocracy that Rodgers seems to employ, he will end up making that position his own. Therefore, if Lovren wants to establish himself as a mainstay at LFC, it will become imperative for him to adapt his position to the right side of the centre-back pairing.
Easier said than done? Perhaps, but as alluded to above, he has played that role before, albeit with limited success. On Sunday, he had another chance to test himself in that slightly less familiar environment, and whilst he performed far from faultlessly, he also displayed signs to indicate, that with training and practice, he could make the transition.
Lovren likes to attack everything. This notion of him being a "front foot defender" and "a leader" obviously sits well with him, and he appears (at least for the time being) to be intent on living up to his billing. This can cause problems, especially with new team-mates, as the issue of covering then becomes key. A particular instance in the first half against Tottenham highlighted the point. As Lovren came rushing out to head clear a ball, he crossed Sakho, who initially (correctly) moved to clear the ball. When Lovren missed the header, the ball carried through; and presented Chadli with an excellent, clear-cut chance, which Mignolet saved well.
Not the only time that Lovren's positioning was found wanting, this incident highlighted the issues Liverpool and Rodgers may face as they try to cement this partnership. Many plus points displayed themselves within the pairing though, particularly in the second half, when they looked much more confident in each other, and in their control of the game around them. Sakho began to get used to Lovren's style of play, and was able to cover and sweep behind him as and when necessary. Lovren did the same to bail out the former PSG captain early on, when a rare, errant pass threatened to hand Spurs a goal scoring opportunity.
Centre-backs don't play in a vacuum, they rely heavily on those beside them and in front of them to do a good job protecting them, and if needs be, to cover them. The team works as a unit, and within that, the back four/five operates as a unit. Against Tottenham we saw them functioning  as a back four should. When a centre back was caught out of position, the full backs were tucking in and occupying the space, in short the back four played as a collective, working off the same blueprint rather than a mismatched gang of individuals performing random functions. The communication between them got louder and clearer, and as the game progressed; they even held a coherent line, catching the opposition offside  on plenty of occasions, something which has become a novelty for the recent LFC defence. So long have we waited for an LFC back line to play like this, that I'd actually forgotten what proper covering full-backs look like..cough.. Glen Johnson!
Going forward I'd love to see Brendan Rodgers stick with Lovren and Sakho – let them work on and develop the understanding which showed signs of arising between them – and remains true to the back four which performed so admirably on Sunday. Martin Skrtel, who had a decent year last season, doesn't really belong in a side that wants to play a high line. That's been pinpointed many times, and it's rings no less true today then it did the first time it was highlighted. Statistically, in the last 15 games Martin Skrtel has missed under, Liverpool have kept nine clean sheets – that stat (originating from Dan Kennett, and used on the AIPodcast) speaks volumes. As for Glen Johnson, his Premier League days seem numbered. His brain doesn't appear to move quickly enough for the pace of the English top flight any more, and with reported interest from Juventus, Johnson's time at Liverpool may draw to a close in January.
What Sakho and Lovren offer in a partnership could work. They're both quick, strong, and commanding in the air, they're both good in the tackle and comfortable on the ball, and whilst positional play can be an issue (particularly in Lovren's case), Sakho showed that his game intelligence can help with that aspect, whilst Lovren's speed over the ground, and last-man tackle success rate are handy attributes to possess. The main stumbling block remains Lovren's training as a left-centre back, but if the new position can be drummed into to him adequately, day after day at Melwood, then perhaps the obstacle will prove surmountable. What is certain is that with two fantastic new full-backs, operating at a high level and performing all the basic duties of a fullback well, Brendan Rodgers has created the perfect environment for cultivating and fostering a new centre-back pairing (either by accident or design), now comes the time to watch it grow and blossom.