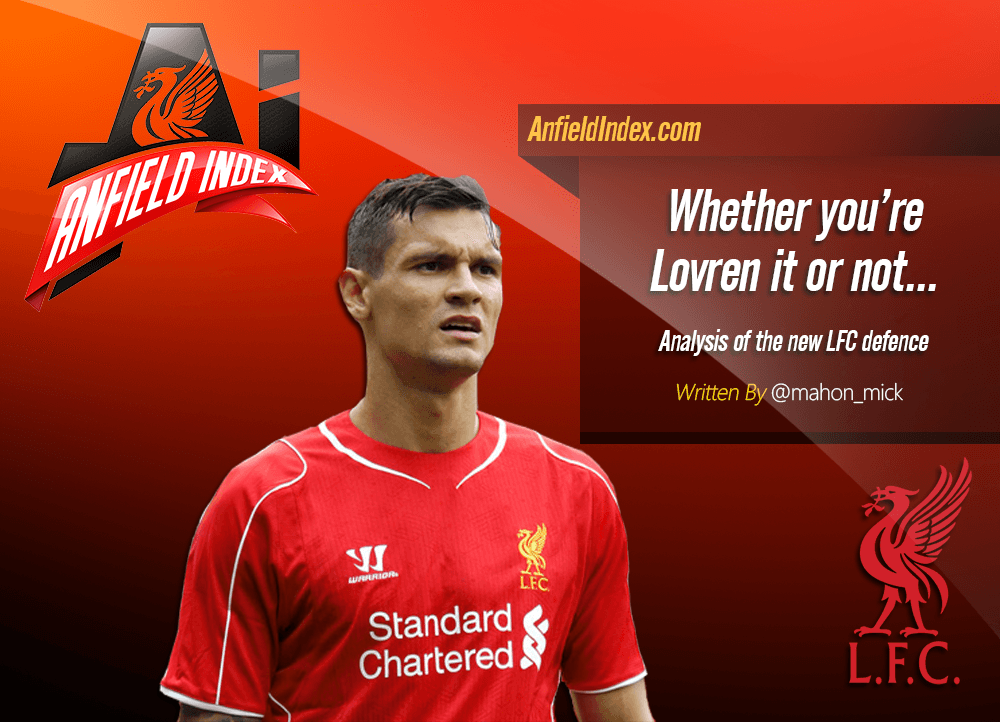 Whether You're Lovren It or Not - Analysis Of The New LFC Defence.
It has been a mixed start to the campaign for LFC.  A nervy 2-1 victory over a depleted Southampton  side, a harsh sounding 3-1 defeat to Man City & and a commanding win over Spurs at White Lane.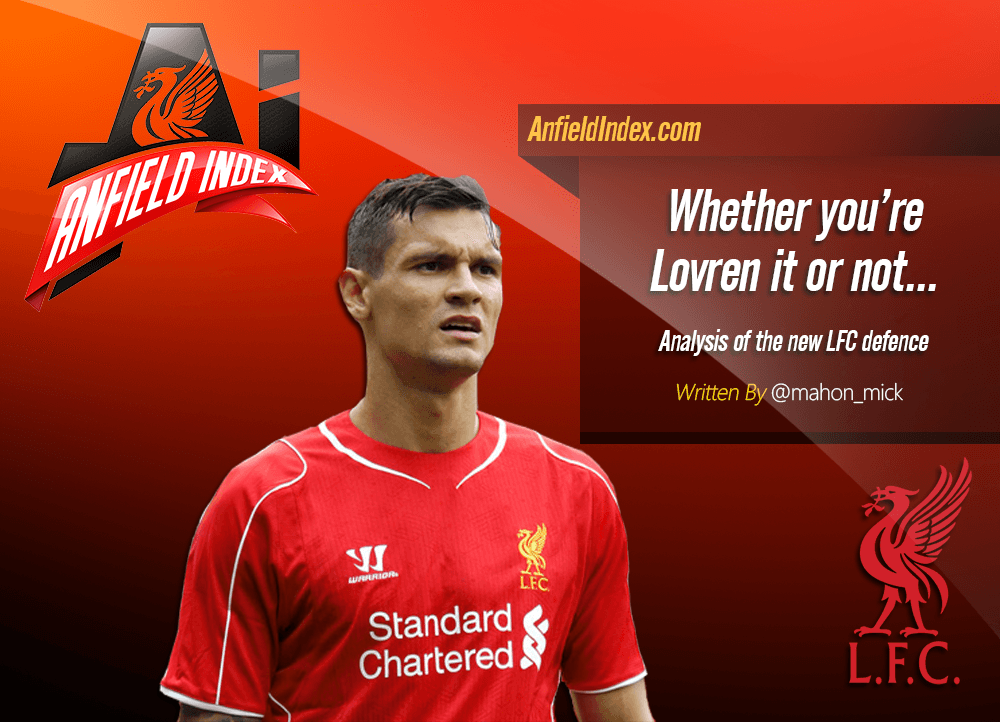 Many positives can be taken from the opening 3 games: a sublime Henderson assist, a world class save from Mignolet, an excellent opening 35 mins display at the Eithad and an amazing 60 yard run & finish from Moreno.  For all the positives and attacking football, we do not currently look like a side that will improve on its poor defensive record of conceding over 50 premiership goals last season.  Or is that a harsh early assessment?

We look to investigate the problems from reviewing the goals conceded.
Goal 1: Clyne (Liverpool 2 Southampton 1)
As Clyne cuts in from the wing there is no alarming danger.  However Skrtel needs to shift 5 yards across to cover the space.  With no danger from the wide left position Johnston should tuck in also.
As a defensive unit- It is a poor goal to concede.  Lovren gets tight but allows a well timed nutmeg, Gerard is static, and Lucas lets Clyne get in behind him. Most tellingly Skrtels left himself too much ground to make up to get a tackle in.  Before the pass was made- he should have moving across 5 yards towards Lovrin.  Manquillo can slide across to cover Skrtels position.  Thus Skrtel would be in position to stop the shot and Manquillo would cover Pelle by staying goal side of the striker.
Goal 2: Jovetic (Man City 3- 1 Liverpool)
In the lead up to the first goal, intricate 1-2 touch football allowed an opening for  Silva to run into.  Gerard allows Silva to get the inside run on him.  This was avoidable as he had clear vision of the runner all the way.
As the play progresses Lovren makes a feeble attempted defensive header, which Moreno should clear.  He is caught flat footed by the razor sharp Jovetic.  With full vision of the incoming striker, Lovren could have been quicker to spot the danger.   He was a split second too late as Jovetic blasts his shot through the legs of Mignolet.  Perhaps communication was the problem on this goal, though Moreno will probably feel he could have done better.
Goal 3 Jovetic (Man City 3- 1 Liverpool)
Over 54% of the attacking in this game came down Liverpools left hand side.  Clearly Pellegrini targeted this area.  Lovren at LCB (2nd Competitive Game), Moreno at LB (1st Competitive Game) and Coutinho were responsible for defending this area.  This goal exemplifies perfectly the problems a new backline will have.
Moreno has been dragged out to the touchline and Coutinho is covering for him.  He either switches off or just vacates the position moving forward to leave a huge gap in behind him and Lovren.
I am assuming that Lovren is holding the line.  He is keeping both attackers offside.  However Skrtel & Johnston are keeping both players onside.  This itself brings in another debate between those defenders who defend deep or on the front foot.  Either way it is poor communication.
(Also highlighted is Fernando- Man Citys Defensive Midfielder.  Note his position.  He offers himself as an option, but more importantly in a great position to cover, should a counter attack occur)
A clever flick from Jovetic leaves Nasri in lots of space to get in behind the defence.  With a catalogue or errors leading up to the goal it was Coutinhos vacating of the space that isolates Lovren & Moreno.  Moreno as per image above is about 5 yards behind the play (not his fault) and Allen is also chasing.  Coutinho is another 20 yards up the pitch.  The instigator Jovetic is left on his own to pull away towards the penalty spot.
Jovetic is left in acres of room to score.  The absence of a proper Defensive Midfielder is highlighted here.  There is no one tracking his run.  In saying that- even a great Defensive Midfielder may not have affected the outcome as Jovetic's movement for this goal was exceptional.
Goal 4: Aguero (Man City 3- 1 Liverpool)
A simple and direct 3 pass move rips open the Liverpool backline.  The ball is quickly shifted towards the left hand side of the Liverpool defense. The whole defensive unit is much too slow to slide across the pitch and cut off the obvious pass.  It is a good pass from Navas but he has a large patch of grass to aim for.  Moreno tackles side on, which means he makes himself a small target to intercept.  Gerards positional sense is not good and Lovren is caught in no mans land.  He is neither covering Aguero (on the wrong side) nor occupying the vacated space left by Moreno.
Aguero's great timing of the run and natural pace allows him into this advanced position.  Lovren has made a decent recovery to force him wide.  It is very poor goalkeeping from Mignolet.  His footwork & movement is awkward at best and he leaves his near post completely open.  It is a simple finish for one of the most clinical strikers in world football
Spurs- No Goals conceded.  A look into the future of the LFC defence with a whole new back 4?  (5 if you wish to include Gerard!)
Analysis 1: Narrow High Line
This is an example of how a back four with Sahko might defend. Playing on the front foot, pushing out and catching the striker offside.  This occurred just after the 20 minute mark.  Contrast this with Goal 3 in this article.  Both Johnson & Skrtel are keeping two players on side.
Analysis 2: Learning from City Mistakes
Clearly Rodgers was aware of the poor goal Liverpool conceded from the Man City game.  Just like the City game a direct 30 yard pass ball is played out from defence to midfield.
The quick ball by passes the LFC front line and gets behind the midfield.
Gerhard & Henderson quickly survey the danger and work hard to get back into position & restrict the options for Chadli.   The defensive unit is well set. As the play progresses the Spurs attacker has few options & Liverpool win the ball back.  This was done by shielding him away from goal, and outnumbering him and restricting his passing options.  This was one of several chances that were eradicated.  Henderson, Allen & Gerard were on noticeably on high alert to any potential attacking threats and worked hard to nullify these chances.  Frequently Liverpool got numbers through the centre allowing Spurs to attack down the wings.  The excellent 1 v 1 defensive skills of Moreno & Manquillo meant that most Tottenham attacks were nullified.
Analysis 3: Quick to Cover 
Throughout the game there were several individual defensive errors and abject passes.  This is probably not totally unexpected for a new back line & only 3 games into a new season.  Above is a rash & unnecessary challenge from Lovren which lets Lamela in on a 2 v 2 chance and good opportunity to score.
Sahko remains calm and narrows the crossing angle.  He also makes himself a big blocking target to make the cross a difficult one.  Moreno is in a great position to watch the cross and intercept any pass (which he does).  The final piece of puzzle was Allen.  He 'busted a gut' to track Eriksen and eliminate this option as an easy tap in.
Overall I feel this was the resounding reason why Liverpool kept a clean sheet.  There were several mistakes by many players that led to good chances for the home team.  However the willingness & awareness of teammates to cover for his colleague was obvious.  The best examples in this game was the tireless work of Joe Allen and Jordan Henderson in both defense & attack, complimented by the ever improving positional play of Gerard.
Verdict:
The first 3 games defensively have shown a variety of individual errors, some poor positional play, one dreadful goalkeeping error & players switching off at crucial times.  For the analysis given in this article, it is worth noting that Man City are a wonderful side with very fluid, pacey, one touch players and they will give most teams a hard time at the Eithad.  They scored from 3 of 4 chances attempted on target.  That is the definition of ruthless.
Many of these mistakes can be eradicated with good coaching on the training ground.  Communication, organization, knowledge of what is expected in your role and astute positional play is what is required. Some defensive character traits will also have to be eradicated such as Lovrens eagerness to go to ground and make rash challenges.
LFC have almost a complete new backline.  They are all only getting used to each other and it WILL TAKE TIME to gel.  Man City had a very problematic integration with both Demichelis & Nastasic.  But now their defense is a well drilled machine.
Another consideration is the role of our midfield in defending.  There were gaping holes against a vibrant City team.  Gerards role (& legs) and Coutinhos defensive impact need to be addressed.  The midfield combination of Henderson, Allen & Gerard appeared to have the right balance in the Spurs game.  Allen is the smallest 'monster' in the premiership and along with 'the general' Henderson will play a pivotal role at both ends of the pitch this season.
The true barometer for success should not be measured for at least another three months.  Perhaps only then we should start the clock on measuring the true success of the new back line.  Lets give our new look defense & Brendan a chance……