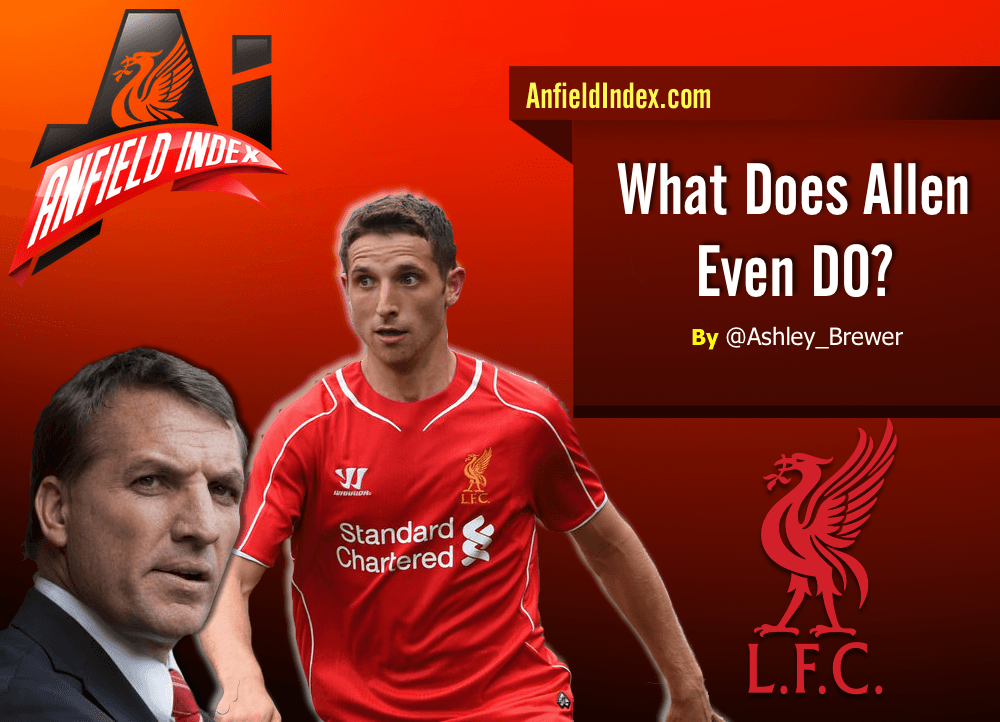 What Does Allen Even Do?

Since the beginning of 2014 nearly everybody in the Liverpool squad has come on leaps and bounds in terms of development and importance within the structure. Jordan Henderson has gone from water carrier to team carrier. Raheem Sterling has gone from wasted talent to one of, if not the brightest spark in English football. Even Simon Mignolet has gone from silent shot stopper to giving the men in front of him a good rollicking or two on a number of occasions.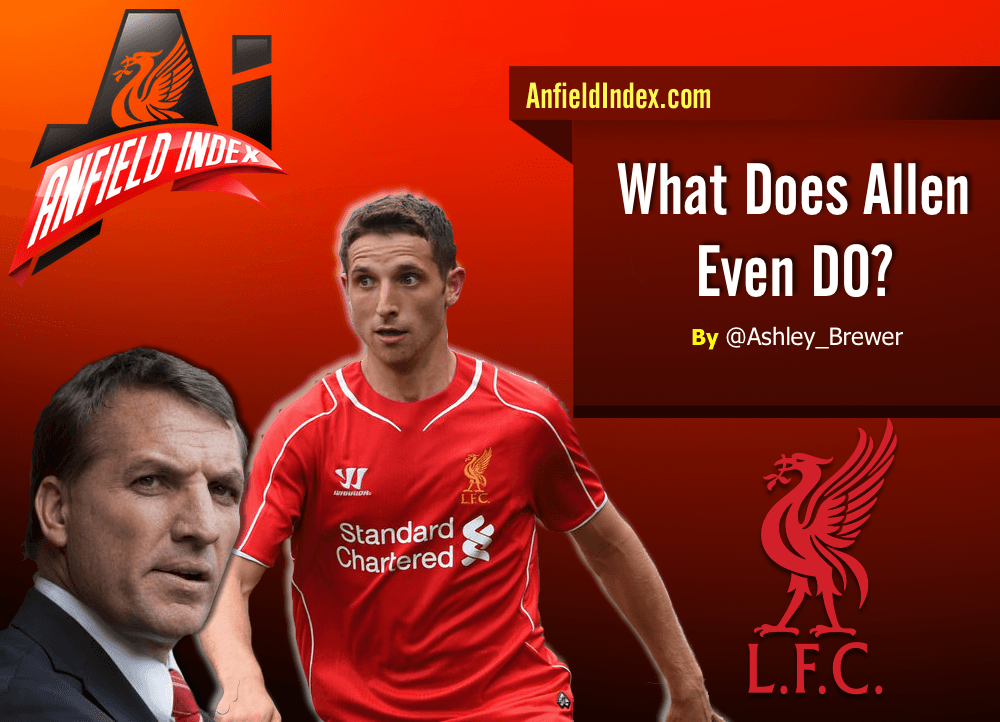 These are just three of many improvements which have been acknowledged by the management and fans alike, but there is one I feel not everybody from the latter have yet to fully take note of. Amazingly, there are still people out there who are yet to see what Joe Allen brings; whether it be from not watching the game properly, being stubborn in an opinion, or sheer ignorance.
It is a stark contrast to how people view his midfield partner, Jordan Henderson, despite them both carrying out essentially the same tasks in their own styles.
Within the diamond formation, which Brendan Rodgers set his men up in during their impressive victory over Tottenham Hotspur last Sunday afternoon, the two arguably have the most important jobs – Pressing. Joe Allen pressed the ball most frequently last season for the games Anfield Index collected – pressing every 3.2 minutes. If you thought that was impressive he's pressed the ball 67 times in 163 minutes spent on the pitch so far this season averaging a pressing action every 2.43 minutes thus improving on last year's numbers albeit it's only been 3 appearances so far. However only Henderson is better this term averaging a pressing action every 2.25 minutes.
Away from home against this quality of opposition, not allowing them time on the ball is key, stifling the creativity and influence of players like Christian Eriksen and Érik Lamela, players who given time will hurt your defence, to render their attacks useless. They both also protect the full backs and provide cover if they go bombing up field, or pick up players trying to overlap down the wings.
Having great mobility and ability on the ball are also crucial attributes to have in their roles. In the quickest of counter attacks, it wouldn't be surprising to see them go from forcing the ball away from an opponent to being in and around the penalty area within a matter of seconds.
The difference between the two I have found is, where as the former Sunderland man is more obvious in what he does on the pitch, Allen is a lot more subtle and intricate. More metronomic, helping things tick over. Rather than being the one who bursts into the area in search of a goal or assist, you're more likely to see him standing in space or on the edge of the box offering a give and go. It was evident a number of times against Mauricio Pochettino's men, a good number of times he wasn't used but at least he was there as an option.
In a summer of bizarre transfer links, Allen to Manchester United was up there with the most random. Watching their opening fixtures so far though the problems are evident; the lack of movement and mobility in the middle, no options for a pass; I'm not saying he would have solved all of their problems but it would have been a step in the right direction for them. Fortunately for us, a rumour is all it was.
Games like Southampton this season and Swansea at home last, also exhibit the qualities the Welshman can bring coming on from the bench. In both games, the Reds midfield was almost non-existent and overrun, however his addition helped to steady the ship and saw Liverpool go on to win.
Despite being 5 foot 6, he is also accomplished at defensive midfield. When he started playing following his £15m move from South Wales, it was there he impressed. Plaudits, rave reviews and Man of the Match awards were thrown at his feet as he gave his new fans a glimpse of what was in store. His new role no doubt is a much better fit for him, but if it came down to it he could easily deputise for Steven Gerrard at the base of the diamond, as he did last campaign in the 4-1 victory over West Ham United spectacularly. Welsh Xavi? More like the Welsh Busquets eh? EH? (*Logs out of Twitter and hides*)
Sure, injuries and the stresses that come with having a very young family taken its toll on the first 18 months of his career on Merseyside, but now we are beginning to see the real Joe Allen. One which is as vital to the system as anybody else, and with game time will get better and better, bear in mind, he is still only 24.
Will he compare to the legendary Spanish midfielder he was compared to in a tongue in cheek fashion? Most likely not. But the thing is he doesn't need to. Players of lesser quality have remained useful to better teams.
He's never going to be a world beater, but to say he doesn't offer anything to this Liverpool squad is simply incorrect.