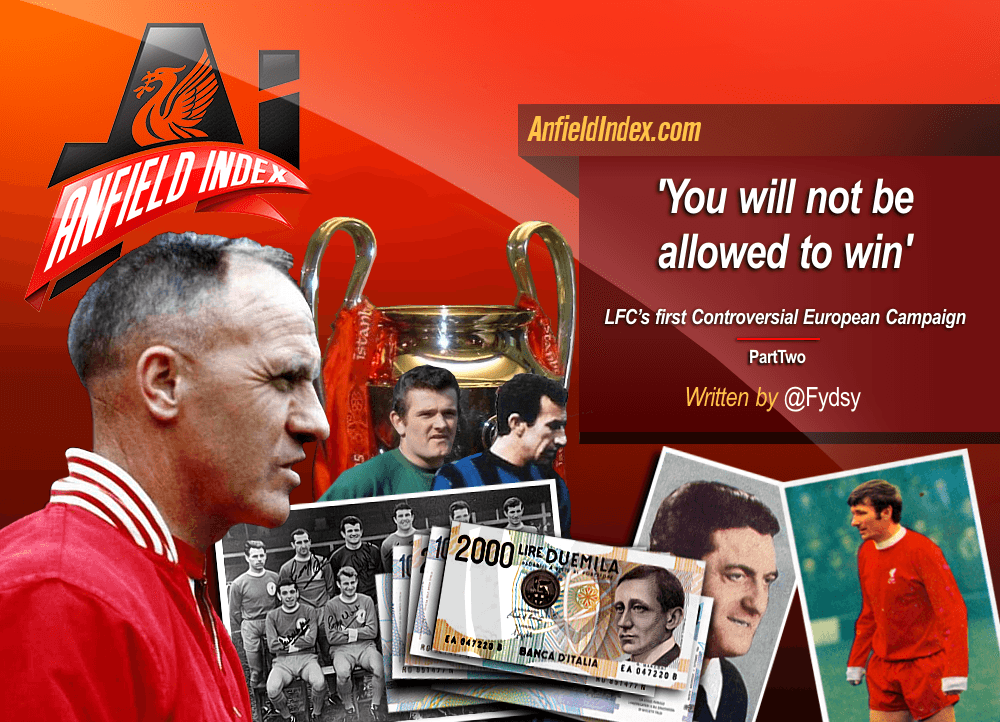 You Will Not Be Allowed To Win | Liverpool's 1st European Campaign
Part Two: 'You will not be allowed to win…' – The first part of the series available here: Part 1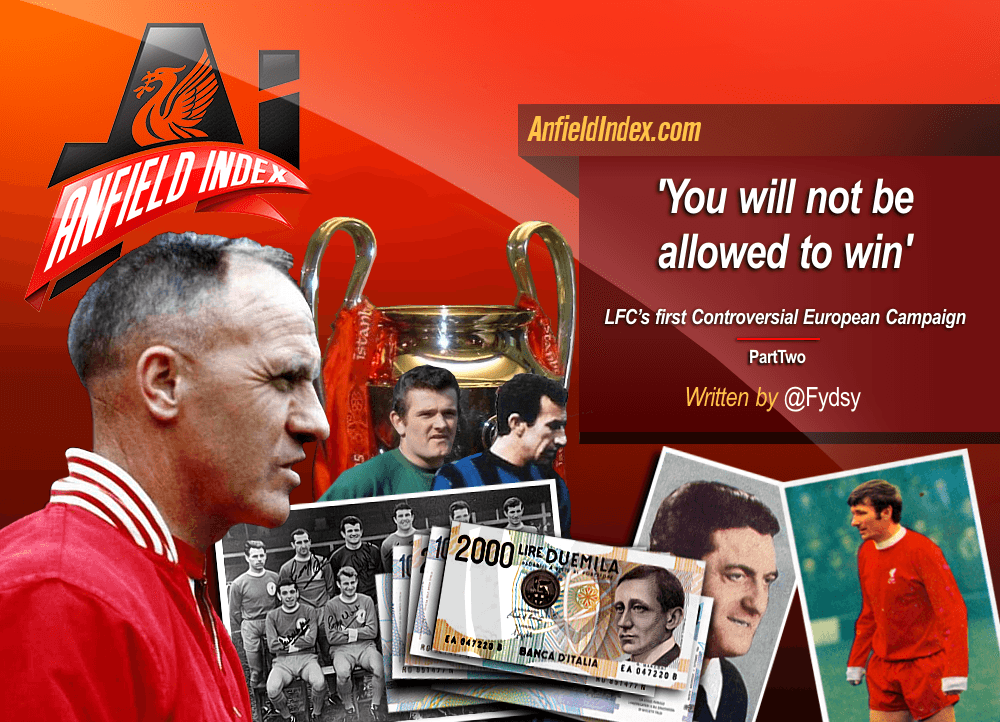 In Liverpool's first season in European competition, they had surprised a lot of people. English pundits and reporters who didn't think they were up to it, foreign reporters and pundits who had never heard of them and experienced European clubs who thought they knew better. They had made a lot of friends along the way with the quality of their football and the passion of their travelling and home support… as it turned out, they had also made a few enemies.

The champions of Iceland, Knattspyrnufélag Reykjavíkur were swept aside 11-1 on aggregate, the champions of Belgium, the redoubtable Anderlecht 4-0 over two legs and the formidable champions of West Germany,  Cologne (Köln) were, after o-o draws home and away and 2-2 draw on the neutral ground of Feyenoord, beaten by the toss of a coin that seemed reluctant to choose sides after sticking upright in the mud on the first attempt. These were all great games, often under terrible conditions (one leg of the quarter-final against Köln at Anfield being postponed as late as possible in the day after a snow-laden white-out), but Liverpool had made ripples in the pond of European Football – large, impressive ripples that inspired many, but frightened those who owned and ran their next opponents: Internazionale of Milan.
Liverpool wanted the 'Big One'. No British club had won Europe's big club prize, some said and still do that had Manchester United not suffered the tragedy of the Munich air disaster, they would have done so, we'll never know…but this year, 1964-65, Manchester United were not in it, Liverpool were – and Bill Shankly not only desperately wanted to be the first English club to win it, but he wanted to win it at the first attempt and had been busy with Bob Paisley, Joe Fagan, Reuben Bennett and everyone else involved with the playing staff in tutoring this team, this first, great Shankly team, to do just that – and he believed they were ready. Inter Milan also wanted to win it. They had won it the year before, beating a fast-fading Real Madrid side 3-1, though they could not claim bragging rights as the first Italian team to win the European Cup as their deadly rivals, AC Milan had beaten Benfica the year before that to take that honour. The Inter president, Angelo Moratti, oil tycoon, friend of Onassis and others and father of the later Inter owner Massimo Moratti sought to spike AC Milan's guns by winning it twice on the bounce. Moratti was a man used to getting what he wanted and 'may the best team win' was not in his lexicon.
On Saturday 1st May, on a heavy pitch at Wembley, Liverpool won the FA Cup for the first time by beating Don Revie's Leeds United 2-1 after extra time with goals from Hunt and St. John. The fans' celebrations went on all weekend and the eventual rapturous return of the team to Lime Street Station saw celebrations the like of which the then still soot-blackened streets, with their still bomb-damaged topography had never seen before. For Bill Shankly, this was however, job half-done.  As the players celebrated in the Wembley dressing room in the exhausted aftermath of their win, Shankly took Bob Paisley to one side and said 'Let them enjoy it – but not too much, we have an important job to do on Tuesday and I want them ready'.
Tuesday, 4th May 1965 began as an overcast, cool, breezy day with a lingering threat of rain in the air. At Anfield, the pitch was being forked and watered, the programmes were being distributed to their sale points and the stands were being swept. The gates had been open since 15:00, and well before 18:30 hours all parts of the ground were full and pulsating to the tune of 'We won the cup, we won the cup, ee-ay-addio, we won the cup'. Anfield's tannoy system, loud even in those days, had little chance in the face of such celebrations and for a time gave up the challenge. When both teams emerged for a perfunctory warm up (not the same levels of intensity as one may see today) and a quick pitch inspection, any early boos and jeers for the Italians were drowned in the wave of approval from the 54,082 fans present for the men in red.
There were concerns that the extra-time victory and Gerry Byrne's broken collar-bone may take it out of the Liverpool team, but Shankly and Paisley had thought it out well. Byrne was replaced in the line-up by future boot-room great Ronnie Moran who went on to have a very impressive game. The men in red were hungry, energised and ready. Shankly had another sharp idea to ensure a vibrant and intimidating atmosphere greeted the Italians – he sent out the injured duo of Gordon Milne and Gerry Byrne (his right arm in a sling) to parade the newly-won FA Cup before the exultant fans on a slow lap of honour around the ground – the resulting atmosphere was electric.
The game kicked off at 19:30 to a massive roar of expectation and a whirlwind of pressing, possession and high-tempo play from Liverpool, which is only too recognisable to Brendan Rodgers and the team and fans of today. It paid off handsomely. Roger Hunt gave Liverpool the lead in under four minutes.  Geoff Strong played the ball out wide to the right were Callaghan picked it up and drove at the Inter defence before flashing a low ball across the penalty area – where it was met by Hunt almost on the penalty spot who swept it home past an immobile Sarti in the Inter goal. This was the start Shankly had wanted 'hit them early, hit them hard'. A few minutes later, the crowd were momentarily stunned when a slip by Ron Yeats allowed Peiró to run in on goal, crossing the ball along the ground for Mazzola to rifle past the diving Lawrence from eight yards. The quiet man of the team, Chris Lawler, gave his giant captain Yeats a look than needed no words. Yeats clapped his hands hard and yelled at the others, 'C'mon!' That was as good as it was going to get for Inter. Despite a few attacks further, the rest of the game belonged to Liverpool and Ian Callaghan in particular. It was Callaghan who scored in the 34th minute to put Liverpool 2-1 up at half-time. A well-worked free kick from the training ground saw Callaghan take the kick, tapping it to his left to Willie Stevenson who played it in to Hunt on the edge of the 'D' as Callaghan sprinted on – Hunt flicked the ball over the Italian defence perfectly into the path of the oncoming Callaghan who fired it neatly on the half-volley into the bottom left corner across Sarti's existentially despairing dive. Chris Lawler hit a raking drive into the net on the 40th minute, only for it to be inexplicably ruled out.
The second half saw Inter trying to re-galvanise themselves, but Liverpool pressed hard and were first to almost every 50/50 ball and swift in the tackle – Tommy Smith and Ronnie Moran clearing the flanks while Yeats and Strong mopped up the middle, Liverpool looked likely to score on every venture forward and on the 75th minute, St John got the third. Again, Callaghan robbed da Costa and curled the ball out wide to the running Tommy Smith who saw the run of Roger Hunt and played a perfectly judged ball for Hunt to lash one in from inside the box – Sarti got his fingers to it, but only to push it into the path of Ian St John who leathered it into the net from 4 yards. As Liverpool kept up the pressure, hunting for a fourth, killer goal, the Kop started singing 'Go back to Italy' to the tune of 'Santa Lucia' with fervent gusto, which turned into chants of 'Easy, easy, easy' at the final whistle.
The almost bi-polar reactions that came from the Italian side in the post-match comments were quite telling, and perhaps indicative of what lay ahead. Helenio Herrera, the Inter manager sought out a happy, if still cautious Bill Shankly. Bill was an early Europhile, lacking some of the mild xenophobia some members of the boot room shared, and although at times easily flattered, he was never taken in by false praise. Herrera had been on a spying mission to a couple of Liverpool games, but unfortunately for him, they were dour games with injured players out and on bad pitches or inclement weather, nullifying the possible. He was now full of genuine praise for Shankly's team and told him categorically, 'We have been beaten before, but tonight we were defeated." He was particularly impressed with Callaghan and Hunt saying of Hunt's goal in particular 'That was not a British goal, it was a continental goal'.  Angelo Moratti was less generous. The Inter president claiming that Liverpool were 'animals' and that the supporters 'showed no respect and were a disgrace'.
Finally, there was a sinister moment that laid out the template for what was to follow. An Italian journalist with good English was having a complementary chat with Shankly after the game, in the area outside the old dressing rooms. 'Magnificent' enthused the un-named journalist, 'your team are truly magnificent and played like lions – but you must know, you will not be allowed to win'. As time passes and fewer of those involved are still around to confirm or deny, no-one doubts this exchange took place – just whether it was at the end of the home game, or just before the away leg – I have good reason to believe it was the former. Rumours were already circulating in the European football firmament that Inter's recent European and domestic history may not have been quite as honest as some thought.  In 1966, linesman Gyorgy Vadas claimed he was 'offered enough dollars to buy five Mercedes' to help Inter beat Real Madrid in the European Cup Final in 1964. An Hungarian 'fixer' called Deszo Solti worked with Angelo Moratti to bribe officials to make sure games worked out in Inter's favour during the mid-sixties from at least 1963-67 as later UEFA and journalistic investigations discovered.  The die was cast.
The Liverpool team and staff were allowed little sleep the night before the return leg, as the hotel was surrounded by Inter fans with blaring horns, shining lights onto their windows, banging bin lids, tin cans and shouting at the top of their lungs. The Italian Carabinieri did nothing to move them along, and only crowd fatigue at around 5:30am saw them eventually begin to disperse. The gamesmanship inherent in some European travels that English clubs would become familiar with (and at times, repeat) was apparent for the first time. The welcome they received from Anderlecht and Cologne were as distant memories.
The game itself, played out at the San Siro in a hateful atmosphere was following the pattern of the first. Liverpool pressed and attacked as before, but this time, something was different.  The Spanish referee, Snr Jose Maria Ortiz de Mendibil quite literally, gave Liverpool nothing. Ian St John would later recall that 'we didn't seem to be getting anything in our favour, not a throw-in or a free-kick. It was so obvious. We just couldn't get on the ball.' He added that the referee refused to look him or any of the Liverpool players in the eye all night. On eight minutes, the referee awarded Inter a soft free kick, which he clearly indicated was indirect. Corso hit the ball straight into the net much to Tommy Lawrence's bewilderment – Snr de Mendibil indicated it was a goal. The Liverpool team surrounded him, Tommy Smith to the fore – he wouldn't look at them and tried to run off to the centre circle. It wouldn't get any better. Minutes later, Ian Callaghan – perceived as a major threat after the first leg, was viciously hacked down as he ran down the right wing, cutting into the box…a free kick was awarded to Inter. Now St John got angry and the referee's action of refusing to look him in the face confirmed his worst suspicions – as it did for Shankly, Paisley and the rest on the touchline.  If Inter's first goal was a fraud, the second was more blatant. Only three minutes later, Tommy Lawrence, the Liverpool keeper had made a simple, gathered save and was looking to clear the ball up field to a team-mate, when Inter forward Peiró came from an offside position behind him, hooked it out of his hands and shuffled it into the net. Many have claimed this was 50/50 and within the rules of the time – but, a) he was coming from an offside position and despite popular supposition, taking the ball away from the goalkeeper in those circumstances even at the time was a foul as covered under 'ungentlemanly conduct'. On aggregate, Inter now had the lead thanks to their away goal at Anfield. The Inter fans and some of the players were still congratulating themselves when Ian St John went on a run, rounded two defenders and shot into the bottom corner – to a shocked stadium; the advantage was back with Liverpool – but only for a moment, as although the linesman was running back to the centre circle, flag down in recognition of the goal, the referee blew to disallow it, awarding a free kick to Inter. Despite St John's pleadings and subsequent anger, joined by Hunt, Callaghan and others, he gave no explanation for his decision. Inter finally scored a clearly legitimate goal (despite a not so legitimate period of play leading up to it) when Facchetti rifled in on 60 minutes. Inter deployed every now familiar gamesmanship trick in the book, feigning injury, time-wasting, niggling fouls to break up play, all indulged by Snr de Mendibil who added virtually nothing to the ninety minutes.
At the end, the Liverpool team and staff were furious. Tommy Smith, always one for a short fuse and who hated cheating of any kind, chased the referee off the pitch shouting 'El Bastardo!' at him and repeatedly kicking him in the ankles and the back of his legs…the referee didn't even look round and took no action against this provocative attack – proof, as far as Smith and many others were concerned, that Snr Jose Maria Ortiz de Mendibil had been fully bought and paid for. Some of the Inter players themselves didn't look as happy as they should have done – no-one has ever claimed they were in on any 'fix', and no evidence would support such a claim, but some did look decidedly shame-faced to Bob Paisley. 'They know – I think they know', Paisley said to an incandescent Shankly who stood in the tunnel, determined to make eye-contact with every Inter player, official and match official – many could not meet his gaze.
The press were full of Inter's gamesmanship, bad refereeing and a hostile atmosphere – some, clearly almost as outraged as the Liverpool contingent themselves – but none went so far as to point out the seemingly obvious. Years later, the journalist Brian Glanville conducted his own investigations into football corruption and was scathing about the Angelo Moratti era, raising not only questions but solid proof of systematic corruption – others found the same. Italian football would and still does go through corruption scandals on a regular basis, with teams having championships wiped from their records, demotions and life-long bans. Nothing was done retrospectively to Inter Milan for its proven corruption from 1963-67.
Epilogue:
In a grimly determined mood after the second Inter game, as the Liverpool contingent left the San Siro, Bill Shankly recalled that 'Afterwards, the people were sweeping the streets with enormous flags and I said to our players, 'All right, we've lost, but see what you have done. Inter Milan are the unofficial champions of the world and all these people are going mad because they are so pleased that they have beaten Liverpool. That's the standard you have raised yourselves up to.' Prophetic words indeed.
Bill Shankly never managed to achieve the European Cup dream himself, winning the UEFA Cup in his penultimate season as manager, his old friend Jock Stein became the manager of the first British club to win it in 1967 in Lisbon, ironically and bitter-sweetly for Shankly, against Inter.  In the years to come, Liverpool would go on to dominate Europe like no other English club has ever done. Shankly's dream would be amply fulfilled by his deputy and successor, Bob Paisley, who would win it three times, and his other boot room companion, Joe Fagan who would win it in his short reign. Liverpool's most recent win was under Rafa Benitez in 2005, who was quick to point out this was built on the legacy of Shankly, Paisley, Fagan and all that had gone before.
Inter would have to wait until 2009-10 to win their only ever other European Cup.
This year, under the new steerage of John W. Henry's FSG and Brendan Rodger's tutelage, Liverpool are back.