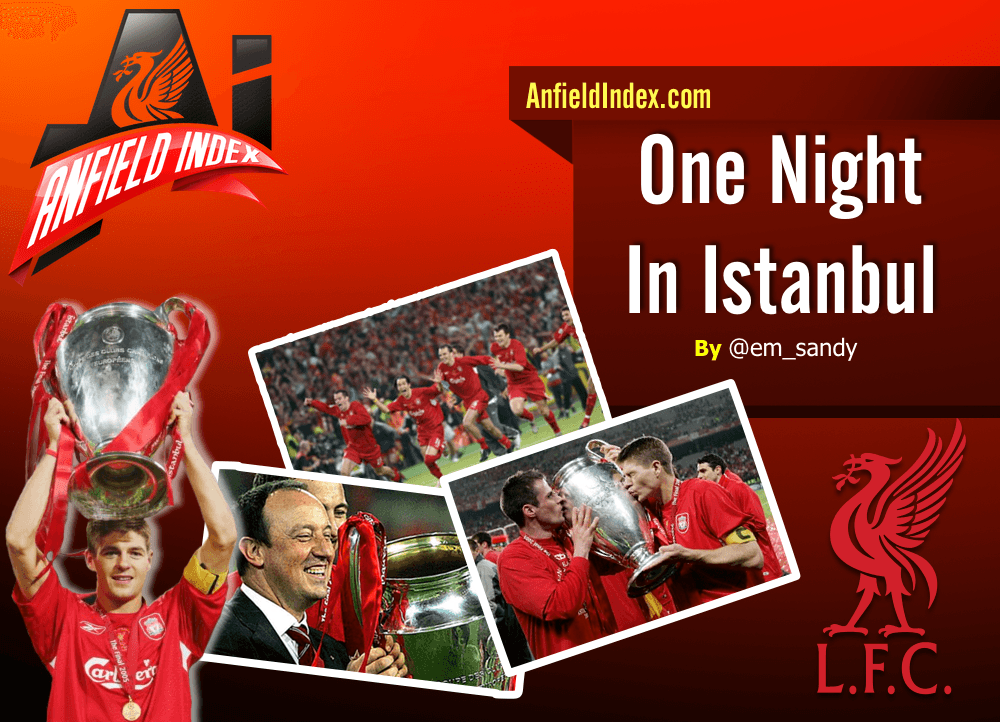 One Night in Istanbul
Opposing fans often tease Liverpool supporters over our tendency to re-live past successes. The usual "you're living in the past" is a favourite comment, or "if you were winning titles now you wouldn't need to keep bringing it up" and "your club's history not the future."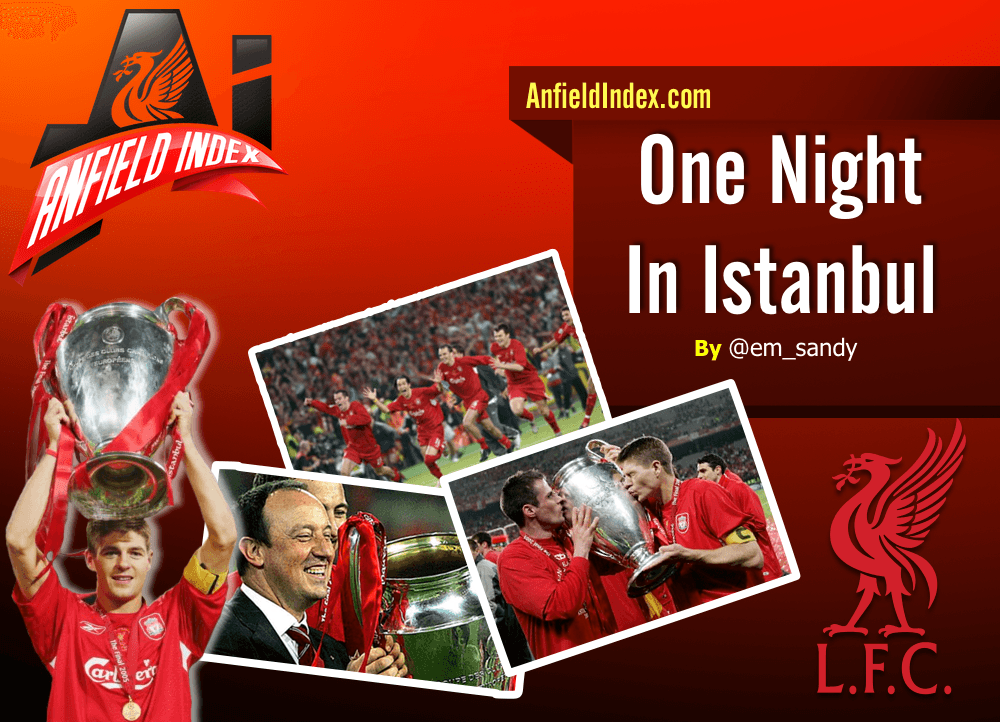 The thing is, living in the past for Liverpool fans, is simply unbeatable. Every club has their history – some good and some bad. However, 9 years ago, one night in Istanbul, arguably one of the greatest moment's in any clubs' history was made. And for that reason, I think we're entitled to mention it over and over… And over again.

Odeon cinemas premiered the first showing of "One Night In Istanbul" on Wednesday night – a film following a group of Liverpool fans celebrating the greatest comeback in European football history. No matter how many times you re-live the moment with fellow Liverpool fans, the story never gets old and everybody's memory is different. It's one of those "where were you when" moments.
Liverpool had a fairly average squad in 2005. They weren't really competing for the Premiership title, consistently coming up short to Manchester United, Arsenal and Chelsea. However, Europe always seemed to inspire the Liverpool fans and more importantly, the players, allowing them to produce some memorable performances.
There was work to be done before reaching Istanbul. Steven Gerrard's screamer in the final minutes against Olympiakos and Luis Garcia's controversial first-half goal against Chelsea in the home tie of the semi-final, were just a few of the memorable moments leading up to the final.
And then history was made.
I was 11 years old, attending boarding school at the time. I'd mustered together a small group of fellow Liverpool fans (we were based in the East Midlands so there weren't many) and we'd managed to beg the school to let us stay up late to watch the game.
We sat in front of the TV with our scarfs, flags and shirts proudly on display, extremely confident of victory in our youth. At the time we didn't quite realise the enormity of European success. My family aren't fanatical sports fans so my intense interest was a bit out of the norm and my knowledge of the English football successes in the past wasn't great in my young age.
The pre-match build-up interested me enough and I quickly realised the greater importance of the occasion. It would be our fifth European victory – the first time any English club had done so. Excited, confident and ready, we prepared ourselves for a night of heart-break, torture and complete elation.
Then Maldini scored in the opening minute. Heart-break.
AC Milan were on another level and when Hernan Crespo followed the initial blow by scoring a brace, the Liverpool team already looked beaten after 45 minutes of play.
Noticing our disappointment, our teacher insisted we headed to bed and claimed "there was no way Liverpool would be able to come back" from such a deficit. But our team had made it to the European Final. There was no way we would lose faith in them and besides the score, it was an experience we wanted to be a part of nonetheless.
And seven magical moments began. Steven Gerrard gave hope to his team when he scored a thumping header moments into the second half. Vladimir Smicer and Xabi Alonso's rebounded penalty conversion, levelled the two teams.
We went crazy. Complete elation. In those seven minutes, Benitez's men had given the Reds' fans around the world the ultimate feeling of hope.
Then came the torture. It was horrible. I couldn't watch but at the same, I couldn't not watch. This was history right in front of my eyes and as painful as it was to endure, it was also beautiful. That's what football can be.
Jerzy Dudek made phenomenal saves to deny Pirlo and Shevchenko in the dying moments and ensured the game went to a shoot-out.
We sat shocked. It was the first time since half-time that we had allowed ourselves to take a breath. We'd just witnessed the greatest comeback in European history. Even then, I still hadn't quite understood the enormity of what was happening.
Shock turned to torture again. Legs shaking, hands sweating, we all hovered on the edge of the sofa – not fully standing up but not quite sitting. It was as if we had been frozen in time and were unable to re-adjust.
I can't even remember watching the penalty shoot-out. To me there was nothing between the seven minutes of magic and the lifting of the European Cup. It went past so quickly and my emotions were uncontrollable. I vaguely remember seeing Carragher embrace Dudek seconds before any of the other players had reacted. And we jumped and cheered and I'm not embarrassed to admit, I did shed a little tear (but it's okay because I'm a girl.)
They expected us to go to bed and sleep but that was more impossible than the task the Liverpool team faced at half-time.
It was just a night in front of the TV, watching my team play football. But it's one of the greatest nights of my life and the best thing is, I shared it with thousands – each with their own unique memories.
That was my experience of that one night in Istanbul.